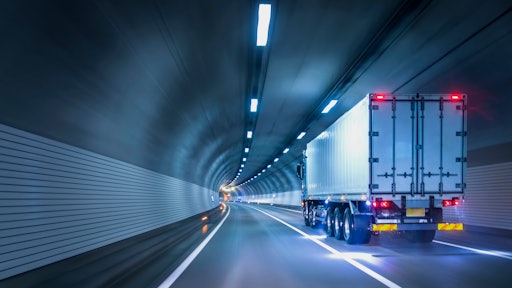 Getty Images
Convoy announced enhancements to its drop-and-hook service, Convoy Go, that provide customers with more flexible, reliable capacity, superior service levels, and real-time load visibility. As the only digital freight company to offer a nationwide drop service, Convoy extends its leadership through predictive trailer routing, automated reloads with batched routes, and improved telematics in its smart trailers.
The challenge with drop-and-hook service has been the complexity of matching, tracking, and routing decoupled tractors and trailers. Most carriers and brokers address this problem manually, which often results in stale data and inaccurate forecasting that in turn limits their service to dense lanes with predictable shipments. These traditional drop & hook services are often unable to quickly scale to meet unexpected demand surges, forcing shippers to rely on the spot market and live loads, which drive up transportation costs and introduce logistical complications.
Convoy's technology and innovative practices address these pain points and deliver even more flexible, reliable, and efficient drop capacity for shippers, with a nearly 100% equipment availability rate, trailers delivered 24 hours before load times, 48% lower dwell times vs. live shipments, deep visibility into every load, and reduced carbon emissions.
These include:
Predictive Trailer Routing: This enhancement proactively routes empty trailers to customers' facilities, while simultaneously rebalancing Convoy Go's trailer pool. To accomplish this, Convoy uses a machine learning model, predicting several weeks in advance how many trailers customers will need across hundreds of facilities nationwide. Convoy combines these forecasts daily with historical shipment data, GPS-based trailer locations, shipment assignments, inspection reports, and driver locations, feeding it all into an optimization model that analyzes billions of trailer route permutations, ultimately picking the most efficient solution.
Automated Reloads with Batched Routes: Since Convoy launched automated reloads, which combine headhauls with backhauls, shippers have benefitted from better service due to lower carrier falloff rates, and carriers have earned more through better asset utilization, all while preventing nearly three million pounds of CO2 emissions from entering the atmosphere. Now, automated reloads support batched routes for drop, which combine three or more runs into a single multi-stop job, providing even greater efficiency for carriers and service quality for shippers. In addition, automated reloads can now combine multiple drop and live loads into a single trip, further reducing empty miles and improving asset utilization.
Smarter Trailers, Powered by the Internet of Things: Every Convoy Go trailer is now equipped with advanced telematics, which, combined with Convoy data, provide unmatched visibility into every load. Combinations of ultrasonic, optical laser, and radar sensors deliver real-time information to Convoy's cloud-based data lake. A machine learning model then analyzes this data to ensure shipments are progressing as planned, automatically flagging issues that require Convoy to course-correct. As a result, Convoy and its customers know if trailers are loaded and ready for pickup, if they're being hauled by the correct driver, if the shipment needs more time, if the trailer is available for another shipment, if a trailer needs preventative maintenance, and how many new trailers are headed inbound to each facility for loading. This automated workflow enables Convoy Go's nationwide fleet of thousands of trailers to be remotely monitored and managed by a handful of specialists, who can make any necessary adjustments even minutes before preloading.
"Supply chain teams prefer drop for its speed and simplicity, but traditional drop programs are rigid and don't respond well to market volatility," said Ziad Ismail, chief product officer at Convoy. "With recent enhancements to Convoy Go, we're addressing the biggest challenges of drop-and-hook freight, providing flexibility to scale up during demand surges and a level of trailer visibility never before possible. This has driven unprecedented customer demand for our drop service and contributed to strong business growth over the last year."
Convoy Go was the first drop service to offer loads to tens of thousands of owner-operators and small carriers in 2017, improving capacity, and then expanding nationally in 2019, providing scale. Convoy Go has thousands of digitally-enhanced trailers in its fleet and is the company's fastest-growing offering, with more than 80 shippers and shipment volume increasing 245% year over year.