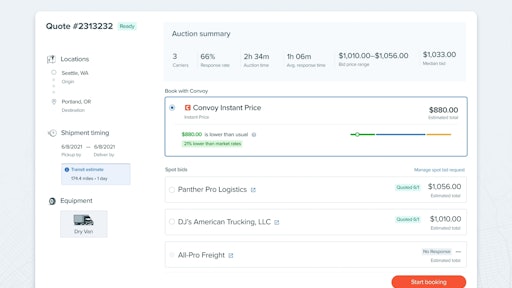 Convoy
Convoy has launched a new online platform that brings its on-demand truckload capacity offering with its modern transportation management system. The combined approach allows shippers to have a comprehensive freight management capabilities, while ensuring the privacy of sensitive data with a sandboxed routing guide. Shippers using the platform have cut their tendering time in half and have reduced freight spend by automating and standardizing their bid processes.
With the launch, shippers can easily work with existing carriers and brokers while accessing more than 300,000 trucks from Convoy's network of vetted carriers.
"Many shippers still manage their freight using email, spreadsheets, and paper," said Ziad Ismail, Chief Product Officer at Convoy. "This manual approach reduces the efficiency of every shipping process, from getting coverage and tracking loads to benchmarking carriers and making data-driven procurement decisions. The future of freight is built around solutions that combine TMS, capacity booking, shipment visibility, and analytics. Today's launch is the next natural step in this evolution, and the response has been overwhelming. Over the last few months, hundreds of customers have already adopted our new online platform."
With

Convoy's

built-in TMS capabilities, shippers can adopt a centralized routing guide and streamlined workflows for sourcing quotes, tendering shipments, and evaluating performance across all of their brokers and carriers.
Today's launch comes amid surging customer demand for

Convoy's

digital freight network, driven by the need to get more reliable coverage while reducing transportation costs.