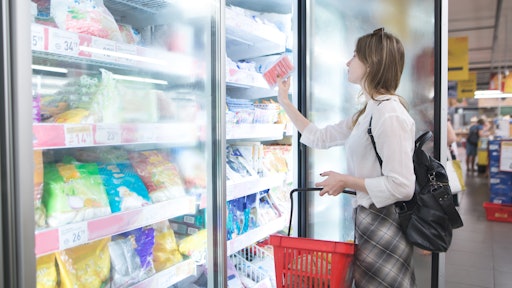 bodnarphoto - Adobe Stock - Grocery Shopping
Grocery delivery is currently being challenged in an unprecedented manner due to dramatic shifts in supply chains. Smart transformation is a key for short-term survival and long-term sustainable growth. It is equally important for distribution center-to-store, distribution center-to-customer and store-to-customer parts of the chain. Refusal or inability to quickly manage transformation will dry up short-term profits and may even harm long-term growth.
Deal with the increased complexity of last-mile operations
Grocery shopping is changing dramatically. Based on its August 2019 survey data, Brick Meets Click estimated 13.1 million U.S. households were active online grocery customers, meaning they had purchased groceries online over the preceding 30 days. A similar Brick Meets Click survey in March 2020 estimated 39.5 million households were active online grocery customers. By May 2020, that number rose to 43.0 million. While growing demand requires more resources and faster deliveries, in reality, companies had to lay off or furlough their employees. Distancing measures both in the fulfillment centers and at the delivery locations also extended delivery times and thus added more pressure on dispatchers and drivers. So, last-mile operations became more complex due to increasing demand and adding additional limitations. Delivery planning is becoming an impossible task for the existing workforce. Changed planning patterns can also make planners' decades of accumulated knowledge outdated. Thus, enterprise-grade cloud-native delivery planning, scheduling, and routing applications should be introduced.
Develop a centralized route planning and delivery system
Clear visibility and supply chain monitoring are imperative when identifying and responding to possible threats, inconsistencies or disruptions that could affect fulfillment and customer experience. Establish centralized route planning and dispatch operations to manage and control deliveries, supply chain performance, fulfillment and fleet performance. Typically, this can work through integrated planning, scheduling and a visibility platform.
Optimize planning and fulfillment operations
A fundamental problem for grocers in the wake of the Coronavirus disease (COVID-19) is to ensure customers are able to buy what they need and get it delivered/picked up quickly and efficiently. When ordering online, customers also expect to have clear communication on the status of their order and pickup/drop off availability. Grocers need to ensure they can use the full breadth of the resources available to them (store and distribution center network) and optimize order fulfillment in a way that's quick, safe and cost efficient. This could mean optimizing parameters like store capacity, stock-outs, shipping cost, processing cost and orchestrating across all possible fulfillment nodes, including stores, distribution centers, dark stores, third-party logistics providers, additional fulfillment centers or even temporary hyper-local stores/fulfillment centers.
Order allocation from distribution centers to stores or final customers requires much better planning at the moment. A robust dispatch management process supported by the latest cloud-based technologies can provide visibility across the distribution network, ensuring customers are able to purchase what they need and provide transparency on fulfillment options, allowing grocers to better meet consumer needs and communicate effectively in the event of demand spikes.
Drivers and customers should be safe
In an era of skyrocketing online shopping volumes, leveraging technology like a store or curbside pickup, cashless payment, self-checkout and restocking store shelves during off-hours can help limit human contact in stores. It also requires contactless point-of-delivery and payment technologies as well as an automated customer notification system in place.
Implement forward-looking technology
Be sure to choose a cloud-based technology that is forward-looking. Particularly, data analytics, cloud functionality and end-to-end visibility should be embedded at the core level. Route planning and dispatch functionalities also need to reflect the specifics of your business as well as take into consideration real-life situations and constraints. The second important attribute would be a high level of interconnectivity with the company's existing tech ecosystem as well as easy customizability.