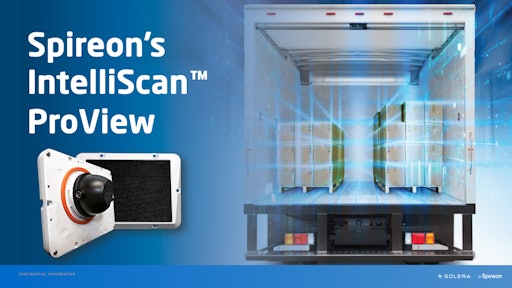 Spireon
Spireon introduced IntelliScan ProView, the next generation of IntelliScan cargo sensor under its FleetLocate product line.
This enhanced cargo sensor changes the carrier's view of available cargo space with 99% accurate load status plus the trailer's used cubic volume and floor space percentages. Images from inside the trailer are also available for download, with the proven ability to retrieve images at scale.
"It used to be enough to just report accurate trailer load status, but today, with higher freight volumes and the lack of trailers, all carriers are looking for more trailer capacity," says Roni Taylor, SVP of strategy, Spireon. "Spireon is giving carriers the ability to be more efficient and haul more freight with the trailers they have today."
From Yahoo! Finance:
IntelliScan ProView allows truckload carriers to see open space in their trailers for additional back haul opportunities and more revenue.

LTL carriers can better plan their trailer load cube and move more freight per trailer while educating the dock team to learn best practices for loading.

Private fleets can manage inventory in storage trailers and identify backfill opportunities for incremental revenue.

Each ProView cargo sensor is equipped with state-of-the-art optical recognition and proprietary machine learning technology producing the highest accuracy in the industry.