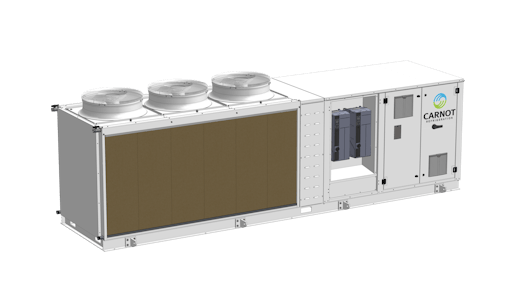 M&M Carnot
M&M Carnot adds a new line of CO2 air-cooled condensing unites (CDUs), named Aquilon DS to extend its refrigeration product offerings. The company says the new line supports its commitment to environmentally safe product with natural refrigerants.
Per M&M Carnot:
The high-pressure designed Aquilon DS product line includes fully welded stainless steel piping, high-pressure compressors, and system components as standard. All Aquilon DS CDUs have fully integrated air-cooled condenser/gas coolers with an option for adiabatic. The Aquilon DS CDUs provide the following energy-efficiency features as standard: EC fans, VFD compressor drives, liquid sub-coolers, and Sensible hot-gas defrost. Optional energy efficiency features include heat recovery and free cooling.
The Aquilon DS CDUs range in capacity from 10 to 75 tons, with operating temperatures from -40F to +40F for industrial refrigeration and cooling applications that include cold storage/refrigerated warehouses, food processing, dairies, wineries, and data centers.