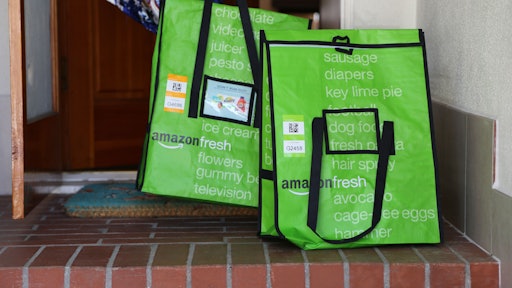 Amazon is expanding its online grocery shopping service, AmazonFresh, in Dallas, Texas, and the surrounding metro areas.
The move is notable because AmazonFresh has been fairly slow to expand, since its 2007 launch in the Seattle region. It continued testing in the area until 2013, when it started to move into other markets, like L.A and San Francisco.
By adding a couple of new cities per year, the service has slowly grown, and now has a footprint in Baltimore, Boston, parts of California (L.A., Riverside, Sacramento, San Diego, San Francisco, San Jose, and Stockton), the New York metro, parts of Northern New Jersey and Trenton, the Philadelphia metro, Northern Virginia, and Stamford, CT, in addition to Seattle, London, and now, Dallas.
But this year alone, Amazon has tackled some fairly sizable markets with the launches in London and Boston. Adding on a third market before year-end indicates increased momentum for Amazon's Instacart competitor.
In the Dallas region, Amazon is working with area retailers through its Local Market program, which allows customers to shop from speciality stores like Local Yocal, V+V Apothicaire, Scardello Cheese and others. These items are delivered as part of customers' AmazonFresh orders, the company says.
In addition to Dallas proper, AmazonFresh's new expansion includes the surrounding areas of: Mesquite, University Park, Garland, Duncanville, Lancaster, DeSoto, Cedar Hill, Arlington, Grand Prairie, Farmers Branch, Carrollton, Richardson, Piano, The Colony, Frisco, Lewisville, Flower Mound, Southlake, Irving, Fort Worth, Watauga, Burleson, and elsewhere.
To read more, click here.