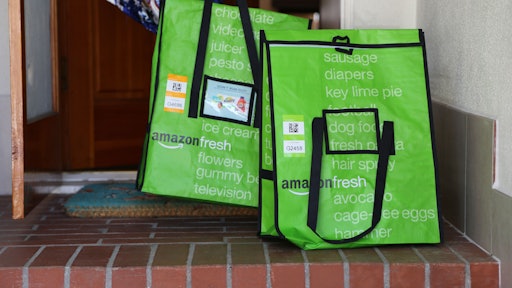 There have been whispers that e-commerce giant Amazon may be looking to find a logistics partner as they continue to hone their business model and streamline the last-mile delivery of products around the globe.
Forbes contributor Paul Martyn speculates in an opinion piece why Amazon would be wise to not be "bluffing" on this one, and why shipping giants UPS and FedEx should be willing to partner with retailing behemoth. With grocery and food delivery continuing to be one of the fastest growing sectors in e-commerce, there's no doubt anything Amazon does will have a ripple effect throughout the food and beverage omnichannel sector.
Last year, Amazon spent $11.5 billion on shipping, or 10.8% of sales. If Amazon were to handle fulfillment all by itself, according to the Wall Street Journal, Citigroup estimates a potential savings of $1.1 billion annually. Regardless of whether it's UPS or FedEx, building-out last mile capabilities to a futuristic spec – on Amazon's dime — is a prize not a curse.  Logistics is hard and last mile delivery is easily the most challenging, costly and least profitable part of the puzzle. If Amazon can find a like-minded partner to share that risk, someone who sees the long-term value of the investment, it would seem like a better path forward. So the question is, how much of that annual logistics savings is Amazon willing to share, for how long and with whom?
Oh, I suppose Amazon will do its share of posturing. But it would be a mistake for it to overplay its hand at this stage. It needs a high integrity deal with an established logistics partner who can share some risk and smooth out some of its seasonal demand curves. It needs a partner who understands, like Amazon, that the game they structure and the strength of their respective commitments to its rules, will ultimately determine the level of success. After all, this isn't a zero-sum game.
To read more, click here.