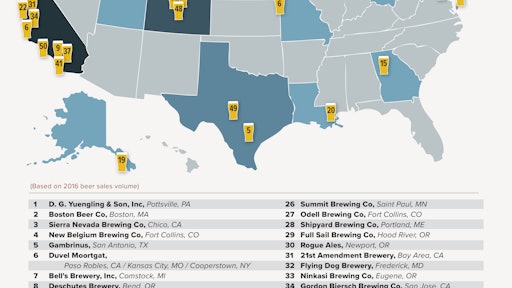 The Brewers Association (BA)—the not-for-profit trade group representing small and independent craft brewers—released Wednesday its annual lists of the top 50 craft and overall brewing companies in the U.S., based on beer sales volume. Of the top 50 overall brewing companies, 40 were craft brewing companies.
"With such a broad range of brewers in today's beer landscape, the leading small and independent producers have helped build the craft brewing industry to what it is today," says Bart Watson, chief economist, Brewers Association. "Embracing their experience and ability to thrive and overcome challenges, the top producing craft brewers will continue to inspire, innovate and influence the future of beer."
A comprehensive State of the Industry report will be delivered during the 2017 Craft Brewers Conference, held from April 10-13, in Washington, D.C. The association's full 2016 industry analysis, which shows regional trends and sales by individual breweries, will be published in the May/June issue of The New Brewer, available in May.
To view a complete list of the top 50 brewing companies, please click here.