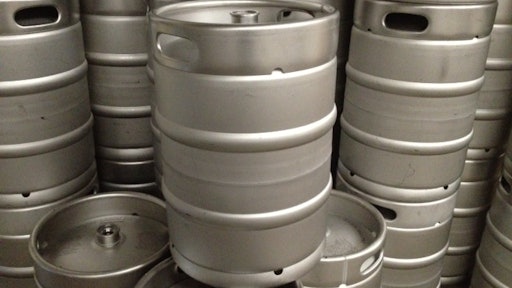 When it comes to exporting beer across the Atlantic, brewers have been forced to compromise either quality or cost. They send plastic one-way kegs that may not offer the quality and reliability brewers seek or they ship expensive stainless steel kegs and incur high loss rates or inefficient logistics.
Today, for the first time, this equation will change. The two largest keg solutions providers in the world, whom provide stainless steel kegs and keg related services to brewers in the US and the UK, join forces to eliminate the need to compromise.
UK's Close Brothers Brewery Rentals (CBBR) and US-based MicroStar Logistics are collaborating to offer brewers the quality, flexibility and efficiency that comes with a combined scale of over 4 million kegs. This new collaboration, called beerQX, will provide a high-quality transatlantic cold-chain controlled bulk transport service designed by brewers for brewers. US craft beer will now arrive in the UK faster and fresher than ever before and UK and European brewers will now be able to get their beer to the US more efficiently than ever.
"The global beer industry is evolving rapidly and one clear theme across nearly all brewers is an interest in higher quality, more efficient export solutions," said Paul Sherman, Managing Director of CBBR. "As we got to know MicroStar, we were impressed with the complementary nature of our businesses and quickly realized that by working together we could offer unparalleled beer export solutions."
"Both MicroStar and CBBR were created to help brewers grow and beerQX is a natural extension of that mission," says MicroStar's President and CEO, Michael Hranicka. "In addition to relying on us to meet their existing keg needs in their home markets, through beerQX, brewers can now benefit from our combined expertise and dense network of stainless steel kegs to get their beer to new markets across the Atlantic." beerQX expect to begin serving brewers in the US and UK starting in the first half of 2017 and will look to quickly expand into additional European markets shortly after.
To read more, click here.
Companies in this article