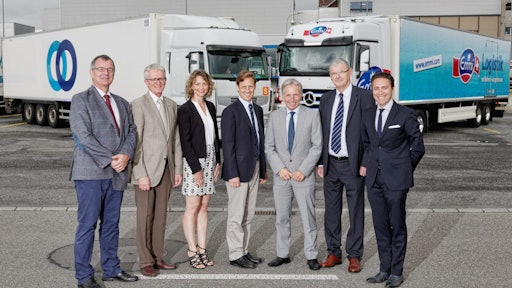 EMMI, the leading Swiss milk processor, and STEF, the European specialist for cold logistics, announced the signature of a partnership agreement for the creation of a joint logistics and distribution network dedicated to refrigerated food products (+2°C / +4°C). This collaboration will strengthen and extend the two existing networks. The main objective: a supply chain that will meet the quality requirements of Swiss manufacturers for both domestic distribution and European exports.
In Switzerland, STEF currently offers logistics services dedicated to frozen food. The setting up of this partnership with the logistics business unit of EMMI Group will help STEF strengthen its position on the logistics market for refrigerated food products. In return, the logistics arm of EMMI Group will benefit from the expertise of a global logistics operator and from a connexion to a large European network. The logistics business unit of EMMI distributes well-known brands, on top of its own products.
As part of this partnership, EMMI and STEF will network their logistics and transport infrastructures and their information systems. By combining their skills and expertise, EMMI and STEF will now offer to the Swiss market a complete range of high-quality solutions for refrigerated food products.
Joint services cover all logistics and supply chain management services, including pick-up, cross-docking, handling, hauling, storage, co-packing additional services, groupage and unbundling, distribution, management of re-usable crates, return and after-sales services, customs clearance (import/export). In total, 700 employees will work for the EMMI-STEF network.
The current logistics infrastructures of STEF and EMMI, which process more than 2 million pallets a year, will be reinforced with the future STEF centerpiece warehouse in Switzerland: the Kölliken site to be commissioned in September 2017, a 90,000 m3 dual warehouse (negative cold -25°C and positive cold +2°C / +4°C).
"This partnership, which strengthens the position of STEF in Switzerland, perfectly complements our presence in Europe. Together with EMMI, our group becomes a benchmark operator in the massification of refrigerated food in Switzerland, and reinforces its position as a European leader," said Stanislas Lemor, Deputy CEO of STEF and CEO of STEF Switzerland.
"The aim of this partnership is to strengthen our own logistics with the expertise and skills of STEF, a first-rate international operator. EMMI will be better positioned to meet future requirements. Moreover, this partnership offers interesting opportunities in European countries where our two companies already have a presence," said Robert Muri, Executive Vice President Switzerland of EMMI.