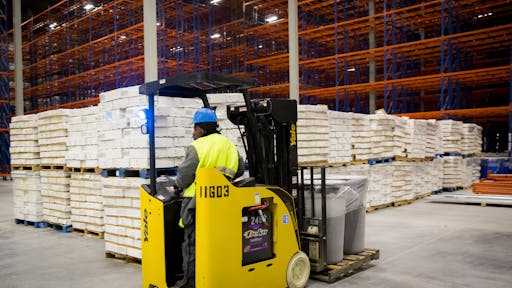 Nordic Logistics and Warehousing has doubled capacity at its Savannah, Ga., location, holding a ribbon cutting Friday for a new 200,000-square-foot cold storage and blast freezing facility, according to the Georgia Ports Authority.
Nordic, a member of AGRO Merchants Group, LLC, opened its initial 200,000 square-foot cold storage warehouse in Savannah April 11, 2013. Nordic's Phase I facility has exported over half a million tons of frozen food since its opening.
Nordic's Phase II increases employment by approximately 70 associates at its cold storage warehouse at I-95 and Jimmy Deloach Parkway, just six miles from the Port of Savannah. The site's second building can hold more than 20,000 tons of cargo at a time. Ross Maple, Director of Business Strategy for Nordic, said the added space will bring the company's total Savannah capacity to almost 50,000 tons of cargo.
Editors Insight: What a difference three years make. Three years ago Nordic opened its doors in the Port of Savannah.
The investment that companies like Nordic are making in temperature control technology are paying off for the entire food supply chain. Georgia's ports, which provide an important link to overseas markets for U.S. farmers, have reported strong growth in recent years. The ports also play an important role in handling both refrigerated and frozen global trade.
Consumer demand for perishable imports is increasing in the Southeast, as it is in other regions, so it makes sense to invest in logistics infrastructure.
The Port of Savannah is also a leading exporter of poultry, handling 40 percent of U.S. containerized poultry exports. It is also a strategic port for Florida's citrus producers. 4-19-16 By Elliot Maras