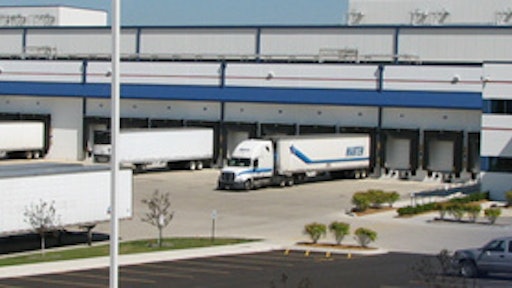 United States Cold Storage (USCS) recently completed a Phase III expansion, in Wilmington, Ill., according to the Global Cold Chain Alliance.
This project brought 3.9 million cubic feet and 17,825 more pallet positions of additional storage in three rooms, which can be computer controlled at temperatures from -5F to +50F. The investment brings Wilmington's current storage handling capacity to 14.3 million cubic feet with more than 55,000 pallet positions. USCS Wilmington is about 60 miles southwest of Chicago. One of the company's newest locations, the operation works with sister site in nearby Minooka.
Officials say the recent expansion gives Wilmington room to store and stage goods for a bustling transportation program.
"Wilmington's multi-vendor cooler consolidation (MVC) program services 48 states in the US and is the largest collaborative shipping program in the industry. Our customer partnerships, transportation systems, our trained staff, and carrier community is what gives us the edge in handling the distribution needs of our customer's supply chain," says Dave Butterfield, USCS regional vice president for the Midwest. "It is a great value-added service that allows USCS to deliver our customers product saving them time and effort they can use to focus on production and growing their businesses."
Greg Rohrbaugh is USCS Wilmington's general manager.
To read more, click HERE.
Companies in this article