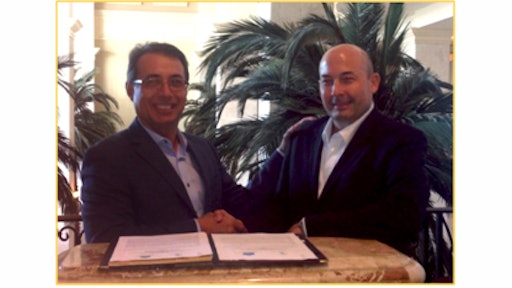 Port Tampa Bay signed a memorandum of understanding (MOU) agreement with the Port of Cartagena, Colombia that strengthens the bond of comradeship between the two ports and establishes a strategic alliance for collaboration toward commercial pursuits.
This recent signing is the latest in a string of similar agreements brought to fruition between Florida's largest port and other key Latin American ports such as Quequén, Argentina; Barranquilla, Colombia; Veracruz, Mexico; JAPDEVA, Costa Rica; and the Panama Canal Authority.
As with existing "sister port" agreements, this latest one with Cartagena's port will encourage and support a working business relationship and opportunities for trade growth between the ports and establishes an alliance of cooperation between two ports with similar diverse business portfolios and growth plans. The Latin American trade lane is the strongest and most active for Tampa's large and diverse port.
Port Tampa Bay Executive Vice President and Chief Commercial Officer Raul Alfonso, who participated in the MOU ceremony with Giovanni Benedetti, commercial director of the Port of Cartagena, is excited about the new partnership and is ready to explore new cargo and business possibilities.
"Our team is eager to work with the Port of Cartagena to develop new trade routes to serve our two great markets. We believe that Port Tampa Bay and Cartagena will become strong partners, offering new, better solutions to our customers in Florida and Colombia," Alfonso said.
"Port Tampa Bay constantly seeks new partnerships and key relationship that will enable us to build a world-class port that thinks outside the lines and pursues major new opportunities that will bring economic benefits for generations to follow. Our new MOU with Cartagena's port is another step in a big direction for our port and one more strategic step elevating our region and state into a global trade hub," Paul Anderson, port president and CEO, said.