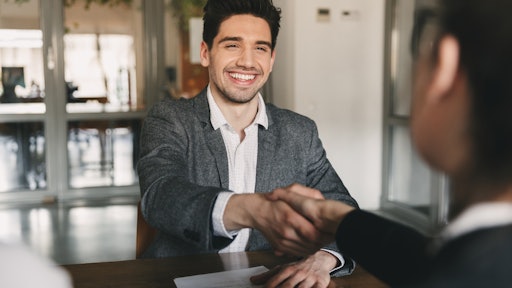 Drobot Dean
Cal-Maine Foods, Inc. Names Krista McGruder as Sustainability Director
Cal-Maine Foods, Inc. announced that Krista McGruder has been named the company's new director of sustainability. McGruder will report directly to Max Bowman, vice president and chief financial officer of Cal-Maine Foods, Inc.
McGruder brings knowledge of data-driven sustainability reporting and experience in leading ESG initiatives to Cal-Maine Foods. She most recently served as vice president, strategic delivery office at Citizens Financial Group.
Ports Association Hires Membership, Public Affairs Executives
The American Association of Port Authorities (AAPA)—the unified and recognized voice of seaports in the Americas—announced it has hired two new senior staff members to fill positions of two long-time senior staff who will soon be retiring. Paula Gonzalez, previously the global membership manager for the Produce Marketing Association (PMA) in Newark, Del., began her new position as AAPA's senior manager of membership recruitment on Dec. 7. She will replace Ed O'Connell, AAPA's membership services director, who began his tenure with the association in 1997 and will retire at the end of 2020.
Jennifer Wilk, currently the public affairs and development director for the Passenger Vessel Association (PVA) in Alexandria, Va., will join AAPA on Jan. 11, replacing Aaron Ellis, the association's public affairs director since 2004, who will retire in late January.
Timothy Mullany to Join Jack in the Box Inc. as New Chief Financial Officer
Jack in the Box Inc. announced that Timothy Mullany will join the company as executive vice president and chief financial officer, effective Jan. 18, 2021.
Mullany is a well-rounded finance leader with more than 20 years of experience in the restaurant industry, as well as hyper-growth concepts, both public and private. Most recently, Mullany served as chief financial officer at VASA Fitness where he was responsible for leading the finance and accounting team plus developing and executing company growth strategies, including site acquisition and market entry development.
NTG promotes Drew Herpich to Chief Commercial Officer
Nolan Transportation Group (NTG) recently promoted Drew Herpich to Chief Commercial Officer (CCO). This new position is part of a strategic reorganization at NTG. Drew will now lead NTG's carrier department, enterprise strategy and operational services moving forward. Drew arrived at NTG in July 2020 to serve as executive vice president, enterprise strategy. Prior to that, he spent 13 years with Coyote Logistics.
GCCA Welcomes Meghan Rodgers as VP of PR and Industry Affairs
The Global Cold Chain Alliance (GCCA) announced that Meghan Rodgers has been named as the organization's new vice president of public relations and industry affairs. She brings to GCCA extensive communications leadership and knowledge of the food supply chain, specifically through her four years serving at the U.S. Department of Agriculture, most recently as deputy director for communications
Kalera Announces 2 New VPs
Technology-driven vertical farming company Kalera announced that it has hired two new executives to fill the positions of vice president of foodservice sales and vice president of sales for retail accounts. The newly appointed VP of foodservice sales, Marc Jennings, brings with him over 20 years of experience in the foodservice industry. Mark Gagnon, VP of sales for retail accounts, has over three decades of experience in the produce and grocery industries.
Former J&J Snack Foods exec to lead Real Good Foods
Gerard Law has been named chief executive officer of Real Good Foods. He joins the low-carb, high-protein frozen foods brand from J&J Snack Foods Corp., where he spent nearly 30 years in a series of positions, including design engineer, general manager, vice president of western operations and senior vice president of the company's snacks division.
CSX Promotes Arthur Adams to Senior Sales VP
CSX Corp. announced that Arthur Adams has been promoted to senior vice president of sales, effective immediately. Adams will continue to report to Mark Wallace and maintain responsibilities for all sales portfolios within agriculture and food, chemicals, fertilizers, paper and forest, metals, and minerals, as well as leading customer engagement and TRANSFLO. Since joining CSX in 2007 with experience in the retail and healthcare sectors, Adams has helped strengthen CSX's market position and customer relationships.
Davies Turner Names New Head of Ocean Freight Services
Davies Turner has promoted Tony Cole to head of ocean to lead on its ocean freight forwarding services, building on his previous positions within the company.
Cole replaces existing Head of Ocean, Kieron Larkin who is to lead a strategic review of the company's computer systems and software that will underpin all its freight forwarding services. Cole joined Davies Turner in 1990 as ocean import manager and subsequent positions have also seen him head up the company's Far East ocean freight trade lanes.
Tom Peck Joins Sysco as Chief Information and Digital Officer
Sysco Corporation announced that Tom Peck will join the company as executive vice president and chief information and digital officer, effective Jan. 4, 2021. In this role, Peck will lead Sysco's strategic efforts to accelerate its business transformation through customer-facing technology solutions and will lead the company efforts to modernize its technology infrastructure.
Peck has over 20 years of experience leading enterprise information technology strategy, services, operations, risk and cybersecurity for large global enterprises. He most recently served as chief information and digital officer of Ingram Micro Inc.
The National Frozen & Refrigerated Foods Association (NFRA) has announced the appointment of Jeff Rumachik as president and CEO of the organization effective Jan. 1, 2021. Rumachik will take over the position following the retirement of H.V. "Skip" Shaw, Jr. after 36 years of service to the association.
Rumachik joined the organization in 2009 as senior vice president.
Bill Lewis Named President & CEO Of Frosty Acres Brands
Frosty Acres Brands announced that Bill Lewis has been named Frosty Acres Brands President & CEO.
Delivery Drivers, Inc. Hires Three Seasoned Executives to their Leadership Team
Delivery Drivers, Inc. (DDI) announced three executive new hires in the fourth quarter as its business continues to rapidly grow across the U.S.
Daniel Weinfurter joins DDI as the company's new chief operating officer, bringing with him nearly three decades of experience helping companies achieve rapid organizational growth.
John Healy comes aboard as DDI's new vice president of sales where he will oversee the company's national sales strategy, including building and scaling high-performance solutions for its four key verticals - grocery, restaurant, courier and medical delivery. Ramnath Iyer, an accomplished business technology executive who has held senior leadership roles at past employers including The Walt Disney Company, Thomson Reuters and Bank of America, will now serve as the VP of Technology responsible for enhancing DDI's technology, operations and administrative infrastructure across the U.S.
Alert Innovation Names John Gargasz Platform and Business Development VP
Alert Innovation, Inc., the maker of the retail industry's most effective automated fulfillment solutions, is bolstering its executive team with the addition of John Gargasz as vice president platform and business development. Gargasz, who reports to Alert Innovation CEO and founder John Lert, is charged with expanding Alerts grocery automation fulfillment business beyond the company's anchor Walmart customer to the rest of the industry. Gargasz is a serial entrepreneur in tech and real estate and is also an early-stage tech investor.
Chobani Names New CFO
Chobani announced that veteran finance executive Jody Macedonio will serve as chief financial officer, effective Dec. 28, 2020.
Macedonio, who will report to Chobani president & COO Peter McGuinness, is joining Chobani at an exciting time as it enters and grows in four categories: plant-based oat milks, dairy & plant-based oat creamers, functional wellness beverages, and a new probiotic yogurt portfolio. This comes as Chobani continues to grow by double digits in total dollar sales in grocery outlets1 and online.
Toyota Material Handling Solutions Welcomes Jim Huffman as Systems Solutions Manager
Toyota Material Handling Solutions announced the addition of Jim Huffman to its sales team. As system solutions manager, Jim is responsible for the company's racking and shelving, systems design, and automation sales and installation efforts. Previously, Huffman worked with several well-known companies, including Sony Corporation of America, Emerson Electric, Raymond Corporation, WT Billard, and Mitsubishi Materials USA Corporation.
Companies in this article