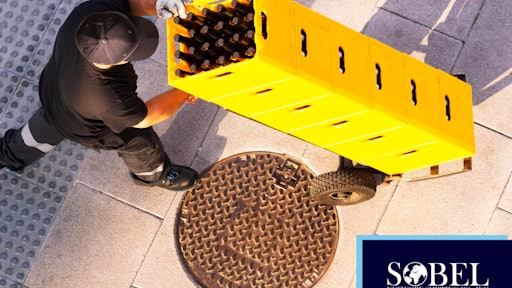 Sobel Network Shipping Co. Inc.
Food and beverage transportation can be a daunting task, as it entails maintaining high safety standards. But, when alcohol comes into play, state-to-state regulations makes this even more difficult. Third-party logistics (3PLs) companies responsible for the transportation of wine and spirits are in a highly specialized sector. The fragility of these goods adds another layer of difficulty, causing 3PLs to maintain exceptionally high levels of safety and knowledge.
"Wine and spirit transportation require specialized shipping processes," says Brian Wills, president of Sobel Network Shipping Co. "Most food categories can be trucked to different states without needing state regulations or permits. Truckers and warehousing need to be specialized and well versed to handle the movement of wine and spirits. Logistically, everyone handling these shipments must be very knowledgeable about the current shipping regulations."
The need for visibility, control and lack of error is exceedingly present throughout the 3PL spirits sector. Labor training and clear protocols are vital because it is such a regulated space. Complicated tasks in compliance, paperwork and licensing demands, increased liability and operational requirements are prevalent here, which are factors that not every logistics operator has the resources and experience to master.
"Wine and spirits is a very specialized business on a number of fronts—the primary difference with other food categories is the very strict regulatory environment," says from Greg Foreman, vice president of operations at DHL Supply Chain. "There is little room for errors in ensuring the right stock is picked and delivered to the correct consignees, which means that they need to have robust control, tracking and quality assurance measures embedded throughout the supply chain.
"The inventory is relatively high value per unit, which makes safe and secure handling/processing and transportation a particular priority throughout the supply chain," he says. "This, in turn, has implications for equipment, labor training and process engineering; there are also varied requirements and shipment profiles between the different customer segments, such as on-premise and off-premise.
"Various segments also require specialized expertise when it comes to account relationships and understanding the specific requirements of the different stakeholders," Foreman adds.
Click here to hear more about how spirit companies deal with state-to-state regulations:
Technology's help
Investing in modern technology is one way to ensure the safe travel of spirits as well as correctly adhering to regulations.
"Wine and spirits products are heavy and fragile, so it pays to invest in technology that improves safety, increases productivity and reduces damage," says Alex Stark, senior director, business development at KANE Logistics. "On the transportation side, special permits are required along with a special degree of care that consists of extra wrapping, load bars, strapping, air bags. Another area that should not be overlooked are the professional drivers. It's beneficial to utilize seasoned veterans who know the product and how it handles on the road. Preparation is essential as well – leaving earlier and driving at a pace to ensure smooth, damage-free delivery."
KANE, for instance, has a rail line that parallels its original spur, allowing it to double capacity without changing the structure of the building. Two trains pull up side by side and connect via a dock plate between cars, and the outer car is unloaded on the inner spur. The company uses this for the safe transportation of wine and spirits while increasing production.
Investment in software and technologies that safely transport alcohol and adhere to regulations are more important now that ever before. With the Coronavirus disease (COVID-19) causing increased alcohol sales and new e-commerce sites allowing consumers to buy spirits from the comfort of their home, 3PLs will need to jump into these trends now.
"A challenge to growing the wine and spirits business is that it will require an investment -- primarily in terms of understanding the business, the customers' needs and the processes," says Joao Caldana, managing director, Dachser Brazil. "Our wine and spirit customers are passionate about their business and their specific needs. They want to work with a logistics partner that is willing to make the proper investment and put in the work to understand the nuances of their business. Growing in market share requires a deeper understanding of the customer processes and needs, using digitalization as a main tool to manage and optimize the flow of goods. Customer relationship, structure and quality of service are keys to building trust and long-term sustainable business relationships. This means a firm commitment to develop this industry must be met. Growing market share won't come without its challenges."
Automation could potentially be key in keeping up with the market growth.
"Right now, the market is growing," Wills says. "With customers demanding more variety in shipment services, warehousing has had to adapt to this by creating a new process for SKU numbers. The fulfillment process has become more automated to adapt to the new volume of orders. The logistics process has also changed in that companies are using forecasting models to help manufacturers and importers order in a timely fashion with accurate amounts needed. More truckers are now being deployed to deliver to more areas throughout the country."
In addition to maintaining speed, safety and visibility, these technologies might also help 3PLs' bottom lines.
"Continuously reducing costs is always top-of-mind," says Stark. "When it comes to continuous improvement, particularly with regard to cost control, there's no finish line – just a series of milestones that serve as new starting lines. They key to success—an active quality management program that trains and encourages all associates to identify problems and suggest solutions."
Warehouse management systems that can integrate with wearable devices to pick heavy cases hands free, which can increase productivity and accuracy instead of an RF gun that can be cumbersome. Other wearables can actually help increase the strength of an employee, helping to lift heavy cargo such as wine and spirits that normally could not be done by the human body alone. Some autonomous robotics are able to sort and transport these large cases themselves, allowing human workers to focus on the organization and regulation side of things.
But, most importantly, these new technologies help 3PLs handle higher SKU volumes, which is necessary in the spirits sector as e-commerce pushes it forward. Consumers' needs are also becoming more demanding, as shoppers look for shorter and shorter delivery times, especially in the alcohol space. But the state-to-state regulations slows this sector down.
"It challenges producers and distributors to significantly reduce the order-to-delivery time, as customers typically favor shorter delivery times," Foreman says. "The added complexity here is the regulatory environment in which we are operating. At the same time, there has been a change in the pick and outbound shipment profile, in terms of more bulk consignments to single off-premise retailers – this is more efficient for us. This trend – and the return of on-premise – has been accelerated by COVID-19. It will force customers to adopt omnichannel strategies, as well as to carefully manage their inventory levels in order to survive and grow in the future.
"Another trend is increased digitalization," he says. "Like any other sector, beverage alcohol is facing cost pressure and other challenges such as a highly competitive labor market. We are seeing increased use of automation within the warehouse and expect this to grow in the future, with technologies such as collaborative robotics offering particular benefits in increasing labor productivity.
"These collaborative robots can be redeployed across multiple sites to meet demand surges or away from sites with reduced demand. E-commerce is also strengthening the case for applying artificial intelligence to improve the forecasting and visibility of order flows," Says Foreman.
Trending volatility
It is not just e-commerce that is changing the alcohol distribution segment, but a change in what types of products are trending. Today, hard seltzers and micro-breweries take center stage, which increases the need for operational adjustments, adds Foreman, since craft beers require more refrigeration on site and potentially during transportation due to its difference in pasteurization compared to mass-produced beers.
Additionally, what products are trending changes as fast as the seasons, which brings its own challenges.
"The business has a distinct seasonality – you need to have the flexibility to ramp up operations significantly and to attract additional labor and capacity to manage the summer peak (for beer) and the holiday season (all categories)," says Foreman.
"In certain segments, shifting consumer preferences (driven by promotions or new products entering the market) and seasonality mean that there is a high risk of either lost sales or excess inventory if the demand is not being serviced quickly enough and companies are not able to track their inventory well enough. This creates added pressure on logistics operators who support in both of these areas," he adds.
Another downfall is the labor shortage in this area, compounded by the difficulty in transporting heavy loads like alcohol. This factor coupled with the complexity of the sector requiring seasoned workers, employee retention is extremely important.
"Labor is a constant challenge and the wine and spirits industry is affected as well," says Stark. "The cost of having to replace a warehouse associate is at least $7,000. So, high-turnover environments can prove very costly. Attrition can be higher for associates in wine and spirits logistics because the work is demanding, with each case weighing about 38 pounds.
"The best way to increase associate retention is to hire right in the first place. At KANE, for hiring and training purposes, we create pallets that consist of 38-pound cases of sand. We have prospective hires transfer these cases to another pallet and tell us how many cases of each SKU number is on the pallet. This allows us to test their accuracy, but also to give them first-hand experience handling the heavy cases. Many decide themselves that the work is not for them. This practice has significantly improved our retention rate for wine and spirits accounts. And, as we all know, long-tenured workers are more accurate and productive, improving overall operational performance," adds Stark.
As spirits grow in both brick-and-mortar and e-commerce, 3PLs will need to continually invest to keep up. Maintaining quality performance and expertise remains the leading factor in success here.