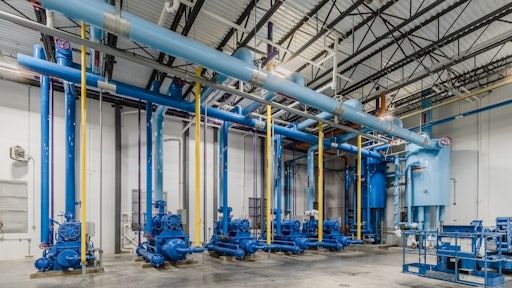 Primus Builders
Managing energy usage wisely is a high priority for temperature-controlled warehouse operators to control costs—energy is the second highest operating cost behind labor in the cold chain industry—but also to meet industry demands for increased sustainability impact. Today's food system is built upon refrigeration, and temperature control is a feature of almost every stage in the supply chain. According to the Food and Agriculture Organization of the United Nations, the food sector accounts for around 30% of the world's total energy consumption.
The International Association of Refrigerated Warehouses (IARW), a core partner of the Global Cold Chain Alliance (GCCA), established a goal to improve energy efficiency across the industry, leading the way to make the entire cold chain more environmentally sustainable.
To respond to the goal, GCCA developed and launched the Energy Excellence Recognition Program (EERP) to focus on motivating refrigerated warehouse operators to establish, maintain and enhance their "energy conservation culture." Elements of that culture might include following a written energy management plan, forming an energy committee, conducting periodic energy waste reviews and reviewing energy use and benchmarking trends in energy consumption.
Company benefits
GCCA's new EERP addresses the need for a comprehensive energy management program in cold storage facilities by providing the tools for qualitative and quantitative assessment of a company's efforts, resources to support the creation of an effective program and recognition for companies that are proactively managing energy needs. This program is voluntary and open to any organization operating a temperature-controlled space. To date, nearly 150 cold storage facilities are participating in the program.
The benefits to companies that participate include:
· Identify and change energy usage behaviors
· Conduct a gap analysis to set goals and chart a course
· Improve energy efficiency
· Bank savings over time
· Access resources and templates
· Effectively communicate their sustainability efforts to customers as well as supplier's recognition for companies that are proactively managing energy needs.
These efforts to establish and maintain a solid energy culture and strong management program reinforce design, build, workforce, automation and other facility efforts made to become more energy efficient. The two sides to energy efficiency–design-build and culture–are critical. The EERP recognizes–though doesn't proscribe–steps cold storage operators take in making their facilities more efficient. This data is mainly captured in the EERP's quantitative assessment to determine the percentage of improvement in energy efficiency over time.
The EERP provides for three levels of recognition and allows any size facility to be awarded for their commitment to energy conservation. The Bronze award recognizes establishing and maintaining a culture around energy efficiency. Silver and Gold award levels go a step further to benchmark actual savings in energy costs.
An example of a design-build choice with a great deal of impact on energy usage is the incorporation of automation, which has been increasing year-over-year in warehouses. Automated picking and product retrieval means lessening ingress and egress into cold storage areas, which is more energy efficient. Robotics are also a design-build choice with implications for energy savings. The freezer is a worksite that lends itself to robotics because it is a very difficult environment in which to work .The long-term energy savings can often support the initial cost of automation and robotics and the synergy of energy savings and reduction of work force leads to more operational efficiencies or improvements. Other energy-saving efficiencies are discussed in The Guide to Effective Warehouse Design, Maintenance, and Modernization published by IARW and the Controlled Environment Building Association (CEBA), another core partner of GCCA.
Elements of energy excellence
The EERP employs two electronic tools in support of the awards program.
First, the Energy Management Assessment (EMA) is used to assess warehouse functions and guide development and process improvements to meet established energy conservation goals.
The EMA is an online qualitative self-assessment that warehouse operators evaluate 12 aspects of energy management, including management commitment, key performance indicators (KPIs), employee engagement, monitoring, operations, documentation and more.
Once completed, program participants will receive an Energy Management Assessment Report, which can be used to compare the facility's dedication to energy efficiency over time. The EMA also provides resources and next steps participants can take to improve and achieve a better score on future assessments.
Second, the EERP uses a statistical model, the Energy Review Model (ERM), which compares an individual cold storage facility's electricity use to their historical electricity use to estimate efficiency increases over time. The ERM uses facility data such as current and historical weather, process throughput, facility characteristics (envelope) and other factors.
The ERM is used as a quantitative assessment and provides warehouse operators a detailed look at their year-over-year performance toward energy efficiency. Users select a baseline year by which to measure energy consumption on a monthly basis, the type of refrigerated space being used in the facility and throughput. Once this form is completed, an output report reviews annual energy usage by product throughput. The report includes a year-to-year comparison of energy savings against the baseline year showing if the facility has improved, maintained or even reduced energy efficiency over time. The ERM also reports quarter-by-quarter performance to identify how seasonality and environmental conditions impact their facility's efficiency. Finally, the output report includes findings on in-floor heating systems and lighting, including where upgrades or improvements may drive energy efficiency.
Sustainable benefits
Refrigerated warehouses participating in the EERP are committed to long-term, sustainable control of energy costs. As sustainability becomes a cultural norm, the EERP offers a roadmap to stakeholders that the industry is putting long-term plans in place to manage the industry's energy consumption.
As customers become more environmentally conscious and put green initiatives in their own strategic plans, they want to partner with cold storage companies that have the same philosophy. The EERP ensures that a comprehensive program is in place with results showing customers' facilities are serious about energy management.