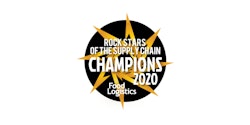 Mike R. Peterson, Senior Vice President of Operations, Universal Chain Inc.
Mike R. Peterson came to Universal Chain Inc. in 2018 with 35-plus years of experience in food manufacturing, warehousing and logistics. After attending Washington State University, Peterson started a career in dairy and food manufacturing, before moving into logistics and distribution, where he led the Lean/5S/continuous improvement efforts in multiple locations. Peterson is skilled in operations and lean management, leadership and operational excellence. Peterson also brings 25-plus years of umpire experience to his business resume. Utilizing those experiences has added leadership and game management skills that he's adapted and incorporated into business life.
Jennifer de Souza, Senior Director of Energy Solutions, Procurement and Leasing, The Raymond Corporation
As the senior director for energy solutions and procurement at The Raymond Corporation, Jennifer de Souza is passionate about educating warehouse operations on the benefits of lithium-ion batteries. Her expertise leads her to penning bylined articles in industry magazines and informing other professionals on how alternative energy solutions can lead to increased productivity and significant cost savings. Her experience helps maximize efficiencies in manufacturing, warehouses and global supply chain operations, allowing Raymond the opportunity to adopt and provide game-changing alternative energy sources to its customers.
Don Durm, Vice President of Customer Solutions, PLM
With over 25 years of experience in logistics, Don Durm, vice president of customer solutions at PLM, is often recognized as an industry expert on cold chain transport application, regulatory compliance and the application of technology for a smarter food safety system. Durm is often sought out as a speaker, writes on cold chain challenges and is one of the authors of the internationally accepted IRTA Refrigerated Best Practices Guide distributed by the Global Cold Chain Alliance (GCCA) to help the industry meet the Food Safety Modernization standards. In the last year, Durm played an essential role in the pilot and launch of the Cold Carrier Certified program. (Check out Food Logistics' Jan/Feb 2020 issue for Durm's column on the Cold Carrier Certified program).
Wendy Leveillee, Vice President of Program Management, National DCP LLC
Wendy Leveillee, vice president of program management for National DCP LLC, is often referred to as a "highly motivated leader," as she oversees the relationship with NDCP's suppliers and Dunkin' Brands to support the company's supply chain objectives. In her role, Leveillee built an industry leading program management function that maximizes efficiencies by overseeing the execution of limited-time offers between NDCP and Dunkin' Brands. Meanwhile, Leveillee continues to transform the bottom line by implementing best-in-class practices to better focus on the right product at the right time.
Gisli Herjolfsson, Co-Founder and CEO, Controlant
In his role as the co-founder and CEO of Controlant, Gisli Herjolfsson has driven the vision, culture and growth of the company over the past 12 years. Under his watch, the company is mapping the entire cold chain by collecting analytics regarding shipment lanes, packaging, partners and points of interest.
Additional 2020 Champions
Allan Dow, president, Logility
Amy Gerdes, director of logistics, Werner Enterprises
Bradyn Kelly, product manager, Cimcorp Automation Ltd.
Dave Saoud, co-CEO FreezPak, Logistics
David Abney, vice president of food safety quality assurance, Sonic Drive-In
Dawn Salvucci-Favier, vice president of product management, 3Gtms
Eric Rempel, chief innovation officer, Redwood Logistics
Grant Taylor general manager, warehousing, Taylor Logistics Inc.
Greg Braun, senior vice president of sales and marketing, C3 Solutions
Jason Chester, director of global channel programs, Infinity International Inc.
Jeremy Hudson, director of consulting services, Open Sky Group
Joe Couto, CEO for Africa, Asia Pacific & Latin America and Global Solution Leader for 3PL, Transport and Retail Execution, HighJump (Part of Korber Logistics Systems)
John Flynn, chief executive officer, Fleet Advantage
John Richardson, vice president of supply chain analytics, Transportation Insight
Kelly Adams, warehouse manager, slotting coordinator, SGC Foodservice
Kristy Knichel, chief executive officer, Knichel Logistics
Marco Ehrhardt, president and CEO, Ehrhardt Partner Group
Matt Brosious, chief executive officer, FreightCenter
Matt Yearling, chief executive officer, PINC
Neil Soni, vice president of sales and business development strategy, Omnichain
Patty McDonald, global solution marketing director, Symphony RetailAI
Peter Zalinski, supply chain architect, Barcoding Inc.
Rick Zaffarano, vice president of consumer products solutions, Transportation Insight
Robin Gregg, chief executive officer, RoadSync
Royce Neubauer, president and CEO, SFL Companies
Srini Muthusrinivasan, vice president of solutions advisory, JDA Software
Stephen Dombroski, director of consumer products and food & beverage vertical markets, QAD Inc.
Travis Wayne, product manager, TEKLYNX International
Vincent Rivait, market analyst, BOA Logistics
Companies in this article