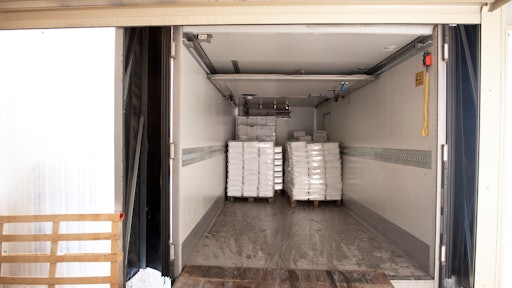 According to Technavio, the global food and beverage cold chain logistics market is forecasted to grow at a CAGR of nearly 7 percent from 2018 to 2022, with the consumption of refrigerated foods such as dairy products and frozen foods helping to drive that growth. 
In fact, the global frozen food market was valued at over $262 billion during 2017 (Nielsen estimates annual U.S. sales of frozen food at $53 billion) and is expected to increase more than 26 percent, thanks to a consumer desire for convenience.
"Generally, consumers perceive frozen food as an alternative to fresh and home-cooked food as well as canned food. The convenience that ready-to-eat meals provide consumers has been encouraging the consumption of frozen food. This is primarily because of hectic lifestyles, in addition to other factors. Rapid urbanization is also driving the growth of the market," says a senior analyst for research on logistics at Technavio.
While demand for frozen foods, as well as fresh produce, is creating a plethora of opportunities for the food logistics sector, it has also created challenges. Thus, it will be essential that the industry support that expansion with continued cold chain innovation.
A History Lesson
To understand the added complexities of the logistics behind frozen foods' resurgence, we must first understand its history. Frozen food owes thanks to American entrepreneur Clarence Birdseye who first realized its potential on a fishing trip. In 1924, while fishing in the Labrador Territory of Canada, he realized that the fish he caught would freeze almost immediately after being pulled from the water. Months later, when he thawed the fish, he was impressed by how well it still tasted.
At that time, the concept of flash freezing was as innovative as it got. While it was not necessarily a new idea, it had never been optimized for commercial use.
Eventually, Birdseye learned how to package food and freeze it in large quantities. Furthermore, efficient modes of refrigerated transportation as well as improvements in technology combined to create what we know today as cold chain logistics.
In the 1940s, the first-ever complete frozen meal was created and marketed, quickly becoming a staple in American households. Again, cold chain logistics had to evolve to support the demand. In fact, during World War II, frozen food used fewer ration points than canned food, making it a more affordable alternative. In the year following the war, Americans consumed 800 million pounds of frozen food.
In the early 2000s, frozen food underwent its next revolution as consumers began to question its freshness and nutritional value. Food manufacturers embraced the challenge, creating ready-made "gourmet" and healthy meals, many of which are inspired by ethnic flavors. Today, the variety of frozen foods available has flipped the traditional TV dinner image and is driving renewed demand.
This renewed demand, however, means the cold chain logistics sector must again change through innovation to meet it.
The last decade has produced myriad technological innovations that have become key to maintaining cold chain integrity, including devices that monitor and record ambient temperature and humidity during transit. But beyond technology, shippers and distributors have also become innovative in how they think about best practices and processes. Amid this frozen food resurgence, new challenges for cold chain logistics have emerged. Of particular note is the fact that order sizes are not growing as fast as the overall frozen foods market.
Beyond Technological Innovation
Small but frequent orders are driven in part by the rise of e-commerce, but primarily by the emergence of countless new players in the market, says Winnesota Refrigerated Transportation.
"As consumer demands increase for larger variety, more health-conscious frozen alternatives, smaller companies are entering the marketplace to attempt to fill these needs," a blog post by Winnesota notes. "This is making larger players in the frozen foods industry less profitable, because while grocery chains and consumers are ordering higher quantities of frozen food, they're doing so from a greater number of sources."
This, the regional transporter says, places stress on shippers and transportation companies alike. In the spirit of innovation, many are turning to new-order consolidation models, which according to Winnesota, looks a lot like Less Than Truckload (LTL) consolidation for frozen goods.
"Refrigerated LTL carriers allow shippers, who are under pressure to deliver more frequent loads, to consolidate shipments and avoid the heightened costs associated with deploying a host of half-empty trucks," Winnesota adds.
In a blog post, Linus Kalenze, director of consolidation at C.H. Robinson, suggests the following advice when implementing a consolidation strategy:
Inventory levels can be used to your advantage. Just-in-time (JIT) delivery requires tight inventory control—at every step in the process. Frozen food companies often miss the opportunity to leverage inventory levels, because they tend to spread inventory out across multiple locations that are near current retailers. However, this is a strategy for highly perishable freight. Less perishable foods often receive fewer benefits from it. Instead, a central inventory location allows you to leverage volumes and drive inventory costs down, without sacrificing product quality.
Do-it-yourself frozen consolidation requires skill. Consolidating frozen foods relies on large volumes to make it successful—especially when retailer expectations are so high. When retailers expect deliveries every week and in a small window, building your own loads can be extremely difficult.
Trying to send one truck that's only 60 percent full isn't cost-effective. Then further expecting it to make multiple retail stops in a row and hit every delivery appointment isn't going to work well either. A provider that has several customers all with small orders that are shipping to the same retail location can make a single-consolidation appointment and be far more successful.
In its blog post, Winnesota warns, however, that when it comes to the delivery of frozen foods, it's not as simple as signing up for frozen fleet consolidation.
"Not all refrigerated service providers are created equal," it says. "When dealing with a high number of perishable shipments, it's vital for shippers to choose a company that provides consistent communication and visibility. Delivery windows are shrinking, so shippers need to know when items ship, when they are in transit and when they arrive at their destination.
"It's also important for shippers to entrust their refrigerated LTL shipments to consistent and reliable transportation and warehousing companies that offer fair prices. Just because retailers' needs have become more complex and nuanced, that doesn't mean shipping should become prohibitively expensive," Winnesota concludes.  
Follow Wunderlin on Twitter.