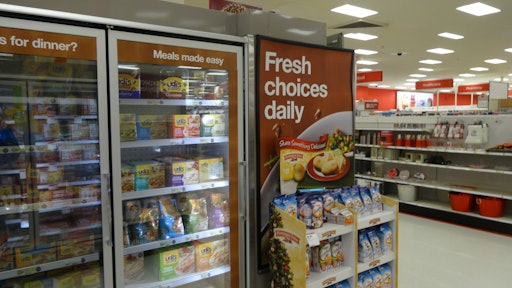 The myriad challenges facing food retailing today are forcing serious players to re-evaluate their supply chain strategies. Target Corp., the nation's second largest retailer, has openly acknowledged many of these challenges and has engaged in some thought-provoking, if uncertain, food initiatives.
John Mulligan, Target's chief operating officer, has described the company's fresh food supply chain as a "Frankenstein." "We have made this thing out of a bunch of moving parts." He acknowledged the company's supply chain for fresh food isn't fully reliable in many parts of the country.
In early November, the company announced it is considering partnering with outside companies to strengthen its unreliable fresh food supply chain which has led to chronic shortages in stores.
The move comes as Target also seeks to revamp its food business with newer offerings and aims to get a bigger share of e-commerce grocery sales.
Target

to spend $1 billion on supply chain

In March, Target told investors it intended to spend $1 billion to improve its supply network and online sales technology. John Mulligan, chief financial officer, said his hope is to make Target competitive with Walmart and Amazon without following their capital-intensive strategy of rolling out multiple warehouses and distribution centers.

Analysts and consultants interviewed by Reuters said Target might partner with SuperValu Inc., the Eden Prairie, Minn.-based wholesaler and distributor for independent retailers around the country, along with Hickory, N.C.-based Merchant Distributors, Kenosha, Wis.-based Affiliated Foods Midwest and Spokane, Wash.-based URM Stores Inc.

Burt Flickinger, managing director of New York City-based retail consultancy Strategic Resource Group, told Reuters that partnerships could mean billions of dollars for wholesalers, food distributors, and food and grocery manufacturers who have existing infrastructure to store and ship food products to Target stores.

Target grocery suppliers and food supply chain consultants agree that Target has been plagued by grocery out-of-stocks and needs to improve its supply chain. Sources interviewed by Food Logistics agree that the company has made progress under its new CEO, Brian Cornell, but more improvement is needed. In April, Cornell named grocery veteran Anne Dament to the role of senior vice president of merchandising to strategically reposition Target's food business.
Food has not been a shopper destination
Jim Tompkins, CEO of the Raleigh, N.C. supply chain consultancy Tompkins International, says Target faces a unique set of challenges in the grocery environment. Because the company expanded into food from a general merchandise foundation, the grocery section has never been exciting. He says it became a place to pick up groceries after shopping for general merchandise as opposed to being a destination unto itself.
As consumer grocery expectations increased over the years, this strategy needed to change. "Target needed grocery to become a destination unto itself and this meant fresh, organic and store brands," Tompkins says. "And so Target has had a long way to improve."
Target's challenge is to strengthen the outer ring of the store (fresh, refrigerated and frozen), Tompkins says. This outer ring contains the products that can be more profitable but have shorter shelf life and face higher quality expectations from customers. Target needs to make the outer ring a destination for customers, not an afterthought.
Under Cornell, who became CEO last August, Target has begun making strategic changes to their business, Tompkins says. He gives the following examples:
• On Target's intl.target.com website, customers can order food from about 200 countries and have the currency exchange, shipping and delivery managed for them. Borderfree, a technology provider, manages the website.
• The eBay Global Shipping, a program that makes 200,000 products available in the U.K.
• The company introduced an e-commerce offering in Canada after closing its Canadian stores last year.
• In September, the company partnered with Instacart, a delivery service whose personal shoppers pick and deliver grocery items from local stores, in Minneapolis, Minn., Target's home base.
Target's plans to rely on outside companies to handle wholesaling and distribution of fresh food has met varied reactions from retail veterans.
Food supplier cites challenges
One food supplier who spoke on the condition of anonymity told Food Logistics that relying on 3PLs for warehousing and distribution is nothing new for Target since the company has always used third party support for its food business. If the company plans to improve its food logistics performance, it could be signaling a need to change which 3PLs it relies on.
This source says the food logistics problem has not been confined to fresh food, but all food.
The executive further observes that Target has followed a "lean inventory" strategy with grocery, in marked contrast to Walmart and Kroger Co. Walmart and Kroger want stores to be fully stocked, and actually run the risk of overstocking them, in contrast to Target's strategy. Walmart and Kroger have the advantage of company-owned DCs and fulfillment centers.
Walmart and Kroger also are more flexible in allowing their stores to order product directly from food suppliers, he notes. Target does not give stores this flexibility.
Target's food supply chain has improved under Cornell, he stresses. "They're making progress but they're way behind in a lot of things."
Outsourcing: pro and con
Tompkins, for his part, thinks Target's approach of outsourcing fresh food distribution makes sense. "I think piggybacking with someone else makes sense. You need to move quickly."
Target also has an opportunity to improve its distribution by combining its existing DCs for physical stores with fulfillment centers for their e-commerce customers, Tompkins says. The advantages of combined DCs and FCs are lower inventorying costs, less automation equipment and lower transportation costs. "For Target to really do omni-channel, they need to do omni-channel logistics, which is combined DCs and FCs."
The company is not presently combining these functions since adding fulfillment functions to existing DCs would be too costly, he notes.
Michael Sansolo, a Potomac, Md.-based food distribution specialist, agrees it makes sense for retailers to partner with distribution specialists. "It's not a simple business anymore," he notes.
Mark Heckman, a supermarket veteran who currently runs a Bradenton, Fla.-based marketing and supply chain consultancy, questions Target's approach since he sees the supply chain as an area where retailers need to take as much ownership as possible. "When you lose control over the quality of the cold chain, it's very difficult to keep the standards," he says. "You're basically putting quality in a very untenable situation. It appears that Target is trying to find as many short cuts as possible to stay competitive in the food business." He describes the strategy as "180 degrees" different from Walmart's.
Heckman sees the move as especially challenging for Target since its core customer is more quality-focused than Walmart's.
He even views Target's Instacart partnership as a weak response to the e-commerce offering of its larger retail rival Walmart, and to Amazon, the e-commerce leader.
"Target is not going to be the only one (food retailer) using them (Instacart) in the market," Heckman says. "It's going to be a 'me too."
Target

expands its vision

Target has undertaken some other initiatives that reflect some level of commitment to improving its food supply chain. Most of these initiatives reflect Cornell's vision for making the food presentation relevant to growing consumer demands for organic, fresh and locally-sourced foods.

The company recently introduced a partnership with the Massachusetts Institute of Technology (MIT) Media Lab, based in Cambridge, Mass., and Palo Alto, Calif.-based global design firm IDEO on a multi-year collaboration, known as the Food + Future coLAB, to explore the future of food. Target says the work will focus on areas such as urban farming, food transparency and authenticity, supply chain and health. Target and MIT's Open Agriculture initiative will also begin a multi-year collaboration to explore city farming across multiple scales of an open platform.

The company will collect and analyze billions of data points. These will include brand communications, traditional and social media messages and supply chain information, in an effort to map global conversations related to food.

"Target is collaborating with MIT – combining their research and technical expertise with our knowledge of retail – to reimagine the future of food," Jenna Reck, Target's manager of public relations, told Food Logistics. "We're working with MIT's Open Agriculture lab to help determine how best to scale new food innovations to the world."

MIT's Open Agriculture Lab is one of the leading food research labs in the country, if not the world. The lab is building collaborative tools and platforms to develop an open-source ecosystem of food technologies that enables and promotes transparency, networked experimentation, education, and local production. It includes a "food computer," a controlled-environment agriculture technology platform that uses robotic systems to control and monitor climate, energy, and plant growth inside of a specialized growing chamber.

"We're also planning to open Food + Future coLAB, an innovation lab outside of Boston, to create new food ventures that push the edges of science, technology, and design," Reck adds.
"This is a multi-year collaboration that includes education, research, design and development."

Globally, the face of food will change more in the next five years than in the previous 50, Reck notes. "We want to be at the forefront of the change and drive meaningful innovations for our guests. Instead of waiting on the sidelines, we're proactively looking at new technology and innovations to help build the roadmap for Target's future food and wellness strategies."

Later this year, Target will launch a website with the design firm IDEO to identify trends and ultimately explore how food will be grown, sold and consumed in the next 15 years.

"By combining the boundless curiosity and discovery of MIT's Media Lab and IDEO's human-centered approach to design with Target's knowledge of retail, we can reimagine the future of food," says Greg Shewmaker, one of Target's Entrepreneurs-in-Residence, who is leading the Food + Future coLAB. "We know more about what's in our smartphones than we do in the last meal we ate. And that's something we want to change. This collaboration will help to unlock more options and create more transparency not just for Target's guests, but consumers everywhere."
For More Information:
Borderfree, borderfree.com
IDEO, ideo.com
Instacart, instacart.com
MIT Media Lab, media.mit.edu
Strategic Resource Group, srginsight.com
Tompkins International, tomkinsinc.com