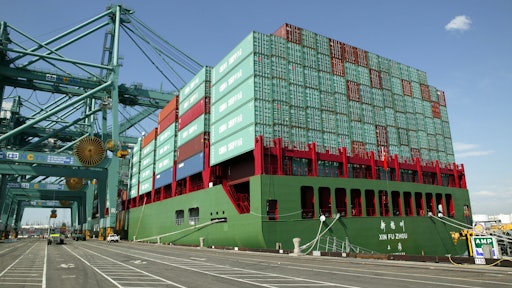 Despite the World Trade Organization's recent lowering of global trade growth estimates for 2015 and 2016, the agricultural sector continues to outperform most other trade segments.
U.S. agricultural exports set a record $152.5 billion in 2014, according to the U.S. Department of Agriculture. Imports also set a record at $109.2 billion. Seaports play a dominant role in agricultural trade and U.S. ports are gearing up for increasing volumes.
The growth in global trade hasn't been lost on government policymakers as they scramble to remove trade barriers to support job growth. But the nation's ports are already ahead of the curve, investing in harbor deepening and other capital improvements. The ports' terminal operators are also on cue, investing in more terminals and equipping them with plug-in reefers and container moving equipment.
The bigger picture to be gleaned from conversations with ports nationwide is that infrastructure investment is charging full speed ahead. Ports recognize the rising demand for U.S. food and beverage products, particularly in Asia, where incomes are rising and people are acquiring a taste for American frozen, refrigerated and fresh food.
In several regions, state and local governments are recognizing the need to improve road infrastructure to facilitate transportation at the ports. Economic development groups are also playing a role by encouraging investment in food and beverage (f&b) manufacturing and making companies aware of export growth opportunities.
F&b represents a small portion of total global trade. Among the top 20 most active U.S. ports, only the Port of Wilmington, Del. (ranked 16) listed food producers as a major source of imports, according to Zepol. The port's top importers were Dole Food Co., Chiquita Brands International, Hanover Foods, Bounty Fresh Chicken, and El Sol Brands.
Nonetheless, f&b is gaining its fair share of expanding global trade.
Ships expand, carrier alliances follow
West Coast port congestion did not begin with the recent labor dispute, several officials are quick to point out. The growth in ship sizes and the emergence of carrier alliances began causing issues early last fall. "Bigger ships are coming in more frequently than they used to," says Lee Peterson, a spokesman for the Port of Long Beach (POLB).
Larger ships have caused more trucks to converge on ports simultaneously, Peterson says. With a goal of improving reliability of pickup schedules for trucks, the port will consider new appointment systems. The port, along with stakeholders, will work to improve information exchange regarding the demand for and availability of labor.
Los Angeles, still by far the biggest port in the U.S., actually increased its TEU throughput in 2014 7.7 percent over 2013, while Seattle has seen an almost 20 percent decrease in its TEU throughput year-on-year, according to import data provided by Zepol. Hence, despite the setbacks caused by congestion and labor issues this year, there has not been an across-the-board trade decline on the West Coast.
The delays prompted the Federal Maritime Commission to allow the ports of Long Beach and Los Angeles to cooperate on finding ways to prevent congestion and cargo delays, improve the transportation network and enhance air quality. Both ports primarily serve container cargo.
While many ports have invested in capital improvements, they are quick to point out that the need to expand infrastructure is a good problem to have.
Port Of Long Beach invests
POLB is one of several ports that recognize growth opportunity in beef, poultry and pork exports. POLB has the advantage of on-dock rail and is a destination for both the Burlington Northern Sante Fe and Union Pacific rail lines, according to spokesman Peterson. Cargo container trade climbed 1.3 percent in 2014, bringing the POLB its third busiest year ever behind the peak years of 2006 and 2007.
One POLB container terminal now features stackable refrigerated containers, Peterson says. They will begin to be used as the terminal opens that section of the terminal. "We're opening it in phases," he says.
In addition, Vernon, Calif.-based Baker Cold Storage and Colton, Calif.-based Lineage Logistics are building a 250,000-square-foot cold storage facility within the port district.
Lost Angeles On Track For Growth
At the nation's largest port, the Port of Los Angeles, growth is happening on several fronts.
In April, the port opened the South Wilmington Grade Separation Bridge, a 4,100-foot-long structure linking Harry Bridges Boulevard to Pier A Street and Fries Avenue in Wilmington. A new grade separation facilitates emergency vehicle access, eliminates truck queues and traffic delays, and improves pedestrian safety. The project also eases access to facilities south of Harry Bridges Boulevard, including a new entrance to the Port's TraPac container terminal.
The TraPac container terminal has introduced an automated operation to handle containers. This has increased the efficiency of loading and off-loading of containers from vessels. The terminal now uses automated lift trucks and stacking cranes. "It is a quicker system," says Marcel van Dijk, the port's business development manager.
In addition, Lineage Logistics is building a new, 196,000-square-foot cold storage facility to serve both Los Angeles and Long Beach ports, Van Dijk says.
The Port of Hueneme, a Southern California port which specializes in fresh fruit imports, has also expanded its export activity this year, says CEO Kristin Decas. The port has a total 300 on-port and 300 off-port reefer plugs. Decas says there is a lot of growth in container cargo, although breakbulk remains central to Hueneme.
The port has developed a strategic plan, Decas says. Among the capital projects being considered are deepening the harbor to handle bigger ships, adding to the railroad lines, wharf modernizations, shoreline protections, and adding electrical plug-in devices to reduce carbon emissions.
Hueneme managed to escape most of the congestion that affected other West Coast ports, Decas says.
Northwest ports form alliance
The Federal Maritime Commission has also supported an alliance for the Seattle and Tacoma, Wash. ports called Seaport Alliance. The alliance was formed to unify management of the ports' cargo terminals. The alliance will manage cargo terminal operations, planning and marketing, while the ports will retain their existing governance structures and ownership of assets.
The Port of Seattle has opened a dedicated truck lane to the Union Pacific's ARGO rail yard which will improve access and speed up turn times for trucks moving containers to the rail, says Steve Balaski, the port's national accounts manager.
The port's marine terminals have some of the largest gantry cranes in the country. These cranes, along with a naturally deep water harbor, allow the port to handle the largest ships currently operating in the trans-Pacific trade.
The port is investing in the future by embarking on a modernization project for one of its key marine terminals to make it "big-ship" ready and offer on-dock rail capability. Additionally, the port has invested in infrastructure projects outside of its terminals to ensure that cargo can move in and out of the harbor area as quickly and efficiently as possible.
The Tacoma port will benefit from a "heavy haul corridor" for transporting overweight sealed containers used in international trade. The measure supports transloading, during which vehicle weight sometimes exceeds legal axle weight restrictions. The State of Washington has agreed to designate a section of SR 509 as a "heavy haul corridor." Through a permitting process, transloaders can transport this cargo on designated roads in the port area.
The Washington ports could also see an upward bump in their business because of the misfortune of another Pacific Northwest port, the Port of Portland.
The Port of Portland's major container terminal recently lost its two main customers, Hanjin Shipping Co. Ltd. and Hapag Lloyd. The two shipping lines reportedly are leaving the Oregon port because of continued labor unrest at Portland's Terminal 6. After their departure, only Puyallup's Westwood shipping line will serve the Port of Portland with monthly container ship calls.
Rail access key to West Coast Ports
Al Muehlenbruch, a facility manager at San Leandro, Calif.-based PCC Logistics, a 3PL with facilities at both Washington ports along with two in California (Los Angeles and Oakland), cites rail access as a key advantage of these ports. Containerized, refrigerated cargo represents the majority of the business, but the trade has also expanded from protein (beef, chicken and pork) to dry goods.
Rail access has been a challenge for West Coast ports, Muehlenbruch and others have noted.
Cold Train Express ended its intermodal service in August 2014 due to a slowdown in BNSF's service schedules on its Northern Corridor line.
The shutdown of Cold Train was caused by a significant slowdown in BNSF's service schedules on its Northern Corridor line beginning in the fall of 2013 because of increased rail congestion as a result of BNSF hauling larger volumes of oil and coal from the Northern Plains region, Cold Train claims. From November of 2013 to April of 2014, BNSF's on-time percentage dropped from an average of over 90 percent to less than 5 percent. In April of 2014, BNSF advised customers it would reduce intermodal train service from Washington State to only one train a day instead of two and that transit time would take three more days from Seattle/Quincy to Chicago.
Port officials gave mixed views overall about railway investment in refrigerated rail cars.
While refrigerated rail remains a subject of debate, Muehlenbruch acknowledges that railways are expanding. This could benefit refrigerated service in the long run.
Joe Stivala, sales manager at Seattle-based MacMillan-Piper, a container freight station with six facilities near the ports of Seattle and Tacoma, shares Muehlenbruch's concern about rail availability, but he thinks other factors affect congestion as well. These include labor cooperation and road infrastructure. He welcomes recent proposals by Washington State to invest in road infrastructure.
"The transportation package is finally getting some movement," he says.
MacMillan-Piper this past year invested $1 million in an upgraded conveyor system for bulk transport, which serves the grain trade. The grain flows from the rail car into an open container. "It's the only way to load loose grain," says Stivala.
East Coast ports expand
East Coast ports offered mixed reports on the impact of West Coast labor issues on their trade.
Dominic O'Brien, senior marketing rep for the Port of Philadelphia, thinks the West Coast slowdown might have played a role in his port winning a meat shipper's business from West Coast ports. Holt Logistics, a Gloucester City, N.J.-based terminal operator, landed the export contract and built a transfer platform for it.
Other factors that weigh in the Philadelphia port's favor include reefer plugs and an on-dock USDA inspection warehouse. One terminal has added 300 new reefer plugs while another is adding 2,500 square feet of docking space. There are also plans to deepen the Delaware River port channel by 40 to 45 feet.
Long-term, the East Coast ports believe they will benefit from a growth in global trade.
"The economies of scale of bigger ships will provide more export opportunities for U.S. food exporters," O'Brien says.
Containerized cargo is growing faster than bulk and breakbulk, he adds. "We see a shift. More of the fruit gets put in a container and comes to our port in a container ship."
O'Brien is optimistic about both import and export trade. Foreign food producers have improved their professionalism in recent years. At the same time, the U.S. government is working to expand free trade agreements.
"The fact that we were able to get a shot at this business is exciting to us," O'Brien says regarding the new meat export contract. He notes that while Philadelphia is well known as an import facility, export trade is growing. He credits the state of Pennsylvania for promoting export trade.
The Port of Savannah in Savannah, Ga. also continues to invest in infrastructure.
"The Port of Savannah continues to invest in infrastructure and processes to accommodate refrigerated commodities," says Chris Logan, senior director of trade development. "We have significant landside operations to handle both refrigerated exports and imports. Frozen protein exports is and has been a significant component of our business, but perishable imports are growing rapidly."
Refrigerated import volumes rose 15 percent in fiscal 2014 for the port. This past March, total volumes jumped 28 percent. "We're in a unique area that is close to both production and consumption areas for refrigerated commodities," Logan says.
"Perishable imports from Latin America and other areas are growing" he adds. The port is currently participating in a USDA cold treatment pilot, which is a procedure to kill the Mediterranean Fruit Fly for certain cargos. There is a growing demand by importers of perishable cargo to land cargo closer to the point of consumption which offers reduced transit times and lower delivery costs.
"Consumer demand for perishable imports are growing in the Southeast, and the Port is Savannah is uniquely prepared to meet these customers' needs," Logan says.
PortMiami launches 'faster is fresher'
This year, the PortMiami rolled out a "Faster is Fresher" campaign highlighting the port's proximity to Latin America and the Carribbean and rapid access to large East Coast markets. It also offers more than 1,000 reefer plugs and USDA certified on- and off-port fumigation. Access to highway and railway allows next-day delivery to the Southeast U.S., with access to 70 percent of the U.S. population in four days or less. The campaign has already delivered a 25 percent growth in perishable trade.
The PortMiami has established a cold treatment program that has allowed it to gain additional Latin American import trade, says Eric Olafson, manager of trade development.
The USDA-certified in-box fumigation system has been a big benefit to food shippers, Olafson says. This 5-hour process saves the shipper the trouble of having to remove the product from the container, fumigate the product in pallets, then load it back into containers. "It's been a complete success, providing a cost effective convenience for shippers," he says.
The PortMiami perishables committee, made up of stakeholders in the industry, looks to promote new technology and best practices. It has recently learned about a technology that extends the shelf life of fresh proteins using fuel-cell based oxygen management system, Olafson says. Using technology to increase shelf life or bring new products to market, whether it is fresh fish or pharmaceuticals, is essential as the port grows as a global perishables gateway.
Retailers are recognizing that Florida's growing population makes it a more attractive destination than it used to be, Olafson says.
Looking forward, Olafson thinks PortMiami will win some of the Asian trade from West Coast ports. "We think some of the grain doesn't have to go across the Rocky Mountains," he says.
Olafson further notes that transshipping activity has been gradually recovering from the setback caused by the 2001 World Trade Center bombing. "Transshipment is coming back now," he says, "and PortMiami is located at the nexus of North-Sout/East-West trade routes, making it ideal for transshipment."
Manatee Harbor, which currently has a depth of 40 feet, is targeted to receive $700,000 in feasibility study funding in the federal budget for the fiscal year that begins Oct. 1, 2015, covering the complete expense of the study.
Port Manatee hopes to deepen the harbor depth to 45 feet, which will allow it to accommodate the majority of vessels transiting the expanded Panama Canal, says Carlos Buqueras, executive director of Port Manatee. Manatee is the closest U.S. deepwater port to the canal, where a new, larger traffic lane is slated for opening in early 2016.
Dave Sanford, the port's deputy executive director, says Palmetto, Fla.-based World Direct Shipping, a new port tenant, recently began a container service to Coatzacoalcos, Mexico, and is experiencing steady growth.
Logistec Corp., a Montreal, Canada-based marine service provider, manages the handling of palletized and containerized cargo for Del Monte Foods and Fresh Quest, based in Plantation, Fla. and Oakland, Calif., Sanford says.
Sanford notes that all types of cargo – containerized, bulk and breakbulk – are expanding. Food products – pineapples, bananas, melons, peppers and avocadoes – account for nearly half of the breakbulk freight, while grain, sugar, soybeans and salt account for a large portion of the bulk freight.
Orange juice has been a growing export and import, he says, noting juice activity has significantly increased in the last 18 months. "Europe provides a good market for the export of Florida juice," he says.
The port plans to add an additional 50,000 square feet of refrigerated warehouse space and additional plug-in reefers. "We need capacity," Sanford says. "Our current warehouses are full."

While Sanford has high hopes for Panama Canal trade, he notes that Cuba, Jamaica, Puerto Rico and the Bahamas are all investing in their ports for transshipment opportunities.
New Orleans posts record activity
Food played a big role in The Port of New Orleans record year for container volume in 2014. According to year-end totals, 490,526 20-foot equivalent units moved through the Port's Napoleon Avenue container terminal during the 12 months – an 8.8 percent increase over the 2013 total.
Many of the Port's top food commodities realized healthy gains. Export poultry grew by 5.5 percent to 331,523 tons and imported bananas grew by 251 percent to 72,165 tons despite only seven weeks of cargo delivered by Chiquita Brands LLC.
The port welcomed a new weekly European service from French container carrier CMA CGM in February with the arrival of the CMA CGM Jamaica. In addition, Chiquita Brands, along with their sailing partner Mediterranean Shipping Co., began weekly service to the port in October after relocating its shipping operations to New Orleans following a 40-year hiatus.
Maersk Line returned vessel service to the port in February, says Matt Gresham, director of external affairs. The weekly Northern European service is teamed with a weekly Mediterranean service through the 2M Alliance Maersk formed with Mediterranean Shipping Co. The 7,400-20-foot-equivalent-unit Maersk Kotka serves as the largest ship in the seven-vessel service.
More infrastructure improvements are on the way in New Orleans. A $25.1 million investment, mostly from the federal government, in the 12-acre Mississippi River intermodal terminal will facilitate the movement of marine and rail cargo. The intermodal terminal will add an estimated 200,000 TEUs of capacity to the Napoleon Avenue container terminal – bringing total capacity to 840,000 TEUs per year. Expected completion date is February of 2016.
In addition, the port and New Orleans Terminal LLC are jointly investing $7.9 million in a refrigerated container racking system within the container terminal to store more than 600 refrigerated containers at a time. The increased capacity is needed to meet the surging demand for refrigerated cargo in New Orleans – primarily imported bananas and exported poultry. The installation is scheduled for completion by year's end.
Concern about the impact of sanctions against Russia did not materialize for the Port of New Orleans, notes Gresham, since rising demand from Southeast Asia and other markets made up for the Russian sanctions.
Port and logistics observers are optimistic that the Panama Canal expansion will increase trade. How much it will impact existing trade routes, however, is a matter of debate. Some observers think the expansion will raise the cost to an extent that it could adversely affect shippers' willingness to use it.
"The Gulf will definitely experience growth" from the Panama Canal, the Port of New Orleans' Gresham observers.
Lineage Logistics

Debuts 'Eco Genset' Drayage Solution

Lineage Logistics recently introduced a new drayage solution for transporting reefer ocean containers between ports and their temperature-controlled warehouses. The new solution runs the refrigeration unit built into the ocean container using power from the tractor, eliminating the need for a clip-on genset unit. The new technology, which was developed in Europe, weighs only 400 pounds compared to clip-on genset units that weigh 2,500 pounds. The 2,100 pounds difference can be allocated to cargo weight, which allows customers to ship more products for their transportation dollars.

By replacing the diesel-driven genset with a truck-driven, all-electric power source for the cooling system, the Lineage Logistics drayage solution reduces exhaust emissions for every truck transporting reefer containers. Since the new unit is permanently attached to the truck and the clip-on genset is eliminated, trucks avoid going through the mounting process at the port.

Lineage Logistics has tested the solution at ports in Savannah, Ga., Los Angeles, Calif., Oakland, Calif., Seattle, Wash., Tacoma, Wash. and Norfolk, Va., and will be launching at Charleston, S.C. and Long Beach, Calif. shortly.

"It's another value added service we are offering," says Tim Smith, executive vice president of sales and business development at Lineage.
Northwest Ports Face Challenges
Oregon and Washington ports continue to face challenges to take advantage of global trade opportunities.
The Port of Portland commissioned a study in 2011 that found that from 2006 to 2011, the port increased its volume of cargo by 517,700 tons, mostly consisting of grain exports, scraps, and containerized cargo. However, this year, Hapag-Lloyd and Hanjin Shipping Co. announced they will no longer use the port. Together, the two shipping lines had accounted for virtually all of the Port of Portland's cargo-container business.
The Washington Legislature in 2013 directed the Department of Commerce to develop a strategy to leverage the state's maritime assets. The department noted three specific opportunities – recreational boating, commercial fishing, and port competitiveness.
Even before the West Coast port slowdown, the ports of Seattle and Tacoma had lost substantial market share to other regions, according to the Pacific Merchant Shipping Association. From 2005 to 2013, all North American port regions gained container traffic except the Puget Sound ports, the association reported.
Puget Sound ports can become more competitive through moving cargo more efficiently, not just through their terminals, but also through the entire system, according to a 2014 commerce department report. For that to occur, improvements are needed in port access projects and "last mile" connectors. The connection of state routes 167 and 509 to the interstate system and the ports will improve access for the state exporters as well as importers, the report noted.
The advent of larger mega-container ships has resulted in shipping lines making fewer vessel calls, the commerce department noted. This results in bypassing some ports in favor of larger "load centers" such as Los Angeles/Long Beach.
In addition, some cargo that used to transit West Coast ports now goes to the East Coast through the Panama Canal, the department notes. While that route takes longer, it costs less. Both the Panama and Suez Canals are undergoing significant expansions, which could further erode market share.
The Washington State Senate recently approved a $15 billion transportation revenue package speed the movement of cargo through the ports of Seattle and Tacoma. "Farmers, manufacturers and businesses of all sizes need an efficient gateway to reach global markets," said Port of Seattle Commission Co-President Courtney Gregoire.
Port of Stockton Sees Bigger Role For Food Trade
By Lara L. Sowinski
Ports are typically a good bellwether of broader economic conditions, and trade activity at California's Port of Stockton is one example of a steadily improving global economy that is largely fueled by imports and exports.
Construction materials are key commodities for the Port. However, agriculture and food are playing a more important role.
According to Mark Tollini, senior deputy port director for trade and operations, "During the recession, we realized that the Port was too heavily invested in construction materials and we needed to diversify. Food and energy are two things everyone needs regardless of the economy, and we've been focusing on these sectors a lot more over the past five to six years."
Given its close proximity to central California's prime agricultural growing areas, the Port of Stockton is a leading import gateway for fertilizer, including urea. American River Ag is a major importer of urea and animal feedstuffs at the port. The company benefits from the port's strategic location to Interstate 5, international waterway, and transcontinental rail access provided by Union Pacific (UP) and Burlington Northern Santa Fe (BNSF).
Tollini said that while the port "integrates into the global food supply chain primarily on the fertilizer side," more food shippers are exploring options for temperature-controlled shipments, and particularly those transported by specialized reefer containers rather than containerized carriers.
"One exporter of frozen meat products told us the company's supply chain was hinging on container carriers' ability to provide an adequate supply of reefer containers," explained Tollini. "The company was unable to deal with this equipment issue. It was backing them up all the way to the slaughterhouse. So, they're starting to explore using more conventional reefer ships in their supply chain."
Despite the migration of temperature-controlled perishable food shipments to containerized carriers and ports, specialized reefer carriers are staying competitive by offering premium service, including more direct routes and reliable reefer capacity when and where shippers need it. Niche ports like Stockton with plentiful cold storage capacity and rail links are seeing more interest from food shippers who not only want to diversify their transportation and logistics mix, but are still feeling the sting of West Coast labor disruptions that only recently subsided.
Although the Port of Stockton uses International Longshore and Warehouse Union (ILWU) laborers, the relationship between the port and the union is far less acrimonious.
"We have union labor, but weren't impacted nearly to the degree as Los Angeles-Long Beach," noted Tollini, who added that "being a small, inland non-containerized port" also helped in avoiding the brunt of the disruptions.
For more information:
Baker Cold Storage, 323-268-2801, bakercommodities.com
Federal Maritime Commission, 202-523-5807, fmc.gov
Holt Logistics, 856-742-2020, holtlogistics.com
Logistec Corp., 514-844-9381, logistic.com
MacMillan-Piper, 206-624-5135, macpiper.com
Lineage Logistics, 800-678-7271, lineagelogistics.com
Maersk Group, 45-33-63-33-63, Maersk.com
Mediterranean Shipping Co., 212-764-4800, msc.com
New Orleans Terminal LLC, 504-648-6211, notml.com
Port of Hueneme, 805-488-3677, portofhuneme.gov
Port of Los Angeles, 310-732-7678, portoflosangeles.org
Port of Long Beach, 562-283-7000, polb.com
Port Manatee, 941-722-6621, portmanatee.com
Port of Miami, 305-347-4800, miamidade.gov
Port of New Orleans, 504-522-2551, portno.com
Port of Philadelphia, 215-790-4447, portsamerica.com
Port of Portland, 503-415-6591, portofportland.com
Port of Savannah, 912-963-2504, gaports.com
Port of Seattle, 206-787-5388, portofseattle.org
Port of Stockton, 209-946-0246, portofstockton.com
Port of Tacoma, 253-383-5841, portoftacoma.com
PCC Logistics, 800-458-4788, pcclogistics.com
TraPac, 877-387-2722, trapac.com
World Direct Shipping, 941-729-5828, worlddirectshipping.com