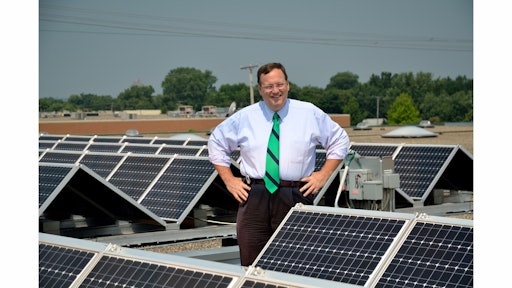 Managing energy in a distribution warehouse has become a highly specialized field in recent years, thanks to the evolution of alternative energy, be it solar power, wind power, and various innovations for managing machinery, lighting and temperature control. Food and beverage (f&b) warehouse operators are discovering several new ways to use energy more efficiently. These efforts oftentimes help save costs and meet sustainability goals.
Linneage Logistics, the Colton, Calif.-based cold storage provider, joined the U.S. Department of Energy's Better Plant Challenge for 2015, a pledge to reduce energy intensity corporate wide by 25 percent over 10 years, says Neil O'Leary, senior director of business development. This initiative has led the company to a variety of energy management projects.
"Capital improvements include projects like LED lighting, refrigeration system upgrades, real time energy monitoring and solar panels," O'Leary says. "Operational efficiency projects include continuing education for our engineers, third party facility tune-up programs and internal operations studies, like the one we recently performed on blast freezing."
Facilities Embrace LED Lighting
The most significant change in many warehouses in recent years has been the introduction of LED (light emitting diode) lighting. LED offers more versatile lighting at a lower cost than fluorescent and metal halide lights. It also reduces air conditioning costs since LED lights do not emit heat.
Intelligent LEDs use advanced sensing technologies, wireless networking and metered data to fundamentally change how lighting is being used or not used in a warehouse. It also allows a customer to restrict illumination to when and where it is needed.
Intelligent LED systems allow facilities to monitor non-lighting-related energy loads, such as HVAC systems and warehouse machinery.
In addition, connecting warehouse equipment to the lighting system can provide detailed energy usage and performance data via the same energy and analysis platform used to manage lighting. In this way, intelligent lighting systems give facility managers a way to manage energy facility-wide.
Allison Parker, director of marketing at Digital Lumens, the Boston, Mass.-based manufacturer of LED lights, says one of the most significant benefits a warehouse realizes from intelligent LED systems is on the activity patterns taking place. "You see exactly where people are going at what time of day; You realize the lights are on in aisle four all the time," Parker explains.
Conklin, N.Y.-based Maines Paper & Food Service saved 1.7 million kilowatts per year after Digital Lumens replaced 400 metal halide lights with LED lights throughout the company's facility, Parker says. The intelligent lighting system has increased light levels for facility staff, while reducing energy usage by a documented 87 percent. Maines also qualified for New York State financial incentives to install the system.
Fort Worth, Texas-based Ben E. Keith Co.'s new facility incorporated Digital Lumens LED smart lighting system in its new 475,000-square foot DC.
The LED smart lighting reduced lighting-related energy use significantly, says Shaun McFaul, operations manager at Ben E. Keith Co. Backed by performance data from the company's distribution centers, the Digital Lumens system is expected to save the new facility 90 percent of the lighting energy versus high-intensity fluorescents, and 75 percent over plain LEDs without integrated sensors and software controls. "It's been a great product," McFaul says. "I thought the high bay fluorescents were great, but these LEDS have even blown those high bay fluorescents out of the water."
Repeatedly cycling fixtures on or off, dimming or continuous cold temperature operation will not impact the longevity of the LED fixtures. Hence, the lights can be turned off whenever a space is unoccupied for a specified period of time, even in areas where temperatures consistently reach minus 40 degrees Fahrenheit.
By running at a low wattage, the smart lighting system reduces thermal loads placed on its new refrigeration systems, saving additional energy and shortening refrigeration duty cycles, McFaul says. By eliminating re-lamping, re-ballasting and other routine maintenance costs, Ben E. Keith's Houston facility will eliminate those expenses from the annual operating budgets.
Key Cost: Warehouse Refrigeration
For cold storage facilities, refrigeration consumes the most energy.
State-of-the-art refrigeration systems are designed to achieve and maintain the specific required conditions of a facility's refrigerated space by producing enough cooling to overcome the heat added by external and internal loads as well as the heat generated by the product, says Bob West, director of business development for the industrial sector of Ryan Companies, a commercial real estate firm providing design-build construction, real estate development, and real estate management services.
Refrigeration systems usually have four major components—compressor, condenser, expansion device and evaporator, West says. To maximize the overall efficiency of a refrigeration system, he says it is important to consider the interaction among components as well as the individual performance of each.
Although the particular equipment and control strategies that produce the most efficient refrigeration system will vary by facility, West cites the following factors to consider:
• Type and variability of load (temperature and humidity requirements for product, including entering product temperatures and product turnover);
• System size and cooling requirements;
• Geographic location (ambient temperature, seasonal temperature changes);
• For existing systems, age of the system.
Control technologies on compressors can enhance the performance of a refrigeration system, West says. An effective control technology with energy savings potential is the variable frequency drive (VFD), which controls the motor speed based on required load, he says. Systems with variable cooling loads can benefit substantially from VFD retrofits; however the viability of this option depends on equipment-specific factors, and the compressor manufacturer should be consulted, he says.
For systems using multiple compressors, one strategy is to optimize the sequencing of compressors, says Tim Bauer, director of industrial architecture at Ryan Companies. Control systems can sequence compressor operations so they match variable load requirements.
Condenser design also plays a role in refrigeration system efficiency, Bauer says. The capacity and performance characteristics of the condenser have a direct effect on compressor efficiency. Selection of the appropriate condenser depends on the ambient weather conditions, the amount of heat rejection needed, and the available space.
Dock Levelers Boost Efficiency
Vertical storing hydraulic dock levelers are a fairly new development for improving warehouse efficiency, adds Bauer. An extended lip chamfer – a beveled edge connecting two surfaces – provides a smooth transition from the trailer bed to the dock leveler. A smooth transition between loading dock and trailer reduces jolts to forklift operators, thereby minimizing product and equipment damage. The overhead door closes all the way to the pit floor, providing better environmental control over temperature and humidity extremes.
"There is no air getting in and out because of that vertical leveler," observes Charla Whalen-Mueller, director of marketing and recruitment at Witte Bros. Exchange Inc., an asset-based 3PL based in Troy, Mo. that has used vertical storing hydraulic dock levelers. Whalen-Mueller also concurs with Ryan Companies that the VFD allows the compressor to run at a lower speed in accordance with the work load. Witte Bros.
The selection and control of other equipment located in the refrigerated space can have a big impact on the energy requirements of the refrigeration system, Ryan Companies' Bauer says. Lighting, motors, forklifts, human traffic, and other internal heat sources all contribute to the cooling load and should be considered when pursuing energy saving strategies. Other sources of heat gain include infiltration and fenestration through the building shell. Door openings, ventilation and insulation materials are some of the factors affecting heat gain through the building shell.
Condenser Control Affects Efficiency
Another control strategy is condenser floating head pressure control, Bauer says. In many standard systems, head pressure is controlled to be at the fixed design condensing temperature set point, which is typically high enough for the compressor to be able to meet the maximum system design load at ambient conditions. In these systems, condenser capacity is controlled through condenser fan cycling or adjustment of the fan speed, Bauer notes.
With condenser floating head pressure control, the condenser head pressure is allowed to "float" down to lower levels by taking advantage of the increased cooling capacity of the condenser during cooler ambient conditions, he says.
The control system is only one aspect of energy management, Bauer says. The equipment needs to be properly operated. "You can have a good design and operate it poorly," he says. "We find that a lot."
Penske Logistics utilizes dock levelers, high speed doors, variable speed pumps, automatic lighting and LED lighting to reduce the cost of warehouse refrigeration, says Mark Smith, area vice president. He also sees satellite monitoring of temperature creating new opportunities to save on energy. "You don't have to be on site to monitor your system," Smith says. He sees LED lighting as the most significant new innovation in energy management.
Smith further notes that the next generation of refrigerants will be cryogenic refrigeration, which uses freezing mixtures such as dry ice, solid CO2, liquid CO2, or liquid nitrogen. "This next generation of refrigerants will be better for the environment as their global warming potential is significantly lower than traditional refrigerants," he said.
The application of cascade carbon dioxide and ammonia refrigerating systems has been gaining popularity in food distribution facilities in recent years, according to Tim Nguyen, regional vice president of Hartland, Wis.-based ESI Group, a design-build general contractor. The primary factors contributing to the lower cost are in operating efficiencies of the system, including smaller, low-stage compressors; smaller low temperature suction piping, valves, and liquid separating vessels; less piping and vessel insulation. However, the type of refrigeration that makes the most sense depends on the warehouse's refrigeration needs, Nguyen says. He says the cost comparison of the cascade carbon dioxide and ammonia system is such that it makes sense for clients with multiple warehouses to determine a baseline load for energy use comparison.
Battery Charging, Water Management Matter
While refrigeration accounts for the largest use of energy, savings can also be achieved in vehicle battery charging and lighting, Nguyen says. A comprehensive energy management system can determine when its peak loads are and allocate functions that are not time sensitive, such as battery charging to non-peak times. This can reduce the likelihood that the energy use will exceed the point that company will incur a surcharge.
Murphy Warehouse Co. in Minneapolis, Minn. achieved substantial energy savings through more efficient water management, says Craig Wilson, co-owner and principal of Sustology, a Minneapolis-based sustainability consulting firm that has assisted Murphy Warehouse in upgrading more than 2.7 million square feet of warehouse space in the Twin Cities. The $580,000 storm water management system on the Murphy Minneapolis headquarters campus retains 97 percent of storm water onsite versus 95 percent running offsite before the project, saving the company $74,000 in annual fees. The system will deliver a 7-year return on investment.
The company upgraded its plumbing fixtures and installed a state-of-the-art satellite-based irrigation system, in addition to a soil moisture system that responds to weather data, meaning the irrigation system will not run if rain is in the forecast.
Murphy Warehouse Co. augmented its plumbing and irrigation measures with new HVAC equipment. Dock blankets have increased temperatures by about 10 degrees and reduced heating expense by 15 percent in the winter.
Programmable thermostats and occupancy sensors also decreased energy consumption, along with replacement of window air conditioning units with Energy Star-rated HVAC units that have programmable thermostats, says Neil Manns, Murphy Warehouse marketing coordinator.
They have also upgraded one 350,000-square-foot facility with LED lighting inside and out. The exterior lights run at 20 percent until the area is occupied; they then switch to 100 percent power.
Murphy's overhaul also involved installation of a 326 kilowatts of solar PV in roof solar arrays; the company now produces 12 percent of the facility's electricity onsite, which translates into $20,000 in annual energy savings, says Manns. Through a series of federal state and local energy company initiatives, the company's investment in solar energy will deliver a 4-year return on investment.
Solar Power Moves Forward
Solar power has emerged as one of the more controversial energy systems in recent years, due to the government credits and incentives that some observers claim are necessary to cost justify the installation of solar panels. Some companies claim they have been able to construct multi-million-dollar facilities without spending any of their own money.
ESI Group's Nguyen says solar power makes sense in certain geographic areas where there is more sun, such as the West and Southwest. He also says tax credits and incentives are needed for solar projects to be cost justified. ESI Group has installed solar panels on some warehouses.
Walmart recently announced that it will double the number of on-site solar energy projects at its U.S. stores, Sam's Clubs and distribution centers by 2020. The commitment is part of Walmart's global initiative to drive the production or procurement of 7 billion kilowatts of renewable energy by the end of 2020.
RLS Logistics, the Newfield, N.J.-based logistics provider, partnered with HelioSage, a solar project development firm, and Dynamic Solar LLC, a solar integrator, to install a 257-kilowatt solar array on the roof of the company's headquarters, says John Gaudet, vice president of business development at RLS Logistics. The power generated by the array will provide RLS with instant cost savings and a reduced dependence on grid power.
The 257-kilowatt array will power more than 300,000 kilowatt hours a year, enough electricity to power 25 typical U.S. homes. The solar array reduces facility's CO2 emissions by 200 tons per year, which is equivalent to taking 40 cars off the road or avoiding 70 tons of landfill waste each year.
Under a contract known as a power purchase agreement, RLS hosts the solar array and pays a monthly power bill, which has allowed the company to go solar without any capital outlay, Gaudet says. Moreover, the price RLS will pay for solar electricity over the 15-year agreement represents a considerable discount to its previous rates for power.
Energy management has become an increasingly specialized field in warehouse operations, given the evolution of lighting systems, refrigeration technology, computerized compressors, facility improvements, refrigerants and other innovations. Warehouse operators are increasingly turning to specialists to help them operate more efficiently while meeting their sustainability goals.
Ohio Farm Uses Tax Credits To Install Energy Saving Wind Turbines
Cooper Farms, a turkey and pork producer in Van Wert, Ohio, took advantage of the state's energy credits and three years ago installed three wind turbines that power three quarters of the plant's electricity. The biggest electricity output is for cooling. The plant continuously cooks 100,000 pounds of meat.
Gary Cooper, owner, says the company is on track to recover its $6 million investment over seven or eight years. In addition to the installation costs, the turbines require about $100,000 in annual maintenance, Cooper says. He says it would not have made sense to invest in the turbines without the federal and state tax credits.
Van Wert, in Northwestern Ohio, sits at the tail end of a jet stream, which undoubtedly contributes to the effectiveness of the wind turbines, Cooper says. In addition to providing an efficient source of power, the turbines have helped with the company's sustainability initiatives and its public relations.
Wind has accounted for 33 percent of all newly installed U.S. electricity generation capacity over the last seven years, according to the U.S. Department of Energy.
For more information:
Digital Lumens, 617-723-1200, digitallumens.com
Dynamic Solar LLC, 484-318-8800, dynamicsolar.com
ESI Group, 262-369-3535, esigroupusa.com
HelioSage, 434-293-7589, heliosage.com
Linneage Logistics, 800-678-7271, linneagelogistics.com
Murphy Warehouse Co., 612-623-1200, murphywarehouse.com
Penske Logistics, 800-529-6531, penskelogistics.com
Ryan Companies, 877-717-2520, ryancompanies.com
Sustology, 612-455-2177, sustology.com
U.S. Department of Energy, 202-586-5000, energy.gov
Witte Bros. Exchange Inc., 800-325-8151, wittebros.com
Companies in this article