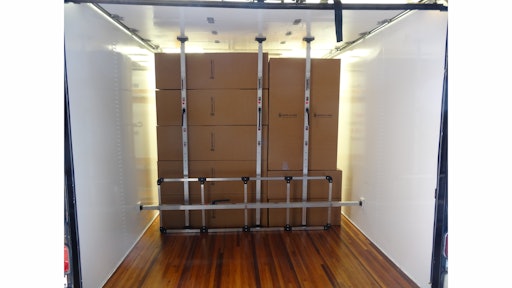 Refrigerated and frozen product runs the risk of being damaged in transport if the cartons are not kept in place. A handy tool for ensuring this does not happen is a hydraulic load bar that will not freeze in transit called Save-A-Load®.
The 8.8-pound bar works in -60 degrees Fahrenheit to 250 degrees Fahrenheit, notes Cathy Littlejohn, vice president of Save-A-Load, Inc. The bars use FDA approved hydraulic fluid by the name of SeaSafe. The bars can adjust from 84 inches to 110 inches and can be used horizontally and vertically.
The heavy-duty coil spring and pressure limiting valve provides holding power inside of the trailer without damaging the trailer walls in all road conditions and even if the trailer rolls over. The easy-push button release makes it safer to operate.
Preventing damaged product is a priority for all transport companies. Littlejohn notes that companies use up to 40 bars in a trailer. The trailer is set up like a "rolling" warehouse. The driver can unload product and easily move the load bars to secure the load.