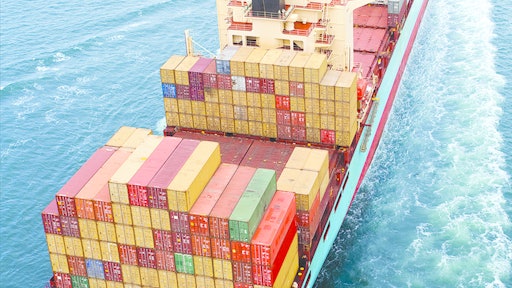 Major container lines have been expanding their share of the global reefer trade in recent years, cutting deeply into a market once largely controlled by specialized reefer vessels. New technologies and container designs are supporting carriers like Maersk and others as they continue to build their containerized reefer business.
New boxes and services
CakeBoxx Technologies' patented two-piece (doorless) shipping container was introduced in January 2011 and since then the company has added more models to their product line-up—including the FreshBoxx and the FreezerBoxx—targeting temperature-controlled shippers.
The FreshBoxx keeps perishable foods within a few degrees of their ideal temperature over a 72-hour period, making it a good choice for "single day-long trips from field processing to cold storage or from storage to customer," states the company. The units are lined with food-grade interior wall panels and ultra-high performance insulation that significantly eliminates cooling loss and heat gain, and the paint on the unit itself is even designed to reduce heat transfer. In addition, there are no moving parts other than the latch and there are no power requirements either.
The company's FreezerBoxx units have sufficient insulation to provide temperature stability "for trans-oceanic journeys in excess of four weeks without any refrigeration," and similar to the FreshBoxx model, feature food-grade liners, ultra-high performance insulation and no power requirements.
In June, a special purpose container for shipping live fish was put into service by Southern California-based Pacific American Fish Company (PAFCO), which developed the unit to import new fish species to the U.S. market.
Initially, PAFCO is utilizing six containers for a once-a-week import schedule, according to the Journal of Commerce, but aims to invest in more units to achieve two deliveries a week by the end of the year.
The containers are pricey (over $100,000 each), however their design ensures the fresh fish survive the ocean voyage, which is critical because even if a few fish die in transit it pollutes the water inside the container's tank and kills the other fish. Transporting live fish via ocean rather than air is ultimately much less expensive too, which will help acquaint Americans with obscure species, such as black rockfish.
In the meantime, a new reefership design will be unveiled during the Cool Logistics Global 2013 conference in Rotterdam, The Netherlands at the end of September. Not much information is available, except that it combines a horizontal pallet handling system with load on/load off features for containerized deck cargo, which will result in record handling speeds for getting fruit shipments on and off the vessel while at berth.
Latest technologies
There are also several new technologies on the market to better control the atmosphere in the reefer container as well as monitor it in real time during transit, making it possible to attract some products that used be shipped strictly by airfreight.
Earlier this year, Purfresh unveiled its Total Active Environment solution for food shippers, which controls key elements, including temperature, relative humidity, ozone, ethylene, carbon dioxide and oxygen. Additionally, the technology also monitors physical shocks to the container, like being dropped, which can seriously damage fruit shipments, especially.
The physical component of Purfresh Total Active Environment is a small, portable unit that is mounted into a reefer container's existing evaporator fan access panel. The unit uses an "active" form of natural oxygen that is optimized to kill mold, yeast and bacteria in the air and on surfaces; consume and regulate ethylene; and actively control the carbon dioxide (CO2) level to affect respiration of perishable products.
On the technology side, the company's Intellipur monitors and controls the atmospheric elements in real time and tracks the location of the container via GPS/satellite tracking. Intellipur has two-way communication with the controller, which allows it to change set points during the entire transit, even on the water.
San Francisco-based Global Fresh Foods' controlled atmosphere technology is making it possible to ship fresh protein, like salmon, via ocean on long distance routes such as Chile to California.
In May, the company announced that it had successfully ocean freighted 40,000 pounds of fresh salmon from Chile to the Port of Long Beach without using polystyrene or ice, marking the first time that a full 40-foot container of non-frozen salmon was shipped to the U.S. via ocean freight.
"The industry now has a viable alternative to expensive and environmentally harmful airfreight for transporting fresh seafood," said Mark Barnekow, CEO of Global Fresh Foods. "With our technology, seafood distributors can now assure their retail customers will have an uninterrupted supply of fresh seafood, with far less impact on the environment."
The following month, Global Fresh Foods shipped fresh Chilean salmon via a 33-day ocean transit to Tokyo's Tsukiji fish market, the largest wholesale fish and seafood market in the world.