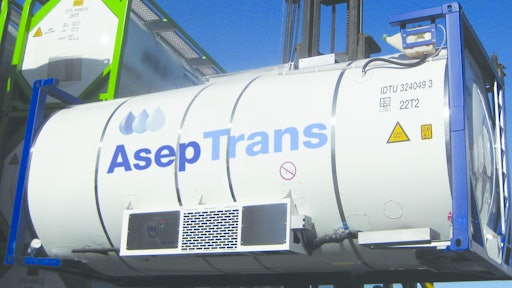 There are various options available to companies when it comes to transporting bulk products, including tanks, bins, and inflatable storage tanks. Not only are newer products helping companies ensure hygiene and cargo security, they can also help companies reduce overall transportation costs.
Responding to shippers' demands
Food companies are looking for accountability from their suppliers and they want to ensure that the equipment used when shipping product is compliant with state and federal regulations.
According to the Centers for Disease Control and Prevention, in 2011, contaminated food caused 47.8 million cases of illness throughout the U.S. Therefore, regulations such as the federal Food Safety Modernization Act (FSMA) can positively impact the safety of food products throughout the supply chain.
Customers are looking for increased hauling capacity. For example, due to this year's moderate winter, there has been about a five percent increase in milk production in certain parts of the U.S., reports Des Moines, Iowa-based Ruan.
Sustainability is another concern when it comes to transportation, particularly with bulk bins. "In Europe, we're seeing that there's a cost for disposing used packaging material and we see that trend emerging here in the U.S.," says Bahman Sadeghi, CEO of Palmetto, Florida-based AsepTrans. Companies can avoid such costs by utilizing reusable shipping equipment.
"Reusable shipping containers require 39 percent less total energy," says Drew Merrill, vice president of of business development and strategic planning of Livonia, Michigan-based Container And Pooling Solutions (CAPS).
More tank and software choices
Choosing the right bulk equipment and software depends on what a company is looking to achieve in terms of routing times and temperature requirements. AsepTrans offers a Super Insulation Tank, which is ideal for a short transit time or shipments with a flexible temperature. Utilizing insulated tanks helps to save clients money by ridding the cost of refrigeration. These tanks have minimal temperature loss that is approximately 0.5 degrees Fahrenheit a day.
Shipments that have a temperature requirement or have a long transit time would benefit more from AsepTrans' Refrigeration tanks, which come with refrigerated units that protect the products from changes in temperature.
"Our tanks can hold up to 6,300 gallons of product in one 20 foot container of space," says Sadeghi. "The system combines efficiency with high product quality and safety."
For companies who would rather utilize bulk bins for their shipping needs, CAPS offers a 315 gallon collapsible bulk storage container. The sustainable container can carry both dry and liquid goods. With the largest weight capacity of any collapsible bin in the industry, the container can hold up to 3,307 pounds. The interior walls are smooth in order to have the least amount of residue inside of it.
CAPS also places an emphasis on safety. "Our filling mechanisms involve closed fill systems, they connect right up to a liner and they can either fill aseptically or non-aseptically and the product is never exposed to air, from when it's filled to when it's emptied," says Merrill.
CAPS also provides software called CAPS-TRAC, which captures: where the container is located, the specific container ID, inventory summary, and loss/damage information. All of this information is sent to the customer via the Internet. The company is also working on upgrades that will provide customers with information such as the temperature and weight of the product. This upgrade should become available within the next three to six months.
For its part, Ruan offers an insulated tank, which is ideal for short transit times that range between 12 to 24 hours. This insulated tank is food-grade certified and has a stainless steel interior. "The size of our tanks ranges from 6,200 gallons to 6,700 gallons," says Jim Mulvenna, senior vice president and general manager for Ruan's dairy and bulk food division. "Generally, the most we can carry is about 6,400 gallons because beyond that it's too much weight for the maximum gross vehicle weight."
Ruan's software called RedTrak aids in the efficient scheduling and transportation of liquid bulk products and it provides clients with information such as a truck's exact location.
Meanwhile, Environmental Packaging Technology (EPT), of Houston, Texas, offers an inflatable storage tank, two of which are called the Big Red Flexitank and the Wine-Pac. Both tanks can be shipped via road, rail or sea in order to provide options when it comes to a customer's logistic needs. Flexitanks meet ISO 9001 quality standards and can convert a 20-foot container into a 24 ton liquid hauler. It is currently the only flexitank approved by the Russian Railroad (RZD) for transporting bulk liquids.
"EPT has what we call a Wear Sleeve on our equipment, and this is an internal container liner that the Flexitank sits into," explains Roger Goose, vice president at EPT. "It's just an added security blanket that we provide to the shippers, so we know that there isn't any possible contamination of the product."
Wine-Pac tanks are specifically built with an EVOH layer of film around the tank, which helps reduce the permeation of oxygen.
Companies in this article