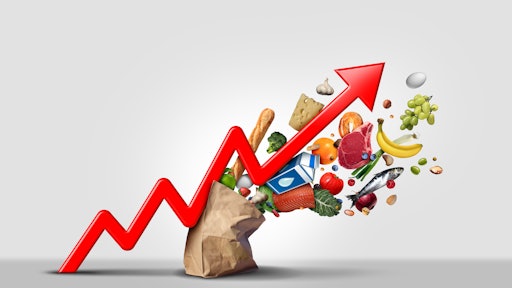 freshidea AdobeStock_476362981
Even before COVID-19 turbocharged app-based delivery services, consumers were already growing accustomed to having food and groceries delivered rapidly straight to their doors. These on-demand expectations have remained even as the pandemic wanes.
So, why are delivery rates on the decline?
Over the past 12 months, the consumer price index, which measures changes in the cost of food, housing, gasoline, utilities and other basic goods, rose by a 40-year high of 8.2%. With wage increases falling short of what many need to keep up with rising costs, households are feeling the financial pinch, and in turn, significantly diminishing discretionary spending.
In short, as prices spike across the globe, shoppers are increasingly reluctant to pay for the app-based delivery services they flocked to during lockdowns. But while inflation is largely to blame, there is more that retailers and delivery services can do to keep business on the up and up than simply waiting for prices to go down.
Inflation and the impact on deliveries
Pandemic lockdowns, untimely labor shortages and surging consumer demand have all helped exacerbate ongoing supply chain issues, causing the cost of shipping to rise and prices in turn.
The cost of food in the United States has risen 11.2% year-over-year (YoY), while in the UK, food and non-alcoholic drink prices rose by 14.6% from September 2021 to September 2022 – the highest inflation rate in decades.
These unprecedented leaps in prices have forced consumers to be more prudent about each purchasing decision. It's unsurprising then that the net share of shoppers who walked away from an intended purchase rose from 8.7% in August to 9.9% in September. And as restaurants raise prices to account for the growing cost of ingredients, many consumers are choosing to cook at home instead of dining out or ordering in – recent reports show that global food delivery orders have dropped significantly YoY.
Some services have raised fees for customers in order to offset the lower delivery numbers, but this is unlikely to serve as more than a short term salve – higher prices are what are driving customers away in the first place. Restaurants and third-party delivery services alike are now scrambling to maintain delivery for customers while cutting unnecessary spending.
The lifeline of autonomous delivery
Unlike traditional delivery methods, autonomous delivery takes a cost-cutting approach as it often avoids standard inflation factors such as the price of gas and labor costs.
Consider that a traditional courier in the suburbs can complete roughly two deliveries per hour – that's assuming couriers are readily available and external factors like traffic or weather are manageable. Alternatively, a single drone operator can monitor multiple delivery orders at once, completing around 10 deliveries per hour.
Robotic delivery – whether by land or air – offers a sustainable, more efficient option for restaurants and retailers – lowering the costs of last-mile transportation (which currently accounts for 40% of the total cost of delivery), with faster delivery times and better prices for consumers. By adopting autonomous delivery solutions, restaurants and retailers can fulfill orders while automated processes handle everything else, ultimately lowering the cost to deliver for each order and alleviating the strain on their bottom line.
Fortunately for restaurants and retailers, automated services are becoming increasingly viable. End-to-end drone and robotic delivery solutions are easily integrated into restaurants' existing frameworks and have already proven they can bring food to households in mere minutes, at scale.
Hi, robot
As the costs of driving, shopping and living continue to increase, efficient and affordable delivery grows ever more important.
With its promise of convenient, on-demand fulfillment and lower price points for customers and sellers alike, autonomous delivery poses an invaluable solution – particularly in tough economic times. Restaurants and delivery services can cut costs on last-mile fulfilment, allowing them to maintain a healthy business. Not only will these savings help shuttle businesses through difficult times, but they can pass these savings on to customers without compromising on a fast, seamless delivery experience.
So "To order in, or not to order in?" Fortunately, that may no longer be the question.