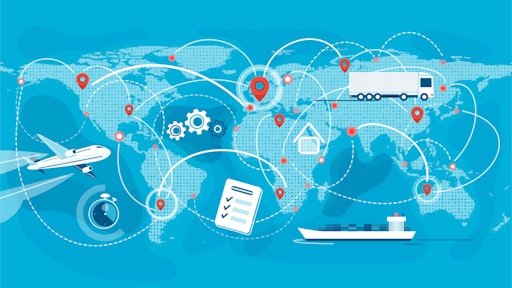 zaie AdobeStock_399600295
Walking the show floors of International Foodservice Distribution Association (IFDA's) Distribution Solutions Conference, one thing was clear – the industry was eager and ready to get back to business.
What was also clear was the common theme that resonated throughout the expo hall and took over discussion points in the educational sessions – how the supply chain is still such a mess.
That was the phrase heard around the show!
From companies who supply trailers and building materials, to third-party logistics (3PL) and software solutions providers, they all felt the same frustration with the way today's supply chains are operating.
Some companies are having to wait 8-10 months for parts; getting ahold of oil and gas is becoming tricky; goods are stuck at ports; and they're having to tell customers no because the product is just not there.
Imaging having to turn down orders, and leave money on the table? Today's messy supply chain is forcing millions of companies nationwide to do just that. Every day.
Another hot topic was the impending rail strike, which during the show, was averted thanks to President Biden announcing a tentative labor agreement between the railway workers and the railway companies.
As I reported earlier last week, the rail strike was set to quite literally shut down all rail networks nationwide. This wasn't just a railroad issue. This was an "everything that runs on a railroad track" issue. This included Metra trains, Amtraks, etc. Millions of Americans in our nation's large cities rely on public transportation to get to/from work, grocery shop, school, attend doctor's appointments and more. So, yes, this is an "everything that runs on a railroad track" issue.
I spent time on the show floor talking with various folks in the supply chain about how the rail strike could impact their business. The words used to describe the situation were "catastrophic," "devastating," "crippling" and "simply put, a mess."
Something else widely discussed – inflation, driver shortage, worker shortage and more.
This hot mess is being felt and experienced across all companies, regardless if they manufacture, ship or receive product. This mess is impacting everyone. And consumers too; we feel it at the pump, at the grocery store checkout, at the time when we need to replace a car or even a computer.
Sure, software solutions help. Sure, technology helps. Sure, education and awareness helps.
But, as several folks I talked with said, this mess we're in, it's beyond anyone's control. We don't know how to fix it. We don't know when it will end. We don't even know when it will get better.
It's such a mess.
But, you know what happens to messes? They eventually get cleaned up.
I have hope for the supply chain industry. These folks are resilient, passionate and super smart. There are so many wonderful people doing such wonderful things to improve the future of the industry. Check out what Next Generation Trucking Association and Patterson High School are doing. I'm so fortunate to be along for the ride and help provide that voice for companies who just want someone to listen.
One day, this too shall pass.