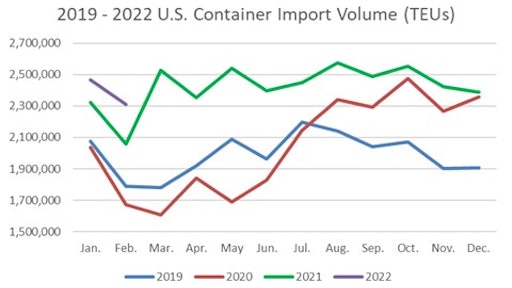 Descartes Datamyne
Last year was fraught with widespread challenges for global supply chains, putting industry players to the test as they struggled to manage supply chain disruptions and acquire the products and raw materials needed to keep revenue flowing. With surging consumer demand for goods and the resulting explosive ecommerce growth, importers and logistics service providers (LSPs) grappled with the consequences of increased import volumes; congested ports and lengthy wait times were exacerbated by a shortage of truck drivers, logistics personnel and shipping containers. And as 2022 unfolds, the challenges continue unabated.
Given the additional complicating impacts of geopolitical conflict, rising customer expectations, and escalating costs, importers and LSPs are reevaluating their supply chain strategies to adapt to what is looking increasingly like a permanently disrupted world. Companies should continue to focus on implementing tactics to address capacity constraints in the near-term, while taking steps to build long-term supply chain resilience. Here are a few trends supply chain professionals should bear in mind as they adapt their supply chain strategies moving forward.
Congestion and chaos will continue
Global supply chains will be busy, congested, and chaotic this year. While LSPs and importers may have been hoping for a slowdown in U.S. import volumes in order to relieve some of the port congestion and capacity crunch, February 2022 was another record month for container import volume.
Although import volume fell 3% since January 2022—predominantly due to February being three days shorter than January this year—volumes were up 12% from January 2021 and a stunning 38% from February 2020.
The continuing increase in import volume is being driven by potent consumer demand for durable products non-durable goods (e.g., groceries and clothing) in lieu of service expenditures (e.g., travel and entertainment), which have been curtailed due to the pandemic. In fact, demand for durable goods rose 9.7% in February 2022. Unless the factors that are driving the increased import volumes—a strong economy and higher demand for goods over services—change, importers and LSPs will experience little relief this year.
As the first quarter of 2022 comes to a close, retailers will be scrambling to maintain inventory levels to meet the continuing increase in consumer demand. Unrelenting port congestion, ongoing shipping capacity constraints, and uncertainty surrounding the upcoming International Longshore and Warehouse Union (ILWU) contract negotiations will add to the logistics chaos.
Looking to improve their position in the near-term, importers will look for ways to move their shipments away from congested trade lanes. Others will shift to processing containers further inland to minimize the impact of lead time variability which increased dramatically in 2021.
Companies will also consider reshoring or nearshoring sourcing strategies—sourcing goods and raw materials from the United States or nearby countries instead of from overseas suppliers—to shorten supply chains, minimize transportation costs and gain greater control of supply chain performance.
Driver exodus
The driver shortage poses significant supply chain challenges, impacting both global and domestic trade. Whether moving goods out of ports or completing last mile deliveries, logistics companies are finding there are just not enough drivers. Indeed, as increased demand for freight, early retirements and pandemic-driven closures of driving schools and DMVs last year pushed up demand for drivers, the shortage increased and the situation is growing more dire in 2022.
The current U.S. driver shortage stands at 80,000, and given the current trends, is projected to surpass 160,000 in 2030, according to the American Trucking Associations. Over the next decade, trucking will need to recruit nearly 1 million new drivers in order to close the gap caused by freight demand, projected retirements and other supply chain pressures.
What does this mean for retail, distribution and logistics companies in 2022? The driver shortage is forcing businesses to be more productive and effective with resources they already have by focusing more on driver retention and productivity strategies.
Minimizing stress and keeping drivers driving will be top retention priorities moving forward. With an emphasis on more efficient route planning and real-time freight visibility, companies will aim to lower driver turnover and take the pressure off drivers. LSPs, importers and distributors will strive to reduce wait times and improve driver quality of life by implementing routes that are more realistic to execute, don't result in extended wait or on-the-road time and enable more predictable hours.
While continuing to recruit and train new drivers, companies can also improve the overall productivity of existing drivers by enhancing fleet performance with efficient delivery routes generated via AI-powered route planning and optimization technology solutions.
Machine learning goes mainstream
Machine learning (ML) applications in the supply chain are transforming how logistics professionals work–boosting efficiency in the distribution networks and delivering significant competitive differentiation, especially in the face of the global supply chain crisis.
In 2022, supply chain technology providers will continue to adopt machine learning because of the wealth of supply chain data that exists to power ML algorithms. ML incorporated into modern route planning and dispatch systems helps companies maximize fleet performance—from more accurate delivery plans and customer ETAs to greater productivity and more reliable routes.
Rather than displacing existing supply chain technology, ML will augment it through embedded uses, such as optimizing ETAs, drive and stop times, delivery locations and driver performance, or as part of greater data analytics solutions used to provide more in-depth insights into supply chain performance.
Down the road
Many major challenges of 2021—capacity constraints, driver shortage and e-commerce growth—are still causing mayhem in the global supply chain and are showing no signs of slowing down. With company success tied so tightly to supply chain performance, companies will be reevaluating their supply chain sourcing, risk and logistics strategies, tactics and technologies in 2022. The goal will be to "do more with less," focusing on optimizing existing resources with artificial intelligence- and ML-powered technology, boosting driver retention and minimizing the impact of the capacity crunch through greater logistics efficiency and productivity.