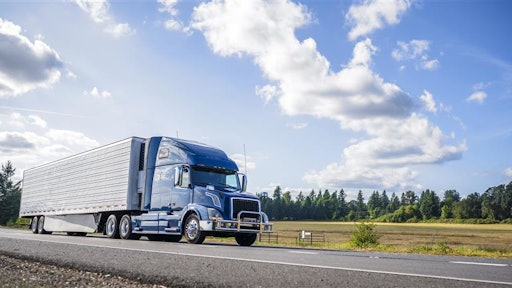 vit
When President Biden pledged to reduce U.S. emissions by more than half of 2005 levels within the next decade, many transportation stakeholders likely saw that as an unobtainable metric. After all, the Environmental Protection Agency (EPA) pegs the freight transportation industry as responsible for more than half of the total nitrogen oxide emissions in the United States.
How are logistics players going to, in the next handful of years, vastly reduce the emissions put out into the atmosphere?
In an industry where the transportation of freight by ocean, air and land is so reliant on fossil fuels, it seems impossible to meet any significant sustainability goals.
Instead of waiting for autonomous trucks and more sustainable fuels, there are some easy steps asset-owners across all modes can take right now to reduce their carbon emissions.
Innovative technologies offered by supply chain technology firms can make a huge impact on supply chain sustainability by eliminating empty miles, improving asset efficiency and even helping shippers and third-party logistics (3PL) providers measure the carbon impact of their supply chain decisions while they wait for cleaner energy sources. Utilizing technology to weigh CO2 emissions as a key criterion for carrier selection can also make an immediate difference.
Empty container repositioning has long been a supply chain sustainability issue. Most ocean carriers ship goods from Asia to the United States, sending domestic containers through U.S. ports to be loaded on rail, destined for the middle of the country. The problem is the carrier usually ships empty containers back to the port. Moving a container full of air is neither sustainable nor efficient. Domestic Reload programs reduce empty container repositioning, making more efficient use of equipment and providing visibility to available capacity by using API connections to match ocean carriers repositioning empty containers with intermodal marketing companies and other shippers.
Street Turns can also drive down wasted miles. In a Street Turn, truck drivers work to match outbound moves from rail ramps with inbound moves rather than repositioning empty containers for pickup. Repositioning empty reefers, for example, can not only increase asset efficiency, but also has a large environmental impact. This has traditionally been a manual process that is hard to coordinate, but technology providers now make the process simple and automatic.
Shippers who ship temperature-controlled food items are likely familiar with the advancements around Internet of Things (IoT) sensors that can alert customers, in real time, when temperature thresholds are exceeded. Including these sensors in an orchestrated shipment visibility technology platform ensures stakeholders always know immediately when there's a shipment issue, enabling them to correct shipment hiccups. Quickly solving disruptions not only ensures customers receive quality products, but also makes sure goods are always transported efficiently without wasting energy.
There's no escaping the fact that the transportation industry needs to make sustainability a priority. One or two companies reducing empty miles won't move the needle on freight transportation emissions. It should be a concerted, focused effort. During the past year, the focus has been on keeping the supply chain running amid myriad challenges ranging from the Coronavirus disease (COVID-19) to the Suez Canal blockage.
Even with these challenges, sustainability is slowly becoming more important. In its 2020 report on supply chain sustainability, the MIT Center for Transportation & Logistics and the Council of Supply Chain Management Professionals (CSCMP) found that sustainability is becoming a mandate at the corporate level, with more than 80% of the 1,100 industry stakeholders surveyed saying sustainability is now an important issue. More than 45% of respondents said they were under pressure to adopt supply chain sustainability practices. Though corporations are starting to pay attention to supply chain sustainability, less than half of those surveyed know how to make their processes more sustainable.
Supply chain sustainability isn't a passing fad, and there is more mainstream acknowledgment of the costs of doing nothing than ever before. Companies are being prodded toward more environmentally friendly practices by young, engaged employees; consumers are also promoting sustainable practices with their purchases, buying goods from green companies and rejecting those without strong plans for emissions reduction.
For supply chain companies, getting on the sustainability track really comes down to partnering with a technology company that has created the solutions that can produce results. Emissions reduction in freight transportation is a long-term initiative that is not going to come easily; sustainability needs to be integrated into the very fabric of each shipper, carrier, 3PL and supply chain stakeholder, regardless of mode. If there's no sustainability buy-in from leadership at these organizations, there can be no real change.
By developing technology that streamlines the logistics world, supply chain technology providers are creating the first wave of supply chain sustainability solutions, fighting climate change by eliminating significant carbon emissions in a world where most freight is transported using fossil fuels.