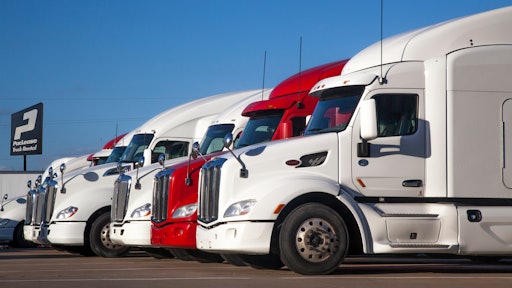 PacLease
When asked, what is the primary reason your company operates a private fleet?, more than 90% of respondents said it was "customer service," according to a recent survey by the National Private Truck Council. In the same survey, many respondents viewed their fleet as a core competency.
Through the years, especially in the food industry, just-in-time delivery with small delivery windows has been the rule – not the exception. It's why it's often said that the reputation of the food company is often riding on the side of the tractors and trailers. While delivering on time is important, so is face-to-face interaction with customers. Those with private fleets realize that their drivers are the "face" of the company – they don't want that interaction left to a driver that doesn't have a vested interest in the company.
This all means running reliable, top-notch equipment and hiring industry-best drivers. The question is, what's the best way to make it all work?
For some, vehicle ownership and their own shops make the most sense. Scale is often the determining factor in this scenario -- the bigger the operation, the more this comes into play. Others look toward full-service leasing as a solution. Here, the leasing company provides the use of the vehicles (with monthly lease payments that are lower thanks to subtracting vehicle residual value that is built into the rate), along with all the maintenance, substitute vehicles, and emergency roadside service the company might need. This helps in cost accounting too, with no surprises or fluctuations in transportation costs. All the costs are baked into the monthly rate.
In a nutshell, full-service leasing is a great choice for those who want simplified cost accounting, ultra reliable trucks with minimal downtime, equipment that drivers want to drive and no hassles with vehicle disposal at the end of the lease.
There is also another scenario playing out with some fleets, and that's a hybrid model. For example, there are customers who own and lease. As these customers have expanded, they've kept their legacy maintenance programs in place – keeping their own technicians employed. But, as they've added trucks, they've put those into a full-service lease – not having to worry about maintenance or hiring new technicians.
The later part – hiring technicians who will need constant training, along with trucks that are getting more sophisticated and harder to work on – has been a driver toward many in the move to full-service leasing.
That leads to one more scenario, and that's a managed maintenance program. For many, owning trucks is company culture. They have complete control over the financial aspect of the purchase – perhaps they're cash flush – plus they want the flexibility to run the trucks as long as they wish and don't mind finding the next buyer. Yet, those who own are finding the other aspects of running their own equipment less appealing. They want to own, but want the benefits of leasing. That's where a managed maintenance program comes in. In essence, it's what we also call an unbundled lease. It's what the name implies, and many full-service leasing companies offer this as an option. Within this program, companies can pick and choose the type of maintenance program they'd like. If they start with brand new trucks, they can set up maintenance just as if the trucks were on lease. This would be over an agreed upon time period. If there is downtime, replacement vehicles can be part of the package. Emergency roadside service can also be part of the equation, along with arranging for service at other network locations dotting North America. The leasing company can also keep DOT records and provide maintenance support for CSA and DOT regulatory compliance. It's great blanket protection. This option locks in your price over the duration of your maintenance program.
Another option is to work out a contract where the parts and service rates are guaranteed. This "pay as you go" model gives flexibility – you can choose to use your leasing company exclusively, or you can have another company (or your own shop) handle minor issues – more of a blended maintenance program. But, when using the leasing company, you're assured of the rates during the duration of the contract.
One benefit of working with a leasing company on a managed maintenance program is record keeping, synchronized private messages and repairs when fault codes are activated. Leasing companies, by their nature, are really huge fleets that specialize in maintenance and keeping downtime to a minimum. Systems and organization is a must. They know maintenance better than anyone else due to their sheer size and training. As part of managed maintenance program, they can use onboard diagnostics and telematics to schedule when maintenance is due and where it should be conducted (especially if trucks are constantly on the road and need out-of-area servicing). And, through remote diagnostics, they can understand exactly what's going on with a truck if a fault code is activated. This allows the leasing company to figure out the best way to get the problem solved with parts and service often ready when the truck pulls into the leasing company's satellite location.
Transportation is ever evolving and so are the services leasing companies provide. There is no "one size fits all" solution. What's best for your operation takes careful consideration. Transportation is a huge component for those in food distribution. Weigh the options carefully to make the best decision.