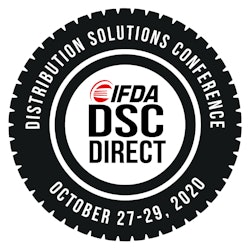 International Foodservice Distribution Association
The International Foodservice Distribution Association (IFDA) debuted its 100% virtual event, Distribution Solutions Conference (DSC) Direct, designed to connect thousands of attendees, including foodservice distributors, wholesale, grocery, c-stores, cold chain and more.
Scheduled for Oct. 27-29, DSC DIRECT will feature education sessions, a virtual expo hall, innovation lab presentations and virtual networking.
The conference will kick off with a fireside chat featuring Mark Allen, IFDA president and CEO, and Tom Bené, president and CEO of the National Restaurant Association, to discuss the restaurant landscape amid the Coronavirus disease (COVID-19) pandemic.
Other presentations revolve around driver retention, improving company culture, procurement, big data in the fleet, best practices in cold storage and more.
Go to https://www.ifdaonline.org/events/distribution-solutions-conference to register and learn more.