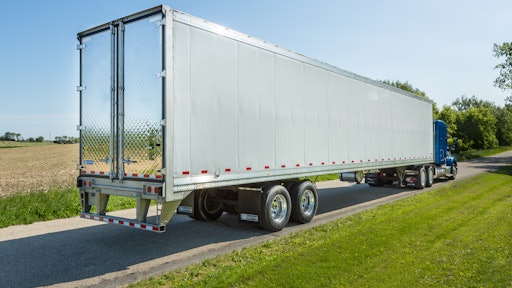 With a growing need for both a continuous cold chain to transport food as well as move items as sustainably as possible, it's no wonder that the reefer trailer market has been tagged as fast growing.
Technavio analysts report that the global refrigerated transportation market will grow at a CAGR of almost 7 percent through 2022, with the market concentrated among a few key players.
However, challenges exist as carriers work toward sustainability and a greater return on investment through reduced fuel costs and emissions, as well as compliance from a tightening set of environmental regulations.
So, what are three of the market's providers doing to meet the challenges and demands?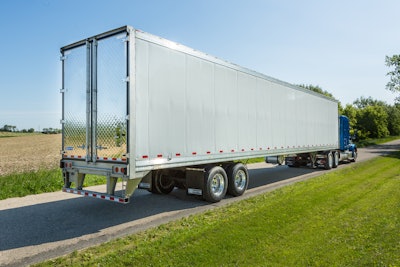 Stoughton Trailers
Ron Jake, marketing manager at Stoughton Trailers LLC in Stoughton, Wisconsin, has seen his company make the jump into the reefer trailer market in the last two years with the PureBlue refrigerated trailer.
The trailer focuses on three key market elements—weight, cost and thermal performance—using structural composites in areas that improve thermal performance and also decreases trailer weight.
"With our PureBlue refrigerated trailer line, Stoughton has a complete trailer offering, which has added more value to our dealer network and grown our customer base," Jake explained, adding that the engineered composite material in the rear doors and front wall, working with an otherwise conventional design, has been met with enthusiasm.
"PureBlue is an innovative, conventionally designed trailer that is more thermally efficient, lighter weight and safer than other competitive trailers on the road today," Jake said.
The use of bonded side posts reduces the number of holes in the sidewalls to prevent moisture intrusion, and the composite framing in the front wall and rear doors, in addition to reducing weight and improving thermal efficiency, allow more payload.
One of the largest investments in the PureBlue line is the Hennecke foam wall press, (designed to insulate trailer sidewalls) and includes wall panels processed in a continuous pour mode, "providing a uniform, consistent foam fill," Jake said.
With 45 percent of the market growth in refrigerated transportation forecasted to be in the Asia-Pacific region, it's not a surprise that California-based Utility Trailers is at the forefront of change in the market.
Craig Bennett, senior vice president of sales and marketing for Utility, highlighted changes that are first being implemented in California due to stringent regulations from both the California Air Resources Board and the Environmental Protection Agency, including emission reductions and aerodynamic improvements. Utility, due to its location, needed to make these changes a priority to meet the state's requirements.
"That was something that was required," Bennett said. "We created our own device. There were some devices developed by third parties that were aerodynamicists, but they lacked knowledge about life cycle and structure and how to integrate those into the trailer design."
In December, the company introduced its patented Utility Aerodynamic Tail, which when paired with low-rolling resistant tires and configured on a utility dry van or reefer, will reduce fuel use and aerodynamic drag.
"They will save anywhere from 2.5 percent to 4 percent of the fuel bill, depending on the speeds the rigs are driving at," said Bennett. "All those variables will affect the mileage, just like it will in your car."
The tail weights just 25 pounds and is compatible on dry vans and reefers with rear swing doors. The UAT is made of UV-protected thermoplastic compositive, comprised of two full-height side fairings and a single full-width roof fairing. The side fairings connect to the rear swing doors, and automatically deploy when the doors are closed and fold back when they are open—requiring no additional driver involvement.
The roof fairing doesn't interfere with lock rods or rear light areas, and meets all DOT photometric requirements.
"The air goes back about 4 to 5 feet, and then it just goes away," Bennett said, versus air creating addition turbulence. "That's another fuel savings of about 3 percent to 4 percent."
Looking to improve both thermal efficiency as well as fuel economy, Lafayette, Indiana-based Wabash has now been in the reefer market for the last three years with an all-composite refrigerated truck body.
While Wabash started in the market with smaller 14- and 26-foot trucks, a 53-foot reefer trailer was made commercially available in December 2018. The trailer uses a molded structural composite (MSC) for its nose, sidewalls and roof, as well as a hybrid of metal and compositive flooring. The idea is to create a trailer that addresses both thermal and fuel efficiency.
In addition to those benefits, the trailers are intended to last longer and weigh less as well.
"First, it's going to last significantly longer," said Robert Lane, vice president of product innovation for Wabash. "Depending on the application, (the floor) tends to deteriorate over time. We're confident our floor is not going to do that. It's just a much stronger floor.
"Second, the insulation properties of the trailer are improved," Lane added. "Typically, you lose insulation value through water intrusion, which deteriorates the foam, or through outgassing of the foam. With our technology, we're able to minimize or avoid both those occurrences."
Lane said the way that the trailer is built with the composite materials reduces the amount of outgassing. However, proper care should eliminate water intrusion.
He also anticipates a longer lifespan for the MSC trailer. Though he is reluctant to make an exact prediction. Already, Lane said, the company is seeing a "much slower loss" of thermal efficiency in comparison with conventional trailers.
"If the trailer doesn't lose thermal efficiency and the structure doesn't break down, then that's two less reasons to retire the trailer," Lane said. "We give (owner/operators) the opportunity to keep the trailer significantly longer than any other product on the road."