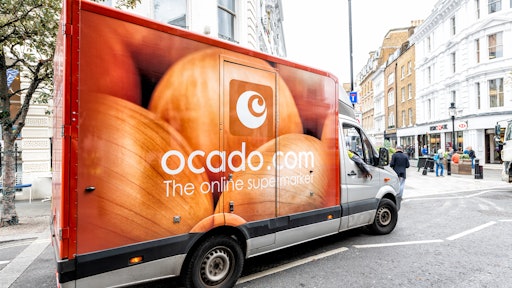 Getty Images
In the long and winding logistics supply chain, the last mile—delivering directly to a customer's home—is gaining greater importance in today's customer-driven e-commerce world. And nowhere is last-mile delivery coming into sharper focus than in the food and grocery industry. While still a small percentage of grocery sales, online shopping and last mile delivery is poised to grow, presenting both challenges and opportunities for food and beverage companies.
Deutsche Bank predicts that online grocery sales will jump from 3 percent in 2018 to 12 percent by 2025. A report earlier this year from the Food Marketing Institute and Nielsen says consumers should be spending as much as $100 billion on online groceries by 2022. And based on customer expectations for e-commerce, experts believe the last-mile delivery of those online orders will become a differentiator in the food industry.
"The Amazon Prime ecosystem is driving increased expectations across the board for all products," says Dean Maciuba, director, consulting services for Logistics Trends & Insights. "They are forcing everyone's hand to get the product to the consumer more quickly. That's why the food industry has to absolutely figure this out."
Challenges and Decisions 
Kristi Montgomery, vice president, innovation, research & development for Kenco Logistics, says there are several technology trends that can help the industry as it wades deeper into online sales and last-mile delivery. Supply chain professionals also have to be thinking about their roles in this trend because both online shopping and home delivery are critically important with the changes in consumer demand in the marketplace, she adds.
Some of the challenges and decisions that supply chain leaders should be weighing as the last-mile delivery trend broadens include:
Deciding whether to use contract providers or in-house employees
Using regional or local distribution centers
Finding the best technology to improve service
Dealing with start-up as well as ongoing costs.
Maciuba says grocery companies must decide how the last-mile delivery service as well as "shopping" to fulfill the online order, will be provided. Options include using a third-party company to shop and deliver to the customer, using in-store employees to shop and a third-party to deliver the last-mile service, or using store employees for both functions.
"All of these models are being employed right now," he explains. "I don't think anyone has been able to identify the absolute best way to do this. I think it has to do with the goals of the company and how much it wants to control its service offerings."
Many companies enter online shopping and last-mile delivery using a third party but once they begin measuring results, margin impacts and service satisfaction, they grow their own staff to directly manage it. "From the standpoint of service, there's no question you are going to have superior service with a well-managed in-house shopping and delivery service," Maciuba says.
Role of Technology
Another trend is using a centralized distribution facility model, although that only works in large, dense markets such as South Korea where 20 percent of consumers buy groceries online and in the United Kingdom and Japan where 7.5 percent grocery shop online. The U.K-based Ocado, for example, is a supermarket that doesn't have any stores and delivers from its warehouses.
Maciuba says the start-up costs to create a fully automated grocery-based fulfillment center are significant. But once established, a regional warehouse model will be more cost-effective as robots pick products rather than individuals pulling items off grocery store shelves. "But again, this solution will be restricted to large, dense markets in the U.S.," he says.
Technology plays, and will continue to play, a strategic role in online grocery shopping and last-mile delivery, Montgomery says. In her position with Kenco, she regularly meets with startups and sees many entrepreneurs designing technology for this space. Many are developing phone applications "because everyone wants something on their phone," she says.
Artificial intelligence-enabled technology on the information side of the shopping and last-mile delivery equation is also gaining traction. "This trend is driven by back-end enabled data collection. Innovations seek to gather data at every point in the supply chain," she explains.
And the trend is not only to provide consumers with data, but also to provide it to third parties. "A last-mile delivery partner would be able to determine if its driver is moving along the delivery route as planned. Such innovations are driven by mobile and Internet of Things devices," says Montgomery.
Pieces of the Puzzle
The challenge these innovations present is that they are pieces of a puzzle that have yet to come together for cohesive visibility. "One (innovative startup) might have a great mobile app, another might have the hardware to enable data collection or the link to chain of visibility. But there's not a single provider to offer an entire chain of visibility," Montgomery explains.
That is why blockchain technology is exciting, she adds, because it can connect all the puzzle pieces for greater visibility in the food industry supply chain—down to last-mile delivery. Blockchain, for example, also could provide better accuracy and timeliness during a food recall and be used to weed out counterfeit products in the food supply chain.
"I'm not saying the technology is completely there yet, but it's the technology that is trending. And it's not just about convenience; it also opens the door to improvements in food safety and in tracking freshness."
Montgomery and Maciuba agree that at the end of the day the costs associated with online food ordering and last-mile delivery are one of the biggest hurdles companies will have to clear.
"It's difficult because there will be costs associated with putting blockchain in to underlay your technology infrastructure," Montgomery notes. "But a company will have to weigh that cost against the risk of not doing such improvements. In other words, looking at the costs they are avoiding."
Figuring It Out
Maciuba says Wall Street will be closely watching how the expansion of big box stores into grocery e-commerce and last-mile delivery affects margins and the bottom line. He expects most companies will "take a hit," but on the other hand, if competitors are offering the service and they don't, companies could lose market share in the long run.
"Any company that enters into this is going to see a negative impact on profit margins at first," he says. "But that is normal in business when a trend changes your business model and your competitors are embracing the trend."
Smart companies could "layer on" additional perks to add profit to online ordering and delivery such as offering prepared meals or ready-to-eat lunches as part of the service. And as the value proposition increases for customers, a fee structure can help to offset costs, he adds.
Montgomery says the costs associated with new technology to enable food service e-commerce and last-mile delivery can be offset by using the data collected to improve the company's overall digital strategy. She also suggests companies should look to their partners to help with pieces of the overall plan because every company in the supply chain has to do its part to meet customer demand.
Maciuba adds: "These shifts in customer demands are real, and they are not going away. No one knows how quickly online grocery ordering and delivery will grow, but you can be sure the growth will be there."