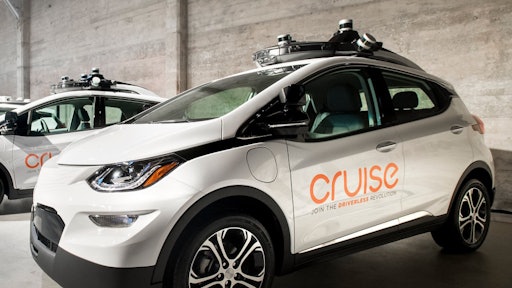 DoorDash
America's economy relies on trucking. The American Trucking Associations (ATA) says that trucks move about 71 percent of the nation's freight by weight with $738.9 billion in gross freight revenue (of primary shipments), representing 81.5 percent of the U.S. freight bill in 2016.
We all know about the driver shortage and the electronic logging device (ELD) mandate that's adding pressure to the industry. The ATA estimates that there are 3.5 million truck drivers in the United States with 33.8 million trucks registered for business purposes. And, the association says, the next decade will require another 90,000 truck drivers each year to keep up with demand. 
Even driver health is a major concern. Irregular schedules, long hours (somewhat abated by the ELD), poor nutrition and stress make for an unhealthy lifestyle. In a 2010 report, the Centers for Disease Control and Prevention (CDC) said that the life expectancy for truck drivers was 61, 16 years below the national average. Fifty percent of commercial drivers were overweight or obese (compared to 33 percent of the general population). Fifty-four percent of them smoked and only 8 percent exercised regularly. 
Couple all of that with the pressures of e-commerce and consumer expectations of immediate delivery, and the situation gets worse. The timing, however, is right for the growth of autonomous vehicles for last-mile delivery. 
Who's Delivering?
One of the most active players in the autonomous vehicle delivery arena, despite being just two years old, is Udelv. Focusing on last- and middle-mile delivery on public roads, the California-based company has completed more than 1,200 deliveries (with a safety driver) for multiple merchants in the San Francisco Bay area. Last fall, Udelv also agreed to supply several Oklahoma City supermarkets with a fleet of autonomous vehicles. The first will be delivered in this quarter, with a 10-van deployment to follow by the end of next year. The vehicles will ferry food from a number of grocery stores to customers in "underserved markets." 
At January's Consumer Electronics Show (CES) in Las Vegas, Udelv announced that it had signed a deal with Walmart for a trial of self-driving delivery vans in Surprise, Arizona. The trial will begin in February and will operate with safety drivers until the two companies and regulators approve removal of the driver.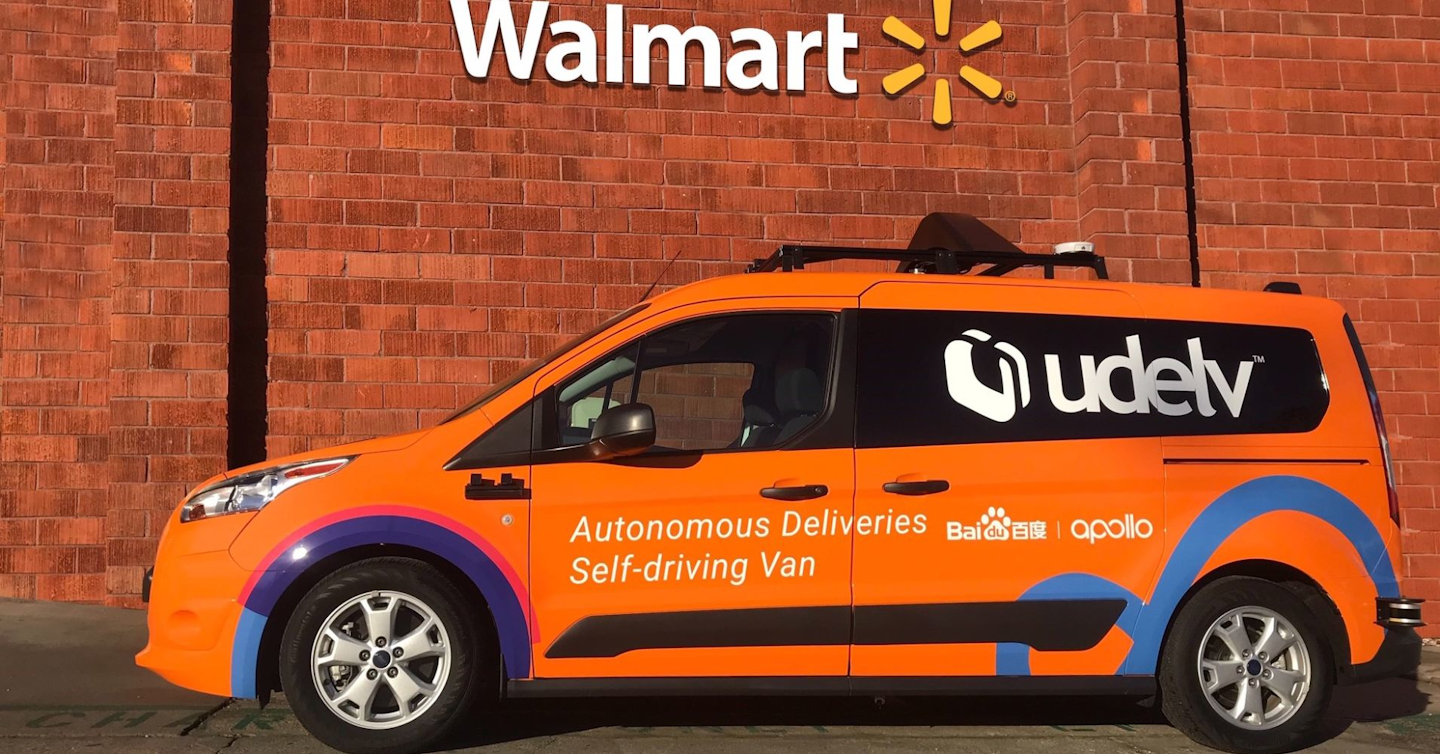 During Walmart and Udelv's pilot program, the autonomous vehicle company will utilize a cargo van custom-made to deliver fresh groceries hand-picked by the grocer's personal shoppers.Walmart

"America's leading retailers know to stay competitive and continue to provide outstanding customer shopping experience, they need to stay ahead of the curve and lead the market with the adoption of new technology," says Daniel Laury, Udelv CEO. "The rapid deployment of autonomous delivery vans enables retailers to make cost-effective deliveries and improve customer experience."
The Udelv vehicles will be able to travel up to 60 mph. It has an adaptable cargo system with shelving space that can accommodate various types of packages of different dimensions and weights. The system, which can carry up to 32 orders per delivery cycle, will allow merchants to load quickly and consumers to retrieve their goods individually.
From a 3,000-square-foot warehouse in San Francisco's Mission District, a two-year-old company called Farmstead, deliveries groceries to customers in an hour. In September, Farmstead began a pilot program with Udelv on select routes in the Bay Area.
"We envision a future where autonomous delivery is the norm in our space, rather than the exception," says Farmstead CEO Pradeep Elankumaran. "This technology will help us be more efficient, enabling us to get fresh groceries into our customer's homes even faster and cheaper than before."
The vehicles will have a safety driver in the beginning. Customers who opt-in to autonomous delivery are notified when the vehicle arrives. They tap in a code and the compartment opens and the customer takes out the groceries. When empty, the compartment closes and the vehicle is routed to its next stop.
In early January, PepsiCo put its Hello Goodness line on wheels. Already established in vending machines, the company is using Snackbot, an outdoor self-driving robot developed by Robby Technologies, to deliver Hello Goodness to students at the University of the Pacific in Stockton, California.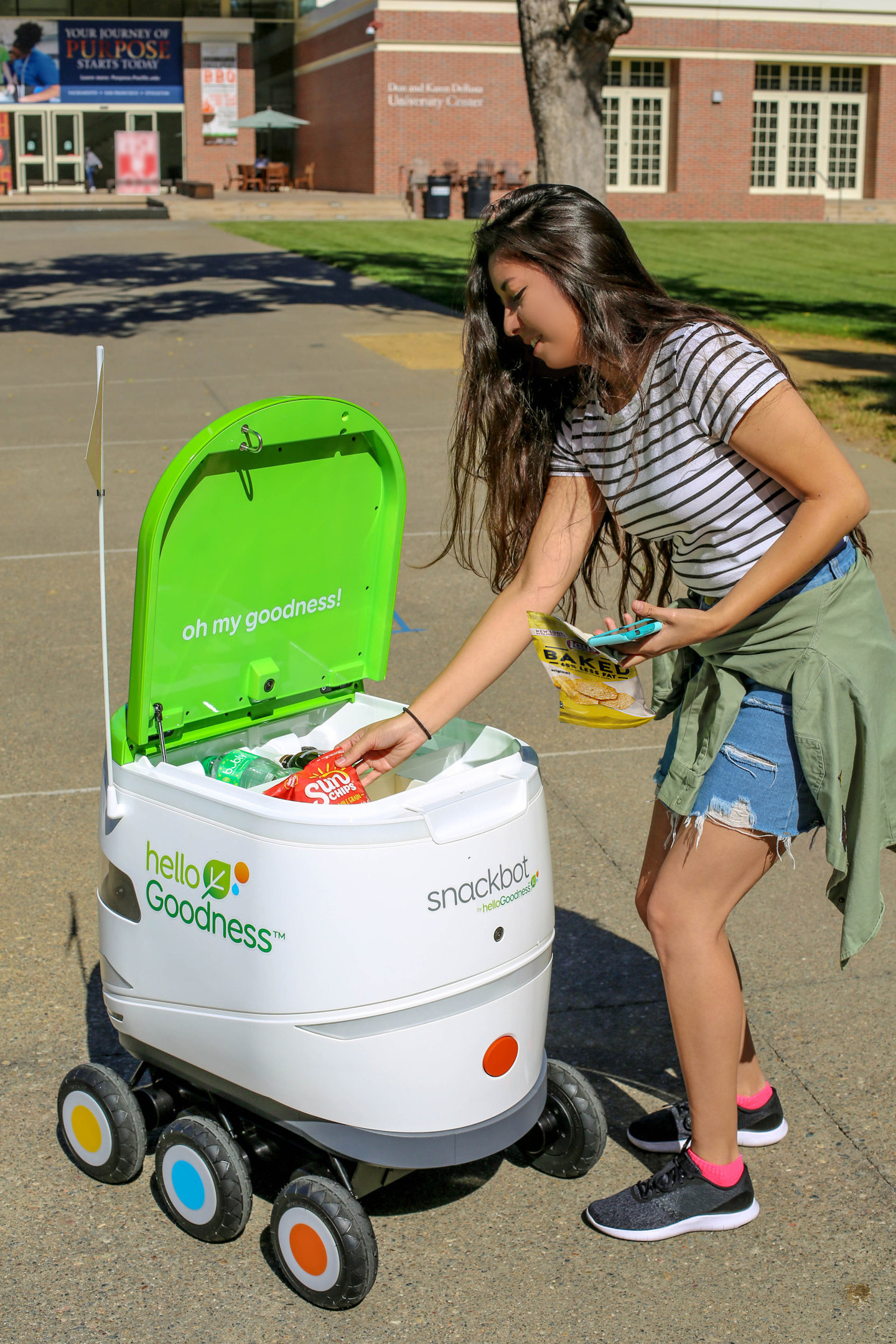 PepsiCo's snackbots have a range of more than 20 miles on a single charge and are equipped with camera and headlights that allow it to see and navigate carefully in full darkness or rain, as well as all-wheel drive capabilities for handling curbs and steep hills.PepsiCo

Students can order such snack items as Baked Lay's, SunChips, and Bubly Sparkling Water from 9 a.m. to 5 p.m. via the Snackbot app and meet the robot at one of around 50 designated areas.
San Francisco almost seems to be ground zero in the development of autonomous vehicles. Another test in the area began early this year when DoorDash and Cruise Automation announced a food and grocery pilot program. DoorDash, which is in 3,000 cities in North America, will use Cruise autonomous vehicles to test and improve the efficiency of getting products from its merchants to the customers.
"We see autonomous vehicles playing a major role in the future of delivery as consumer behaviors continue to shift online," DoorDash CEO Tony Xu says.
What's Next?
A new report from McKinsey says fully autonomous trucks will roll out on the roads in four waves. The first two waves, from 2018-20 and 2022-25, will feature platooning, a technique to connect a convoy of trucks wirelessly. "The first wave will require a driver in each truck, but over the next three to five years, networks of these connected convoys will delve, utilizing algorithms to link up," McKinsey says.
In the second wave, driverless platooning will begin on interstate highways, featuring a driver in the lead truck and unmanned trucks following behind. Once leaving the highway, drivers will resume control of each vehicle. McKinsey estimates that the first two stages will cut total cost of ownership (TCO) of a truck by 11 percent, primarily in labor and fuel costs.
In the third wave, 2025-27, which McKinsey calls constrained autonomy, "unmanned trucks will operate through the interstate highway system and other 'geofenced' areas without a platoon, subject to weather and visibility conditions, and developments in infrastructure such as the ability to communicate with traffic lights."
Drivers will meet the trucks at the interstate exit and drive them to the destination, navigating city streets, local and pedestrian traffic, parking lots and loading docs. This will produce savings of about 20 percent, the study says.
Finally, in 2027 or sometime thereafter, McKinsey expects the first fully autonomous trucks operating without drivers performing tasks from loading to delivery. These vehicles will reduce today's TCO about 45 percent. Fleet replacement, however, will take many years to complete.
Not Everyone Is Happy
Waymo, a self-driving technology company, has been testing vehicles in the Phoenix suburb of Chandler, Arizona, since 2017 and some residents have taken exception. The New York Times reported that there have been 21 incidents of violence against the vehicles. Tires have been slashed, rocks thrown, and safety drivers threatened. Drivers have repeatedly tried to run the vehicles off the road. A man pulled up alongside a Waymo vehicle and threatened the employee riding inside with a piece of PVC pipe. Another safety driver was threatened by a resident pointing a pistol at him.
Barry Hochfelder is a freelance journalist who has covered a variety of industries in his career, including supply chain. He also served as the former editor of Supply and Demand Chain Executive. Hochfelder is based in Arlington Heights, Illinois.