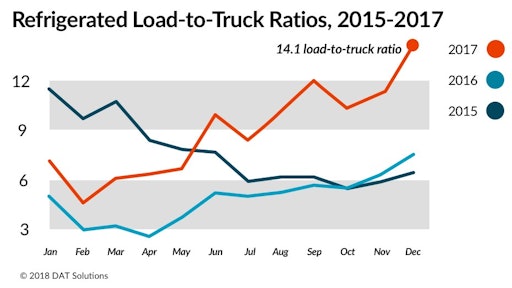 In January 2017, the national average spot line-haul rate for reefer freight was $1.70 a mile compared to the average contract rate of $1.86. There were 7.3 available reefer loads for every truck posted on DAT load boards—a little high for January but not abnormal—and the load-to-truck ratio was trending downward like it almost always does going into February.
For all intents and purposes, 2017 was off to a lackluster start. It ended, however, with record freight rates and extremely tight capacity. Some highlights:
In December, the reefer load-to-truck ratio was 14.1 loads per truck, up 73% compared to December 2016.
The national average line-haul rate for spot

reefer

freight was $2.15 a mile, 39 cents higher than in January and 15 cents higher than the average contract rate.
Line-haul rates do not include a portion for a fuel surcharge and diesel prices rose steadily in 2017. The fuel portion increased from 25 cents per mile at the start of the year to 31 cents in December.
The DAT North American Freight Index achieved record highs throughout most of 2017 and in June hit its highest point in three years. In September, demand for truckload capacity experienced the largest year-over-year increase since 2010, when the economy was emerging from a recession.
Today those crazy-high ratios and rates have started to settle into a more normal pattern. But watch out, things looked pretty unremarkable at this time last year.