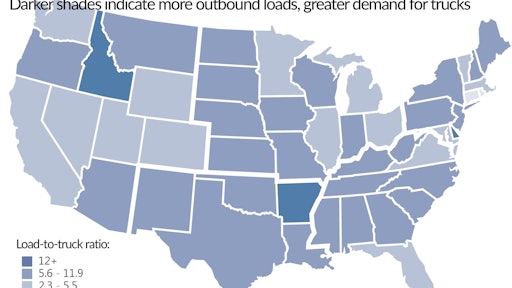 Seasoned produce haulers are accustomed to shifting freight patterns. They make their living throughout the year going from moving oranges and lemons to asparagus and tomatoes to strawberries and salad greens. When the trailer is full of potatoes and pumpkins, it's time to take a break.
This year we've seen an abundance of reefer freight (relatively speaking).
In April, volumes were peaking in places like Florida, California's Imperial Valley, and along the Mexican border, and building on March's positive trends: compared to February, the number of reefer loads jumped 49 percent and truck posts increased 14 percent. The national load-to-truck ratio for the month was 6.2, meaning there were 6.2 reefer loads for every available truck.
Compare that to a year ago, when the March reefer load-to-truck ratio was 3.1, and April slumped to 2.8. Freight is moving.
A load-to-truck ratio of 12 is considered favorable to carriers, and we're a long way from that. On average, spot reefer rates are sitting at around $1.95 a mile, up 5 percent from this time last year but not as much as truckers would like considering the demand.
So carriers continue to follow the freight even within the same region. As lettuce volumes were crashing in the Inland Empire last month, carriers were hitting the load boards and trucking up to the Huron district near Fresno, which moves about 650 loads of head lettuce a week. Time to get busy.