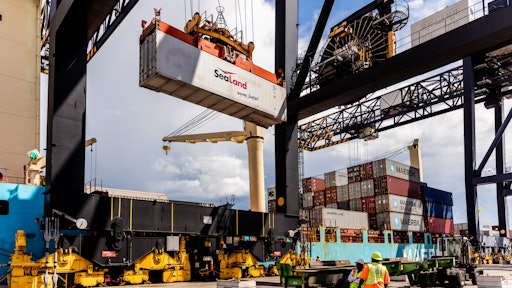 Mergers, consolidations and alliances among steamship lines, which will optimize networks and create economies-of-scale, are well underway—and likely to impact shippers of perishables.
"Consolidation will result in alterations to the competitive and service network landscape," reports Anne-Sophie Zerlang Karlsen, Maersk Line Global Head of Reefer Management.
Chris Logan, Georgia Port Authority's (GPA) senior director of trade development, sees consolidation resulting in shipping alliances calling on fewer hub ports where massive exchanges of cargo with each ship will occur. "This will boost efficiency for the lines, but will require significant landside infrastructure," he says. "We expect more cargo of all types to gravitate to these hub ports."
James Buck, regional manager for Australia-based AM Logistics, does not see carriers omitting those key ports in established markets where reefer volume is prominent. "Certainly for those closer to second tier ports from a reefer volume perspective then inland solutions will no doubt need to be sought, as they could well be removed from the service loop. However, this will always be a risk for such geographies," he says.
While there will be some upheaval, most believe container shipping consolidation is long overdue. "The $10 billion loss in 2016 is indicative," remarks Paul McClintock, senior vice president of sales and marketing, South Carolina Ports Authority (SCPA). "This would have happened earlier if it weren't for the alliances. They allowed lines of different sizes and operating profiles to have similar slot costs."
The industry has experienced turmoil. Last year Hanjin declared bankruptcy causing massive delays and container pileups at many seaports, especially on the U.S. west coast. Delays up to six weeks have occurred on routes to the Middle East and Asia.
Karlsen stresses, however, that alliances operating in the East-West trades enable shipping lines to optimize networks and achieve economies-of-scale. "This potentially allows individual alliance partners to provide competitive services that are attractive to customers, including more ports and direct services, better coverage and higher frequency," she says.
Maersk will continue to operate stand-alone services in some main reefer trades, such as North-South. "We will choose the network setup most optimal for serving our customers' needs in each individual trade environment," she adds.
Over time, Karlsen sees consolidation potentially enabling a more sustainable containerized shipping industry in this age of weak demand and deflationary freight rates. "We work hard to drive down operational costs," she says. "This ensures that we continue to invest in growth, including our fleet, equipment and people. Only with the lowest possible cost are we able to offer our customers competitive prices, invest in fleet and equipment, withstand large price fluctuations, and ultimately deliver value to shareholders and our customers."
Over the last three years, Maersk Line, which operates the world's largest reefer fleet, has invested in 44,800 new reefer containers, bringing its total to 270,000. "We have invested in modernizing our equipment over the last two years, bringing the average age of our reefer fleet well below the industry average," Karlsen says.
Craig Mygatt, SeaLand CEO, sees consolidation as beneficial to shippers, especially cold chain. "It allows carriers to pool resources (vessels, refrigerated equipment), enjoy economies-of-scale (procurement with vendors, equipment triangulation), minimize some of the structural issues that plague shipping (equipment imbalance), and expand network coverage by increasing the amount of port pairing combinations available," he says.
Mygatt warns, however, that those benefits currently may not be tangible across the board, as the industry is amid the process of integrating at least 7 companies. He emphasizes that superior service, attention to detail and delivery capabilities continue to be the major requirements of refrigerated customers across the region.
SeaLand continues to respond to market needs by creating tailor-made solutions that adjust to trade flows and customer requirements. For example, SeaLand has partnered with the Ports of Philadelphia and Hueneme to offer U.S. east-west coast solutions that improve coverage and product offering for refrigerated customers who source from Latin America and distribute across both the U.S. northeast and California. "These partnerships extend the usual carrier-port relationship and dwell into cold storage, collaboration with authorities, dispatch, etc.," Mygatt explains.
The carrier offers improved services, such as SeaLand Atlantico, that focuses on refrigerated cargo from Mexico into the U.S. northeast; NAE extension, which spotlights deploying bananas and pineapples from Costa Rica and Colombia to the northeast; and WCCA that now connects cargo to both Port Los Angeles and Hueneme.
Port Viewpoint
While mergers and consolidations are nothing new to the steamship industry, what differentiates today's trend is the larger concentration of shipping groups.
"Effectively we go from four alliance groups to three beginning in April," explains Marcel van Dijk, cargo marketing manager, Port of Los Angeles. This can have a major impact on some seaport operations.
Considering that together the Ports of Los Angeles and Long Beach have 13 container terminals, both ports expect to see some shifting of shipping services to different terminals in the San Pedro Bay area due to the new alliances.
"It's possible we will see some cargo delays as the supply chain adjusts," van Dijk warns. He adds that shipping lines, terminals operators and trucking companies should pay extra attention in moving containerized reefer cargo on and off the terminals.
All cold storage facilities in the region are off port property. The five closest to the Port of Los Angeles are within 4 to 8 miles and have 91,000 pallet positions. Currently, Lineage Logistics is building a 25,000 pallet position facility in Long Beach. "This will provide enough capacity for the volume we handle at the two ports," van Dijk says.
The Port of Los Angeles has around 4,000 plugs on its eight container terminals, which van Dijk says is sufficient for the current volume of reefer containers handled at the port. "For future increases, we can add reefer plugs without major capital improvements and at a reasonable cost for the terminals," he says.
Further north, all major shipping lines and alliances are continuing to call at the Ports of Tacoma and Seattle. "We have a sense of the rotations, but not cargo volumes, as BCOs continue to negotiate their contracts," states Susan Coffey, director of business development, Northwest Seaport Alliance (NWSA).
She stresses that the advantage of NWSA, as opposed to individual ports, is its fuller portfolio of options to accommodate any alliance shifts.
NWSA, which handles nearly 20 percent of the nation's chilled exports, has seven international container terminals operating in the north and south harbors. "Our terminals have more than 6,600 plugs for these specialized pieces of equipment. Near our terminals are seven cold storage facilities with more than 2 million square feet of capacity that have the ability to transload from rail box cars or domestic trucks," Coffey says.
In Florida, Jim Pyburn, Port Everglades' business development director, warns that the recently announced purchase of Hamburg Sud by Maersk could potentially reduce port calls in Latin America. "For Port Everglades, historically a north/south trade route, the reliance in Latin American markets could be impacted," he says.
The port does not anticipate an impact from the Caribbean, also a large market for Port Everglades.
Overall, Pyburn does not anticipate alliance shifts to have a dramatic affect on Port Everglades, largely since the port has limited direct access to Asian markets. In addition, its terminal operators continue to enhance and upgrade facilities to accommodate changing trends in the marketplace and prepare as much as possible for future uncertainties.
Port Everglades recently entered into a public-private partnership agreement for a new state-of-the-art logistics warehouse facility on port property.
SCPA executives also are not overly concerned about carrier consolidations since the trend is being driven by the deployment of big ships and that several carriers are required to fill these massive vessels. "The move to large vessels is being driven by a need to reduce costs, and we do not expect to see a noticeable change in the number of reefer slots available," comments SCPA's McClintock.
However, SCPA officials do see the likely possibility of a reduction in service frequencies, fewer ports serviced and increased transit times. They also maintain that carriers must call the Port of Charleston since it is a top 10 U.S. container port. "SCPA's refrigerated business continues to grow at an incredible rate," McClintock adds.
SCPA is investing millions in its landside operations, both in container terminals and reefer container yards, to ensure it has sufficient capacity. "Not all ports will be able to make the required investments to handle the large ships and the surges created by bigger vessels," says McClintock.
SCPA also is recruiting private sector investment in cold storage facilities to serve this market. "Our local cold storage capacity and blast freeze capacity has increased over 1000 percent the past three years," he says. "Each addition in capacity is quickly filled by growing demand, and we are continuously soliciting additional investment in this area."
GPA also argues that new dynamics in the shipping industry should favor the Port of Savannah, with its 1,200-acre single-terminal design, equipped with 26 ship-to-shore cranes, 146 rubber-tired gantry cranes and more refrigerated container racks than any other U.S. terminal.
"As a major gateway, the Port of Savannah hosts 35 weekly vessel calls, delivering more choices in schedule and destinations," Logan says. "This trade is supported by the on-terminal infrastructure needed by both shipping lines and cargo owners to ensure efficient cargo exchanges."
He stresses the importance for ports to maintain robust infrastructure to avoid cargo congestion, especially when handling Neo-Panamax vessels carrying cargo for allied shipping lines. "These vessels create special issues for ports that compartmentalize berth space and container yards between the individual shipping lines," he says. "Smaller terminals struggle with congestion from today's massive cargo exchanges."
Over the years, the GPA has invested steadily in refrigerated container racks, in keeping with its philosophy to maintain infrastructure at least 20 percent above current demand.
"At present, the Port of Savannah features 104 electric-powered refrigerated container racks, which accommodate 2,496 containers," Logan says. "Counting 600 chassis plug-ins, Savannah's total capacity is 3,096 refrigerated boxes. This has helped Savannah become the busiest import-export terminal in the southeast for refrigerated containers."
Challenges certainly lie ahead for both shippers and carriers, especially for perishable cargo. "Don't underestimate the forces of competition, however," Buck says. "If Maersk and Hamburg Sud alter their routing following their merger activity and omit a certain port in the U.S., it may be the opening and point of difference for one or two of their competitors to enter the trade."
After all, reefer cargo is king for carriers. "It's where they make strong yields. They will be very considered about their management of it," Buck estimates.