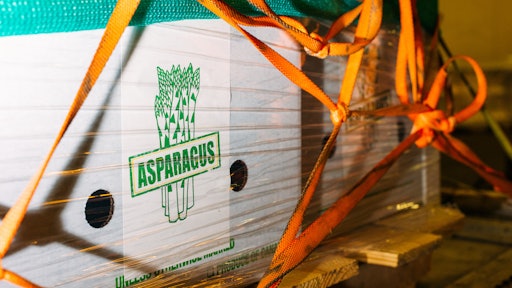 The air cargo sector remains an important component of the global supply chain. Despite the loss of market share to other transportation modes, WorldACD reported earlier this year an increase of 7.5 percent year on year in weight terms during the final quarter of 2016, making the final three months of the year, the air cargo industry's best quarter since 2010.
Food Logistics recently checked in with carriers and airports to find out what may have led to the uptick and how the sector is responding to increased competition.
Ocean-to-Air Program Propels MIA
In move to remain on top of the industry, Miami International Airport recently launched Florida's first ocean-to-air perishables trans-shipment program, where freight from local seaports will depart from MIA.
Through a special permit approved by the U.S. Department of Agriculture (USDA) last fall, the No. 1 port of entry in America for international air freight now is receiving perishable freight imports by sea as well.
This collaboration between MIA and PortMiami—two of the United States' largest economic engines—is an innovative move in an effort to better serve the local cargo industry and strengthen the global marketplace.
"Yes, we compete, but now we are cooperating with the maritime industry because consumers are demanding it," says Emir Pineda, manager of aviation, trade and logistics, MIA.
E-commerce, mobile commerce, and a host of new consumer preferences are placing more demands on the food and beverage supply chain, and at a faster pace than ever. In order to meet the demand for fresher food, all segments of the foodservice supply chain—including the transportation sector— are realizing that a more collaborative system is needed.
The ocean-to-air pilot program, which allows the logistics company to coordinate the ocean shipment of perishable products from Latin America to PortMiami or Port Everglades and then transport them to MIA, where they will depart by air via KLM Cargo or Centurion Cargo to foreign destinations in Europe and Asia, will save both time and money for cargo shippers, who will receive expedited air transport for perishable products and will not be required to pay U.S. Customs and Border Protection (CBP) duties. It also will allow European and Asian households to receive produce from Latin America at the peak of freshness, extending in some cases the seasonality for certain available items. The new freight shipments from local seaports also will strengthen MIA's cargo business, adding to the 1.92 million tons of international air freight handled annually at MIA—the most for any U.S. airport and the 10th most in the world.
Customized Brokers, a subsidiary of Crowley Maritime Corp., partnered with MIA to gain approval for the pilot program. Additionally, CBP has granted first-ever approval for expedited processing of these ocean shipments before they depart by air.
"Cargo shippers now have an additional, expedited channel for transporting perishables through the U.S., which incentivizes them to do more business at MIA and PortMiami," notes Miami-Dade Aviation Director Emilio T. González in a news release. "The pilot program also continues our efforts to grow cargo at MIA through outside-the-box initiatives."
The pilot program is the latest innovation the Miami-Dade Aviation Department is launching to strengthen MIA's position as America's cargo gateway to the world, with others including: Pharma.aero, an association created by MIA and Brussels Airport in May to grow the global pharmaceutical cargo business through a collaborative network of the world's top airports; a Foreign Trade Zone magnet site designation, which upon approval would allow a variety of manufacturers to lease vacant property at MIA and have their tariffs deferred, reduced or eliminated; and the Cargo Optimization, Redevelopment and Expansion (CORE) Program, a comprehensive concept to modernize MIA's existing cargo operation and double its capacity.
"For the last five years, MIA has always been a dominate player (in the global supply chain)," adds Pineda, who notes increased competition from the trucking and maritime sectors "really isn't affecting us."
MIA cargo planes carried 2.18 million tons of freight in 2016, about a 1 percent increase from 2015. In 2015, MIA's market share of the world's fruit and vegetable imports was about 72 percent; seafood made up about 51 percent.
Pineda credits MIA's dominance in part to its extensive network within Latin American and the Caribbean, offering more flights to the region than any other U.S. airport. The global freight hub handles 83 percent off air imports and 79 percent of exports to and from the region.
World-class facilities also impact MIA's continued success, boasting 40,000 square feet of on-airport cooling facilities among its 18 warehouses, amounting to more than 3.4 million square feet of warehouse, office and support space. Many of the MIA's facilities also offer airside-to-land side access, facilitating the multimodal movement of cargo to and from the airport in addition to their recent relationship with the maritime sector.
"We work in conjunction with the trucking industry…it's a symbiotic relationship between trucking and air," says Pineda.
A corridor stretching from MIA's Westside Cargo Area to the warehouse district west of the airport is the access lifeline of MIA's air cargo industry and the primary connector to the Florida Intrastate and Federal Highway System. This corridor handles an estimated 200,000 cargo truck trips per year. In 2016, MIA partnered with the Florida Department of Transportation to widen the existing roadway to six lanes and construct an elevated viaduct to improve ground movement of air cargo trucking operations.
Maybe its most undervalued asset, Pineda believes is MIA's level of experience, which he says within the cargo community is unmatched.
"We know how to handle perishables here," he says. "Other airports just don't have the volume or experience."
Delta Undeterred Despite Losses
Another key player, Delta Cargo actually saw a slight decline in both cargo revenues and demand in 2016. The U.S. airline saw cargo revenues decline by 17.8 percent year on year during 2016 to $668 million, with declines being particularly strong in the first half of the year.
The airline remains optimistic, however, about the future of air freight, having recently undergone a change in leadership.
Transitioning from his role of CEO and president of Mercedes-Benz Canada to president of Delta Cargo in May 2016, Gareth Joyce voiced plans early on to shift the airline from a transactional approach to business to a more consumer-centric focus, while also leveraging Delta's domestic network.
On a more global scale, he also is looking to co-locate some of Delta's European operations with partners Air France KLM and Virgin Atlantic.
But as Delta Cargo works toward these long-term goals, it presently is offering a service Joyce says is comparable to none. Variation Fresh offers temperature-controlled service ideal for shipping perishable commodities with a short life span and products that rapidly deteriorate when exposed to adverse conditions. Items shipped via Variation Fresh are promised "an unrivaled network of high-quality cooler systems, specialized containers and high boarding priority with quick connection times."
About 20 percent of all kilograms flown in 2016 were flown via Variation Fresh on Delta.
"We move an incredible variety of fresh commodities such as live lobsters, tuna, salmon, sea urchins, green peppers, asparagus, basil, mangoes, blueberries, cherries, a large array of cut flowers, to high-end chocolates and cheeses—we do it all," notes Joyce.
Specialty perishables can be shipped through three Variation Fresh options, which include:
Variation Fresh 1 (TEM) —

Delta Cargo's

solution for shipping perishables that require a strict, temperature-controlled environment utilizing an active container. This solution is ideal for chocolates, certain types of fruits, or any other product requiring a temperature-controlled environment.
Variation Fresh 2 (COL)—

Delta Cargo's

solution for shipping temperature-sensitive perishables that require a strictly regulated environment between +2°C and +8°C (+35°F to 46°F). This solution is ideal for perishables such as flowers, fresh fish, fruits and vegetables.
Variation Fresh 3 (FRE)—

Delta Cargo's

solution for shipping perishables requiring protection from extreme temperatures. When not in flight, Variation Fresh 3 products are stored at temperatures ranging from +2°C and +25°C (+35°F to +77°F). This solution is ideal for less sensitive perishables, like fruits and vegetables requiring general temperature protection.
Joyce recommends those interested in shipping via Variation Fresh book early.
"Variation Fresh commodities are very heavy, and capacity is limited," he says. "Additionally, we ask that customers help maintain the temperature integrity of shipments by packaging accordingly depending on the season and ambient temperatures."
He adds: "We aim to move perishable shipments safely, quickly and within the expected temperature controlled parameters, this is the foundation of our Variation Fresh product offering. We work very closely with the FDA (Food and Drug Administration) and other global agencies to ensure the commodities we move are within the safety and regulatory standards of the nation we are importing into."
And though its numbers may be falling, Delta remains confident they offer consumers something no other mode of transportation can—speed and security.
"Atlanta to Memphis is about an eight hour truck drive; with Delta Cargo in eight hours we can get you to Memphis or to any main city in the U.S., as well as London Heathrow, Amsterdam, Paris CDG, Frankfurt, Barcelona, Madrid, Rome, Buenos Aires, Sao Paulo, Lima, Santiago, Rio de Janeiro in the same time," Joyce adds. "Delta Cargo gets the product there faster and fresher giving the product more shelf time to sell. Additionally moving by air, Delta's Variation Fresh Cargo operates under the strictest security regulation of any transportation mode, a clear advantage and benefit to customers and consumers."