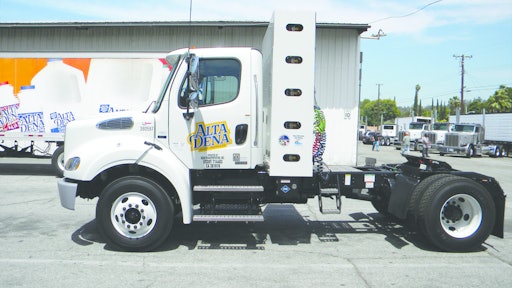 Alternative fuel vehicles, vehicles that do not operate with traditional fuels such as diesel fuel, have garnered an increasing interest amongst food and beverage customers lately. According to the industry experts, the economical and environmental advantages surrounding compressed natural gas (CNG) and liquid natural gas (LNG) are particularly attractive.
"It's an economic discussion," says Scott Perry, Ryder's vice president of supply chain management. "Natural gas is much more competitively priced across the marketplace compared to traditional diesel products."
In the U.S., the price of CNG fuel is approximately $2.00 cheaper than diesel fuels. Since natural gas is domestically sourced, the usage of CNG fuels helps to reduce the U.S.'dependence on foreign oil.
Natural gas vehicles have significant environmental benefits, too. According to Clint Dearing, director of operations at Transplace, "Shippers can expect to realize a 30 percent reduction in greenhouse gas emissions by using natural gas powered vehicles versus their diesel counterparts."
Although utilizing alternative fuel vehicles can be beneficial financially and ecologically, there are some known challenges that food and beverage companies might face.
Challenges and overcoming them
The lack of a natural gas fueling infrastructure in the U.S. has been the Achilles heel for the alternative fuel vehicle industry. Although many of the fueling stations were built 20 to 30 years ago, many were designed so that only smaller vehicles could access the stations properly.
"You need a lot more room to be able to maneuver one of those (large) vehicles into a fueling station," says Ryder's Perry. "The station itself needs to have a much larger compression capacity and storage capacity because those vehicles require both higher fuel pressure and larger volumes of fuel."
In early 2012, natural gas provider Clean Energy announced a plan to build 150 new LNG fueling stations along major U.S. highway segments by the end of 2013. Clean Energy is striving to finish 70 stations in 33 states by the end of 2012. Industry experts are also expecting to see more partnerships between natural gas providers and existing fueling stations in the future.
According to Michael Britt, director, maintenance & engineering of UPS Ground Fleet, another challenge to utilizing alternative fuel vehicles is the validation. For instance, food and beverage companies may be less apt to switch to a different trucking system, even though there really isn't a huge difference in technology compared to diesel.
"These engines share about 80 to 90 percent of the same components to its diesel counterparts," confirms Andy Douglas, national sales manager for specialty markets at Kenworth. "They've just been changed to be able to operate on natural gas."
Recently, Sunny Delight Beverages Co. deployed CNG vehicles in Southern California with the help of Transplace, which had completed a transportation plan to help with the company's sustainability initiatives. Sunny Delight estimated a savings of 400,000 gallons of diesel fuel in 2012 due to switching to CNG vehicles.
To help facilitate the transition to alternative fuel vehicles, PeopleNet has introduced a telematics tool that provides engine reporting for CNG and LNG vehicles, which allows fleet operators to accurately compare fuel use and efficiency for diesel and alternative fuel vehicles in their fleet.
"We're basically converting the equivalent of natural gas into diesel gallons so that fleet operators can truly analyze how effective their vehicles are, which allows them to make better decisions about the actual efficiency rather than guessing if they're seeing some improvements," says Rick Ochsendorf, senior vice president, operations and product management at PeopleNet.
The PeopleNet system will translate the data set of pounds of compressed or liquid gas to Diesel Equivalent Gallons, giving fleet managers a tool they can use to compare performance and forecast savings.
"Without this conversion data, we'd be hard-pressed to handle these time consuming calculations," remarks Mike DelBovo, president of Saddle Creek Logistics Services (formerly Saddle Creek Corp.), which is buying 40 natural gas trucks this year and more next year. "And moving forward, we'll need to continue comparing drivers' and vehicles' MPG performance in our mixed-vehicle fleet."
As an extra incentive, about a dozen or so states have created tax breaks for alternative fuel vehicles like CNG, says PeopleNet's Ochsendorf. "This is another benefit that many people probably aren't aware of."
In the meantime, the American Trucking Associations (ATA) says state fuel tax administrators are being faced with a new challenge: how to tax CNG and LNG.
Building Out the CNG/LNG Network
• Clean Energy Fuels has sealed a deal with Pilot Flying J truck stops to install CNG/LNG pumps at 150 of 450 locations in the next two years.
• Atlanta Gas Light Company has received qualified proposals from the city of Atlanta and seven commercial operators to open as many as 9 new CNG fueling stations throughout Georgia. The first stations could be open by mid-2013.
• Utility owner Questar is building and refurbishing CNG stations along I-15 in Utah, including some with a "fast fill" capability that can pump the equivalent of 8 gallons in less than 3 minutes.
Companies in this article