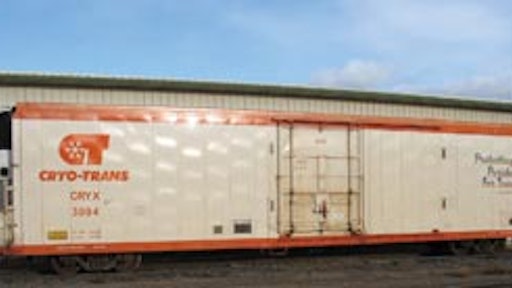 For the last year, each and every French fry and 90 percent of all hash browns served in a McDonald's restaurant from Baltimore to Richmond, VA, made its way by rail—and it's led to huge savings for the company that delivers them there.
The Martin-Brower Co, has distributed everything but the buns to 635 McDonald's restaurants in the Washington metropolitan area from its facility in Manassas, VA, since 1979. The distributor has eliminated millions of dollars in transportation costs by switching all inbound shipments from McCain Foods' frozen potato processing plant in Portage LaPrairie, Manitoba, Canada, to rail.
"With current truck rates, the driver scarcity and fuel prices all going up, we needed a way to limit those expenses," says Todd Hopkins, manager of the 100,000-square-foot Manassas facility and Northeast area vice president for Martin-Brower.
Moving to rail has resulted in fixed transportation costs over the 2,000 mile run from Manitoba to Manassas.
Hopkins first began experimenting with rail for inbound shipments about five years ago, but 2006 was the first year that it has dealt exclusively in rail for frozen fries and hash browns, its two highest-volume products. The warehouse moves about 2 million cases of the products each year.
In the year, 487 rail cars were used, effectively taking about six trucks off the road each day, or 1,800 trucks off the road per year.
In today's transportation climate, shipping by rail can save between 25 percent and 30 percent in shipping costs compared to over-the-road transportation, depending on the distance traveled, according to Robert Plain, director of marketing and sales in the agriculture and consumer products segments at Norfolk Southern, one of two rail lines that pull the railcars for Martin-Brower. Canadian Pacific Railway brings product from Manitoba to Chicago; Norfolk Southern picks it up there and brings it the rest of the way.
Cryo-Trans Logistics, based in Owings Mills, MD, leases 51 dedicated frozen rail cars to Martin-Brower for the run. Currently, Martin-Brower is using 64-foot railcars, but starting in January the distributor will move to 72-foot cars. "We'll be trading out for bigger cars that hold about 50 more loads," says Hopkins.
Martin-Brower currently receives two railcars per day, six days a week. One car holds about a day and a half of inventory.
Getting Ready For Rail
Getting to the milestone of 100 percent rail traffic on these items was no easy task. Committing to rail was a huge risk that required a lot of initial capital outlay. Once started, the project could not discarded.
Before the railcars could start rolling in, Hopkins had to modify the distribution center and devise a system to more closely manage inventories to keep a smooth flow of product coming in. He also had to perform a significant amount of maintenance on the rail spurs that abated the property. Those lines hadn't been used in 15-20 years and needed a lot of work. Then there was the issue of railcar availability, as most U.S. and Canadian carriers did not offer refrigerated railcars. McCain even had to revise its packaging to better accommodate the alternative transportation mode.
When all the partners and modifications were in place, the first shipments started in late 2001. Initially, rail shipments represented less than half of the volumes moving in the lane. "I wasn't happy with that because I had made a huge investment in rail," recalls Hopkins.
He set a goal of 80 percent by rail, and reached it in the second year. By the third year, 87 percent of shipments in the lane were moving by rail. It took two more years to get it to 100 percent. Few thought it possible.
"Skeptics in the industry felt rail was not a way to move food," says Herman Haksteen, CEO of Cryo-Trans, "and 20 years ago, the instability of rail did not work in the food industry."
Dright Price, director of sales and marketing at Cryo-Trans, agrees. "The penetration of rail in the food industry is still such a small percentage," he says. "Rail is such a huge diversion from what the industry normally does."
Nationwide, food represents about 5 percent of all products shipped by rail, but the numbers are increasing. In fact, Cryo-Trans alone maintains a fleet of about 1,000 railcars that haul fresh and frozen items, produce, dairy products and more.
McCain Foods, which is based in New Brunswick, Canada, has been using rail for the last five years and now makes it a prerequisite that any third-party logistics provider with which it deals must be rail-accessible. The company owns 150 railcars on its own.
Timothy Egan, McCain's director of warehousing, reports a 15 percent capacity advantage in moving inbound shipments to rail.
"It's safe to say that there are millions and millions in savings and efficiency," says Haksteen. "There are a lot of long-term benefits."
Improved Reliability, Visibility
In addition to the obvious financial impact, moving product by rail has meant greater reliability and better product availability. Martin-Brower often faced difficulty getting trucks out of Canada consistently during brutally cold and snowy winters.
With rail, Hopkins also has greater visibility into product movement. The Cryo-Trans railcars are equipped with two-way GPS systems, allowing all the parties involved to locate cars at any time, monitor temperatures inside the car, track door openings and even log reefer unit performance. The GPS units send signals back to Cryo-Trans every 12 hours, but anyone can ping the units at any time for up-to-the-minute data.
Then there are the environmental and traffic impacts of taking trucks off the road. "The traffic situation in the [Washington] area is unbelievable at times," says Hopkins. "We have a responsibility to the community to limit the amount of traffic."
To that end, Martin-Brower will also begin accepting into its Manassas facility French fries for another McDonald's distributor about 200 miles to its south. Martin-Brower will add that company's inbound shipments to its own, and then truck the product to the other facility. In return, the other company will help Martin-Brower with backhauls.
The rail lines welcome the additional business.
"What Martin-Brower has been doing is an opportunity for us to invest in new markets," says Norfolk Southern's Plain. "It's a great opportunity, a growing opportunity for us. We are absolutely committed to it and would like to see it expand even further."
Rich Hartzell, a plastics and food products account manager at Canadian Pacific, agrees. "With rail, there are real success stories," he says.