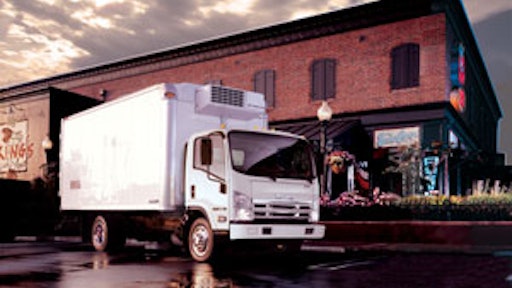 There was a time when traditional step vans ruled the roads, when clumsy bread vans and rackety walk-in vans bearing the logos of companies such as Frito Lay and Drake's Cakes could be seen tooling the back roads, on their way to service local stores and supermarkets.
Those days are over.
Today, distributors are using more efficient types of vans, as well as class three, four and five trucks, in both conventional and cabover models.
"In the food industry, over the last couple of years, there's been a movement away from the traditional step van," says Todd Bloom, vice president of marketing, Isuzu Commercial Trucks Of America Inc., Cerritos, CA. "Step vans are very uncomfortable for the driver because of the way they're built. Plus, they rattle all over the place, they don't maneuver well and have poor serviceability."
In contrast, today's delivery vehicles are much easier to operate, provide even greater fuel economy and much greater driver satisfaction.
For vehicles that are making daily deliveries, going to and from stores and providing basic needs, Bloom says the new trend is toward smaller, lighter delivery vehicles.
The idea is the lighter and smaller the vehicle is, the lower the operating costs and the less the initial purchase price, making them practical choices for route vehicles.
"The trend is to downsize the vehicle to the right size for the operation-you match the vehicle to the specific distribution needs of the product," he says.
He notes that others are opting for sprinter vans, which are traditional vans with high roofs, also known as high-cubed van, such as the ones offered by Dodge.
Beverage companies are following suit.
"We're seeing smaller six-or-eight bay beverage bodies that are being put on class four trucks for deliveries," notes Glen Ellis, national manager, sales, marketing and dealer development for Hino Motors Sales USA Inc., Bloomfield Hills, MI. He attributes that to the growing number of smaller brewing and water companies, as well as the up-tick in wine distribution throughout the U.S.
Other experts say the trend is toward heavier truck purchases.
"We're seeing more class fives than class fours and one of the reasons for that is versatility," notes Dave Trussel, director of marketing for Nissan Diesel America Inc. in Irving, TX.
"About all you can do with a refrigerated vehicle in a class four truck is a 14-foot body. We're seeing 18-footers every day on class five trucks." The reason for this, he notes, is that having the larger truck is actually more efficient and allows distributors to add four or five more stops onto a driver's route.
The interest in sustainability has also promoted the use of heavier trucks among organic farmers as well. One of Trussel's customers, who owns an organic farm in Amador County, CA, started delivering his produce in a pick up truck with ice chests in the back and as he grew, the size of the truck he needed grew. "The next thing you know, there he is out there with a class five truck," he notes.
The experts say refrigerated trucks are one of the big success stories in the class three-to-five field. "We're seeing the use of a lot more refrigerated and temperature-controlled vehicles in the cabovers," says Isuzu's Bloom.
Hino is also seeing more success with that market segment as well with its conventional line of trucks. "It's a pretty heavily driven cabover market and we are one of the few companies that offers a true conventional truck in that market," says Ellis.
According to Nissan's Trussel, many food distribution companies are now using a secondary refrigeration compressor on their trucks that is being run off the engine to power a chiller body, rather than using a self-contained refrigeration unit.
"We see a lot of that in class three and four trucks and some in five-a few manufacturers are offering a kit that allows the dealer to retrofit the dual compressor system to the truck engine," says Trussel.
Cabovers Vs. Conventionals
The U.S. is the only country where companies have the choice between purchasing cabover models or traditional conventional trucks and cabovers have been gaining market share because of their easy of maneuverability. "They're easy to turn," notes Isuzu's Bloom. "It's also a safety issue in that you can see the ground easily from the cabover position."
"For our type of business they're exactly the type of truck that we need," says Sam Ingardia of Ingardia Brothers Produce Inc., of Costa Mesa, CA. "They're very easy to drive, almost like a personal car."
His company, which delivers produce, sea food, frozen food and dry goods to restaurants in five different California counties, uses 18 foot-long cabover models purchased from Isuzu. It maintains a fleet of 50 trucks.
"We do about five counties here in Southern California and whether it's the hot area of Palm Springs, or the cool area of San Diego, or even the hills of San Bernardino County, the truck operates exceptionally-it's very low on repairs, is great on fuel and most of all, it's very maneuverable. It's very easy for our drivers to park in tight spaces in back of restaurants," says Ingardia.
Hino's Ellis says that his company's conventionals offer a number of positive features that make the traditional style of truck worth considering. "We actually use the same cab in our class four truck that we use in our class six and seven trucks, so it's a very roomy cab as well as ergonomic."
Hino has also increased the maneuverability and turning radius of its conventionals by incorporating a propriety steering gear from TRW, which allows for a 55 degree wheel cut, similar to that of a cabover product. "We actually do a test with some of our cabover customers. We park a conventional and a cabover 57 inches apart from each other and if you cut the wheel all the way on a cabover, you actually have to do a three point turn-you can't cut the wheel completely. With our conventional truck you can cut the wheel all the way and pull out in one turn," says Ellis. He adds that a conventional will also have stronger residual value than a cabover, as well as great fuel economy.
Emissions, Gas, Diesel
As everyone in the industry knows, all diesel engines produced after January 1, 2007 are now required to have particulate filters, called DPFs, on them. Initial purchase prices are high on these vehicles and so is the maintenance.
However, there are still some interesting bargains to be had by purchasing pre-emission trucks that remain in dealer stock.
Nissan's Trussel says, "We all overbuild and then the economy slowed down dramatically, so there are still quite a few pre-emission vehicles left at all manufacturers in all classes." He calls pre-emission products a terrific buy that companies should consider taking advantage of in the next six months.
The major manufacturers are offering many of their models in both gas and diesel versions and both options offer some incentive for purchasing; depending upon a company's financial wherewithal.
The Isuzu company is now offering cabovers with either diesel or gas engines. "Most of your food logistics people are putting more than 30,000 miles on a vehicle," says Isuzu's Bloom. "But, if they're putting less, then of course the key is to now consider gas because the gas engines are much lower in initial purchase price and don't require much education for the drivers to use them."
Christi Brown, marketing manger for Dearborn, MI-based Ford Motor Co.'s E-Series of delivery trucks agrees. "The technology on gas engines over the last decade or so has improved so significantly that I find a lot of gas engine E-Series on the road getting over 500,000 miles on the first engine and transmission."
Companies putting more than 30,000 miles on a truck, says Isuzu's Bloom, should consider diesel, as less can go wrong and the engine's provide longer service life. "Our 4hk1 diesel engine is a four cylinder that delivers over 205 horsepower, 346 pounds of torque, and it has a 310,000 mile design life.
"You want an engine that's not only durable but reliable, because a down day for these food distributors is absolutely critical. They're not in the distribution business they're in the food business."
"Diesel engines with diesel particulate filters are going to be much more common than gasoline engines," notes Nissan's Trussel, commenting on the greater efficiency of diesel engines. "Fuel costs for the foreseeable future are going to be a significant part of the overall business expense of transporting products from the farm to the distribution center and finally to the retail point."
Cost of Ownership
Along with efforts to make trucks more environmentally sound and efficient, some companies are also striving to lower the cost of ownership for their customers. According to Ford's Brown, her company has helped contribute to this by lowering the oil change intervals on its 2008 models, from 7,500 miles as opposed to 5,000.
"We've also made improvements on the transmission filter system-we now go to a 60,000 mile transmission fluid change versus a 30,000, so we've doubled that interval, which saves not only the cost of the repair, but the cost of downtime."
In addition, Ford's E-Series has a new brake system, with larger brakes, more swept area on the rotor and re-designed pads, which should extend the life of the brakes. "What we try to do at Ford is impact what our customers are going to be required to invest in the product down the road."
Companies in this article