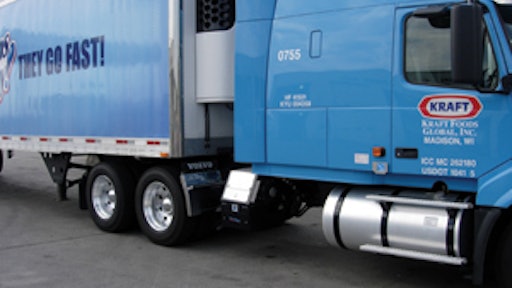 If you're looking for better ways to control your fuel costs, the United States Environ-mental Protection Agency (EPA) can help. The SmartWay Transport Partnership helps companies reduce their fuel costs, improve the environmental impacts of their freight operations as well as contribute to America's energy security.
Fuel is one of the largest expenses for most trucking companies, with price surges and volatility keeping most fleet managers on their toes. Controlling transportation costs is critical to maintaining profitability and helps to ensure a fleet owner can compete over the long-term. Some industry leaders have also been looking for new ways to improve performance and gain public recognition for their efforts.
EPA addressed these needs in 2004 when it launched the SmartWay Transport Partner-ship; a public-private initiative working to help improve the efficiency of goods movement. The partnership promotes energy-saving technologies and practices, while providing participants with technical assistance and recognition for their environmental excellence. Since its launch three years ago, more than 500 companies have joined this important effort, saving an estimated 335 million gallons of diesel per year.
Stakeholders throughout the freight industry are working in each of the partnership cate-gories, which include freight carriers, freight shippers and logistics providers. Participants in each group commit to meeting efficiency improvement goals. Freight carrier partners analyze their current fleet efficiency and environmental impact, then commit to a three-year improvement target. Freight shipper partners commit to send more freight with partner carriers and reduce the emissions from the shipment of their freight. Logistics partners also commit to utilize more partner carriers. Affiliate partners, such as state trucking associations, work with EPA to support and publicize the partnership.
Food and beverage is one of the fastest growing sectors for the partnership, with many well-known industry leaders committing to this important effort. We profile two of these partners-Perdue Farms and Kraft Foods-and detail their use of a variety of fuel-saving and emission-reducing technologies.

Perdue Farms
Perdue Farms, based in Salisbury, MD, has been a SmartWay Partner since 2005. Perdue has invested heavily in idle-reduction technologies and biodiesel. It is also testing single-wide tires on select trucks. Perdue has auxiliary power units on 52 of its fleet of 227 trucks. These units saved Perdue almost 75,000 gallons of fuel in 2006. The APUs also helped Perdue to cut its average fleet idle time in half.
Since 2005, Perdue has been running about 30 trucks on various seasonal blends of biodiesel, ranging from B5 (a blend of 95 percent diesel and 5 percent biodiesel) to B20 (80 percent diesel and 20 percent biodiesel). It plans to operate half of its fleet-more than 100 trucks-with biodiesel by 2008. Perdue experienced some isolated issues with fuel gelling the first winter it used biodiesel but had no operational problems during this most recent winter.
Biodiesel is an important strategy for reducing dependence on foreign oil and reducing greenhouse gases. It is produced from renewable, domestic sources and helps to reduce tailpipe emissions. Perdue's biodiesel-fueled trucks emit 31 percent fewer carbon-dioxide emissions compared to diesel trucks.
When discussing Perdue's participation, Larry Brown, Perdue's logistics director says, "Perdue Farms considers participation in the SmartWay Transport Partnership a logical extension of our corporate commitment to quality throughout our organization. We share the common goals of protecting the environment while striving for maximum fuel efficiency. We believe that it is possible to preserve the family farm and provide a safe, abundant and affordable food supply while protecting our communities and the environment."
Perdue uses a range of other strategies to save fuel. The company's trucks are equipped with engine shutdown devices that automatically turn off the engine after it idles for eight minutes. Perdue also limits the speed of its trucks to 66 mph and pays its drivers a bonus for achieving higher fuel economy.
Perdue used the FLEET (Freight Logistics Environmental and Energy Tracking) com-puter model supplied by the EPA to calculate its greenhouse gas emission reductions due to the various fuel-saving initiatives. This model is available to all SmartWay Partners to monitor fuel and environmental performance.
Kraft Foods
Kraft Foods Global Inc., a carrier partner since 2006 with a fleet of more than 250 trucks, has implemented numerous innovative strategies to save fuel. Since joining SmartWay, Kraft, based in Northfield, IL, has recognized opportunities to save more fuel and operate a greener fleet. It is planning to implement many more strategies in the coming years as part of its commitment to the partnership.
Kraft uses engine shutdown with a five-minute threshold on all of its trucks. Many are equipped with EZ Pass or PrePass, reducing idling by avoiding many toll lines and weigh stations. Kraft saved more than 63,000 gallons of fuel in 2005 for its combined idle-reduction efforts. The company's work to save fuel from freight transportation improvements translates to over 25,000 tons of CO2 emissions reduced each year.
Al Jankauskas, Kraft's associate director of logistics operations, says SmartWay fits eas-ily into Kraft's transportation operations.
"The organization has embraced the SmartWay Transport Partnership," he says. "We have been quite pleased with how it has helped to energize process changes and decision-making that will facilitate sustainability across logistics operations. SmartWay has helped us to consider transportation improvements in efficiency while delivering a heightened awareness of the environment."
Refusing to rest on its achievements, Kraft continues to strive to improve its fleet efficiency. It is now planning to install APUs on all of its new trucks starting this year. Jankauskas estimates that Kraft's fleet will have almost 200 trucks with APUs in just a few short years. Kraft has calculated the cost of each APU would be recouped in about two-and-a-half years, based on average 2006 fuel prices. If fuel prices rise, Kraft will recoup its APU outlays even faster.
Additionally, Kraft is testing nitrogen-filled tires at one location and a cetane fuel additive at a second. Jankauskas said all trucks should be operating with these technologies by the end of this year. Kraft is also replacing its regular dual tires with low-rolling resistance tires at the typical 100,000-mile intervals. Kraft will continually track the fuel savings and emissions reductions of these technologies to understand their cost-effectiveness and will adjust its strategies accordingly.
"We know that the new requirements for [ultra-low-sulfur diesel] and the 2007 engines may highlight a slight fuel economy hit," Jankauskas says. "We also anticipate that rising fuel costs will continue to be a concern across the industry. However, based on the projections from the computer model provided by EPA and the initial results, we are confident that our investments in new technologies like auxiliary power units will have a reasonable payback. Technologies that deliver reductions in idle time and fuel efficiency cannot be overlooked."
He adds, "The SmartWay Transport Partnership provides a forum for benchmarking and understanding the true benefits of sustainability initiatives. In almost all cases, these initiatives are also delivering financial savings to the organization."
Conclusion
These are only two examples of food companies saving significant amounts of fuel-and thus improving their bottom lines-through the SmartWay Transport Partnership. EPA's FLEET computer models help partners track their fuel use and monitor the environmental impact of their freight transportation operations.
SmartWay Partners can even project the fuel savings of these technologies to estimate the return on their investments.
Looking ahead, EPA is using the success of the SmartWay Transport Partnership to develop new ways to appeal to the freight industry. In 2006, EPA presented the first annual SmartWay Excellence Awards, honoring some of the highest achievers in the partnership. EPA has also developed innovative financing and loan programs to assist small fleets and independent operators. EPA is planning to expand the partnership to include additional freight modes such as rail, marine vessels, ports and drayage fleets.
The SmartWay brand has expanded to other areas of the transportation sector. EPA recently created SmartWay Grow & Go, an initiative that encourages partners to use more biodiesel in their heavy duty fleets and ethanol (E85) in their light-duty vehicles. Con-sumers are recognizing the SmartWay brand as well via EPA's Green Vehicle Guide. The guide, online at www.epa.gov/greenvehicle, ranks light-duty vehicles that are most effi-cient and designates the best as "SmartWay" or "SmartWayElite" certified. EPA plans to continue building the SmartWay brand into the symbol of clean, efficient transportation.
For more information on the SmartWay Transport Partnership, including a list of all the participating companies, visit www.epa.gov/smartway
Companies in this article