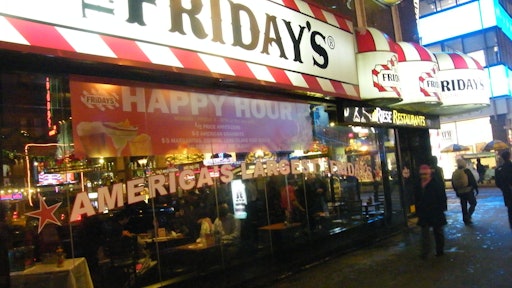 TGI Fridays is banking on delivery to drum up new business. The casual chain, known for endless apps, has partnered with Lash, a Dallas-based food and alcohol delivery startup, to offer food and alcohol delivery, Nation's Restaurant News reports.
With the new delivery system, customers would need to confirm that they are over the age of 21 before selecting their TGI Fridays food order in the Fridays app. They can then add alcohol, like a bottle of tequila or 12-pack of beer, to the order. According to USA Today, delivery drivers will pick up the alcohol from the nearest participating liquor store, get the food from TGI Fridays, and deliver it all to the customer's door in under an hour.
The company is also working on an at-home bartending service to offer a more complete TGI Fridays experience outside of the restaurant. A prototype of this version of the app indicates that users would choose a bartender to come to their home based on a photo, ratings and comments.
To read the full original article, please click here.