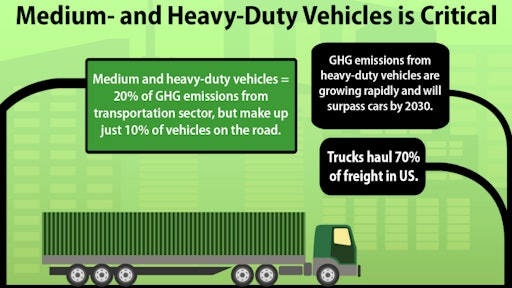 The U.S. Environmental Protection Agency and the Department of Transportation's National Highway Traffic Safety Administration jointly finalized standards for medium- and heavy-duty vehicles that would improve fuel efficiency and cut carbon pollution to reduce the impacts of climate change, while bolstering energy security and spurring manufacturing innovation.
The final phase two program promotes a new generation of cleaner, more fuel-efficient trucks by encouraging the development and deployment of new and advanced cost-effective technologies. The product of four years of extensive testing and research, the vehicle and engine performance standards would cover model years 2018 to 2027 for certain trailers and model years 2021 to 2027 for semi-trucks, large pickup trucks, vans, and all types and sizes of buses and work trucks. The final standards are expected to lower CO2 emissions by approximately 1.1 billion metric tons, save vehicle owners fuel costs of about $170 billion, and reduce oil consumption by up to two billion barrels over the lifetime of the vehicles sold under the program.
This "Phase 2 program" would significantly reduce carbon emissions and improve the fuel efficiency of heavy-duty vehicles, helping to address the challenges of global climate change and energy security.
To read more, click here.
Editor's Insight: The food and beverage industries have taken a pioneering role in promoting sustainable transportation practices, and this new directive marks another step in increasing fleet efficiency while improving the environment. New vehicle technologies give fleet owners opportunities to establish themselves as leaders in sustainability along with improving operating efficiencies.
According to some reports, the new standards will allow the owner of a new long-haul truck in 2027 to recoup the investment in fuel-saving technology in less than two years.
By investing in newer vehicles, fleet operators are able to not only improve their operating efficiencies. New vehicles allow them to provide better customer service. They also allow them to address the trucking industry's biggest challenge – improving driver recruitment and retention, since drivers prefer to drive new vehicles. 8-19-16 By Elliot Maras