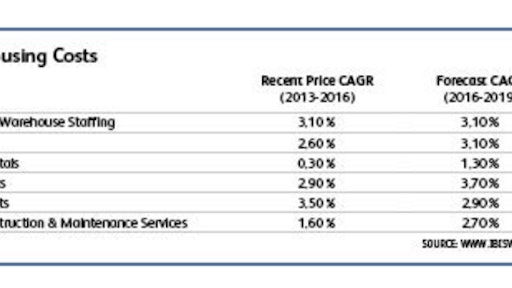 In the next three years, as the economy recovers and demand for manufactured goods increases, warehousing activity is anticipated to rise, prompting greater demand, and higher costs for labor, handling equipment, materials, maintenance work and other expenses associated with running a warehouse, according to Ian Buchanan, a lead business research analyst for IBISWorld's procurement division, which specializes in market research that encompasses price trends, major suppliers, and supply chain risks. Fortunately, by understanding the factors that will shape costs during the three years to 2019, warehouse operators can develop strategies to save money.
Wages are a key cost for warehousing providers, which require a significant amount of labor to handle and manage inventory. Labor usage generally fluctuates throughout the year, increasing during the holidays as demand for consumer products strengthens. During the holiday season, warehouse operators hire temporary workers to help cope with these increased workloads. In the three years to 2016, temporary warehouse staffing is increasing in price at an estimated average annual rate of 3.1 percent, and it is forecast to continue doing so during the three years to 2019.
Consequently, operators that regularly hire temporary staffing to help during periods of high demand should expect temporary staffing costs to rise each year. Though, buyers can make early arrangements to hire temporary staff to lock in lower rates before prices begin to peak. Also, general wages for warehouse operators are relatively stable, rising at a slow annualized rate of about 0.3 percent during the past three years; and they are expected to increase at an average annual rate of only 0.1 percent during the next three years. Stable wages will make it easier for operators to budget and better prepare for seasonal cost spikes.
Because industrial firms and vendors of consumer products, such as retailers and wholesalers, regularly use warehouses to store inventory or raw materials, growth in consumer spending and industrial production drives warehouse usage up.
According to IBISWorld, during the three years to 2019, consumer spending is forecast to increase at an annualized rate of 3.1 percent, while industrial production is anticipated to rise at an average annual rate of 2.2 percent. To better prepare for the resulting increase in warehouse usage, operators will need to assess whether or not their machinery and equipment is in working order, and if they have an adequate supply of materials such as wood pallets.
To read more, click here.