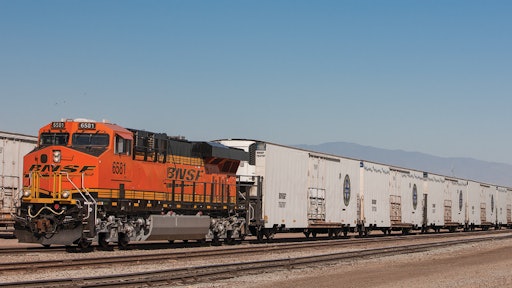 BNSF Railway Co. has rolled out more of its 2016 state-by-state capital expenditure plans, with the latest programs announced for Texas, Illinois and Kansas, according to Progressive Railroading.

In Texas, BNSF will spend $210 million this year to replace and upgrade rail, rail ties and ballast, BNSF officials said in a press release.

Plans call for more than 2,400 miles of track surfacing and/or undercutting work, the replacement of 55 miles of rail and more than 480,000 ties, as well as signal upgrades as part of BNSF's implementation of positive train control (PTC).

Capital projects in Texas also include completion of the Cadet Yard west of San Antonio to handle manifest trains. The yard will feature 10 classification tracks that will enable BNSF to provide rail service to multiple industrial parks in the area.

Over the past three years, BNSF has invested about $1 billion in its network in Texas.

In Illinois, the Class I will spend about $180 million on capital expenditures, the largest component of which will be on maintenance projects and facility improvements. The Illinois plan includes replacing and upgrading rail, rail ties and ballast.
Also this year, the railroad will spend about $100 million to improve its network in Kansas. There, plans include 1,480 miles of rack surfacing and/or undercutting work, replacing more than 60 miles of rail and about 210,000 ties, and upgrading signals for PTC. BNSF also will make improvements at its Logistics Park Kansas City to enable direct rail/carload service from the facility.

Over the past three years, BNSF has spent more than $550 million on its network in Kansas.

The 2016 planned capital investments announced this week are part of BNSF's $4.3 billion capital expenditure program announced earlier this year.
Companies in this article