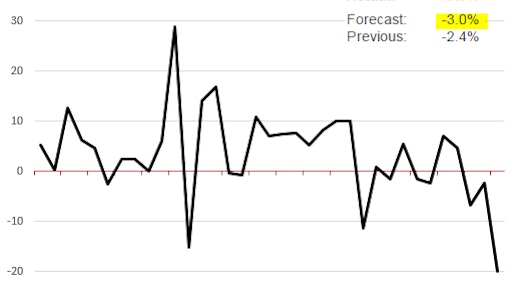 Shipments of empty containers out of the U.S. are surging this year, highlighting the impact the economic slowdown in China is having on U.S. exporters, according to The Wall Street Journal. Exports have suffered this year as China's economy has cooled. In September, the Port of Long Beach, Calif., part of the country's busiest ocean-shipping gateway, handled 197,076 outbound empty boxes. They accounted for nearly a third of all containers that moved through the port last month. September was the eighth straight month in which empty containers leaving Long Beach outnumbered those loaded with exports.
The empties are shipping out at a faster rate at many U.S. ports, particularly those closely tied to trade with China, while shipments of containers loaded with goods are declining as exporters find it tougher to make foreign sales. That's at least partly because the strong dollar makes American goods more expensive.
Normally, after containers filled with consumer goods are delivered to the U.S. and unloaded, they return to export hubs. There, they typically are stuffed with American agricultural products, certain high-end consumer goods and large volumes of the heavy, bulk refuse that is recycled through China's factories into products or packaging.
Last month, however, Long Beach and the Port of Oakland both reported double-digit gains in exports of empty containers. So far this year, empties at the two ports are up more than 20 percent from a year earlier.
http://www.wsj.com/articles/at-u-s-ports-exports-are-coming-up-empty-1444768094
Editors Insight: Weakening exports give urgency to the Trans Pacific Partnership, which the U.S. and 11 Pacific Rim nations recently agreed to. The agreement would lower trade barriers, opening up Pacific Rim markets to U.S. exports.
Last night, Presidential candidate Hillary Clinton reiterated her opposition to the TPP in the Democratic Presidential debate.
The food industry should do what it can to prevent this agreement from falling victim to politics. The food and beverage industry in particular has a big stake in global trade.
10-14-15 By Elliot Maras