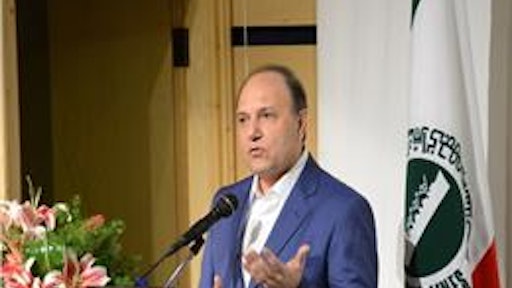 The Islamic Republic of Iran Shipping Lines (IRISL) plans to become one of the world's top ten shipping lines. It plans to modernize its fleet and ally with international shipping majors to tap western markets , according to Marinelink.com.
Mohammad Saeidi, chairman of IRISL said that his company is planning a massive fleet expansion. It aims to re-enter western markets as Tehran exits a long period of sanctions that barred its vessels from calling at European and U.S. ports, the company's chairman said.
The company expects sanctions to be lifted in January under the comprehensive agreement between Iran and the West. It has been away for too long and our priority is to re-enter the international market, he added.
Saeidi said he was looking at forming joint ventures with many of the top 10 container lines and has already held a number of discussions with leading liners.
IRISL wants to grow its container fleet with giant Triple E vessels—that can move more than 18,000 containers—being the ships of choice.
"We have 41 container ships of up to 14,000 containers, but we want to join the big league and Triple Es are a priority," Saeidi said.
Triple Es are operated by the world's top 15 container operators, which have formed a handful of alliances that dominate the busiest ocean trade routes by sharing vessels, networks and port calls.
IRISL currently controls a fleet of close to 150 ships that total around 5.2 million dwt. Containerships comprise the majority of these but there are also numerous bulkers, general cargo ships and multipurpose (MPP) vessels, ro-ros and tankers. The fleet is relatively modern but sanctions stopped growth plans, leaving the company unable to source the ever-increasing size of box ships that are now being used by its competitors on the east-west trade lanes.
To read more, click HERE.