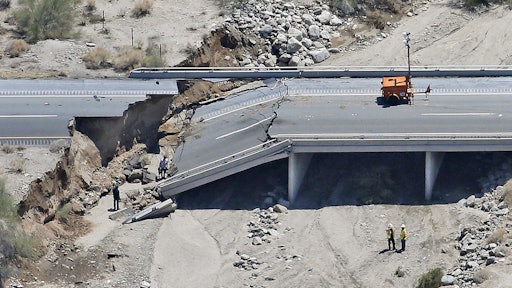 The partial shutdown of an interstate highway between California and Arizona following a bridge collapse could raise shipping costs and delay deliveries for retailers and other shippers in the coming weeks, according to The Wall Street Journal.
The 100-mile stretch of the Interstate 10, which carries more than 25,000 cars and trucks daily—nearly a third of them commercial vehicles—was closed indefinitely after a deluge of water, mud and rocks flushed out supporting soil under one end of the bridge at Tex Wash, in Desert Center, Calif., about 40 miles west of the California-Arizona state line.
The freeway is a primary route into the country's interior from the ports of Los Angeles and Long Beach, the nation's largest hub for ocean container cargo. Trucked goods travel on I-10 through California's Riverside County, part of the region known as the Inland Empire which stretches east from the Los Angeles Basin to the Arizona border and houses millions of square feet of warehouse space.
"It's warehoused here until it's demanded—wherever they want it," said John Husing, an economist who studies the Inland Empire region. "This is going to slow down that ability to get it there."
The California Department of Transportation has advised drivers to use alternative east-west routes, including I-40 to the north—around Joshua Tree National Park—and I-8, which runs to the south along the Mexico-U.S. border. Caltrans also warned of continuing thunderstorms in the area this week.
To read more, click HERE.