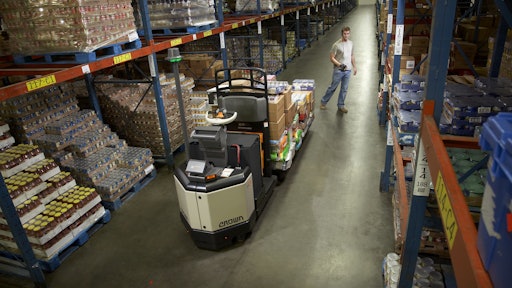 The distribution warehouse, a critical cog in the f&b supply chain, has witnessed profound technological innovation, both in material handling systems and management software. Some of the most effective new processes being used in the warehouse today make use of technologies like mobile computing, voice recognition, data visualization and automated materials handling equipment to create new efficiencies.
While the quest for efficiency has been ongoing, new government regulations such as the Food Safety Modernization Act (FSMA) have given new urgency to companies to scrutinize their warehouse operations.
The traceability rules under the FSMA provided the drive for Martin Brower, the supply chain services provider for quick-serve restaurants, to invest in its first WMS. "It certainly made the business case for the solution much easier to swallow. We are fortunate enough to work for a company that invests heavily in technology," says Kris Jensen, director of operations support for the Chicago-based company.
The WMS implementation will be completed in all of the company's U.S. DCs before the FSMA traceability rules take effect in 2017.
The Manhattan Associates WMS integrates with the company's ERP and Vocollect voice recognition software used for picking cases. Inventory accuracy has improved. "It's almost impossible to mispick an item," says Ginny Toepfer, Martin Brower's IT director for North America. "As our customers increase limited time offerings and promotions, SKU count will certainly increase. These programs bring a lot more inventory into the supply chain to manage, and the WMS ensures this is a non-event and 'business as usual' for us."
According to Jensen, the key benefits of the WMS are "standardizing operational processes across our 18 distribution centers to improve order accuracy, inventory management and delivery reliability. It also satisfies the traceability requirements."
"Utilizing a WMS system is just one of the ways we show our commitment to protecting our customers' brand," Jensen says.
Seasonal demand weighs on some
A "best of breed" WMS has been critical to Niagara Bottling, LLC, the Ontario, Calif.-based bottler that has been riding the explosive growth of bottled water. One of the biggest challenges the company faced in addition to rapid growth was the seasonality of demand among grocery retailers, says Sreesha Rao, senior IT applications manager. "We have seasonality in terms of what customer demand is," he says. The company manages deliveries from 11 warehouses using its own fleet and three 3PLs.
Rao says WMS providers have improved functionality since he began investigating it four years ago. After a careful selection process, the company chose to implement Manhattan Associates' WMOS.
Rao feels fortunate to have come across Veridian Solutions, an Atlanta, Ga.-based integrator for WMS systems. He found the integrator much more cost efficient to work with on the deployment than the software provider itself. With expertise on Manhattan Associates' applications, Veridian Solutions was able to help Niagara Bottling tailor the highly-configurable WMOS to properly fit its needs.
"The inherent nature of the consumable product industry requires them (Niagara Bottling) to be very quality focused," says Sandeep Patel, a partner at Veridian Solutions.
In addition to the WMS deployment, Veridian Solutions introduced cycle counting and inventory tracking solutions for product recalls at Niagara Bottling.
The yard management system from Manhattan Associates has also been helpful to Niagara Bottling, Rao says. The system saves the trailers from waiting in the storage area to find out what dock to pick their loads from.
Sandeep Patel and Jason Rosing, partners in Veridian Solutions, say they their methodology can reduce the implementation time by 30 percent or more for multi-site implementations, as they did for Niagara Bottling. Both men worked on the Starbucks WMOS implementation in 2011.
Ingredient distributor upgrades inventory attributes
Batory Foods, a Chicago-based, nationwide food ingredient distributor, recently overhauled its supply chain software to standardize processes and documentation across its network of more than 30 warehouses and nearly 500 vendors. Batory Foods wanted to improve its supply chain insights, says Daryl Fisher, WMS application manager. The company felt a need to do this on account of safety regulations and increasing customer expectations. In order to achieve the level the company was aiming for, they decided to upgrade their inventory attributes and better integrate their software systems.
In keeping with Good Manufacturing Processes (GMP), ingredient manufacturers provide a certificate of analysis – a detailed listing of the chemical composition products – with every product run. Because of this, integration with Batory Foods' document management system was critical.
The WMS allows the company to process orders with more efficient layouts, improved resource utilization and streamlined inventory and order fulfillment processes. Since implementing Manhattan SCALE, Batory Foods has seen a marked improvement with inventory visibility and order fulfillment processes.
The WMS provides a single point of access for the customer, ensuring that all documents are consistent. "Through this added insight, we've been able to improve standardization across the organization and enhance order and service quality for our customers," Fisher says. The DC previously operated autonomously or semi autonomously. "We now have much better visibility and the new system is more efficient in the way it processes data controls operations," Fisher says.
Batory Foods has deployed the Manhattan Associates WMS in three warehouses and plans to continue to roll them out to the remaining company-owned DCs.
Data visualization emerges
Data visualization software, which presents data in graphic images that make data easier to understand, has also created opportunities to manage warehouses more efficiently.
Dallas, Texas-based RMG Networks has integrated visual screen capabilities with labor management for warehouses. RMG's labor productivity improvement tool provides real-time, highly-visible metrics and data that enable employees to see how they are performing against goals. By receiving this information in real time, employees can adjust their behavior and maximize their productivity.
Supervisors can send real-time metrics (e.g., picking and packing rates by team or individual members; rankings; actual versus goal performance) via display screens and desktop dashboards to employees on the manufacturing or warehouse floor. This enables them to better make decisions in real time. The data also can be pushed to mobile devices, enabling management to monitor activity from any location or through pre-set, threshold alert notifications.
"Once the data (real time metrics showing production or safety or quality or any number of KPI's) is collected, then that data can be displayed anywhere – large scoreboards, desktops or mobile devices," says Kerwin Everson, vice president of supply chain solutions at RMG Networks.
"We have customers displaying information on pallet building goals and pallet builder actual performance on a real-time or close to real-time basis, adds Steve Chang, senior vice president of strategy and solutions at RMG Networks. "This allows a shift, team or individual to know how they are doing and to manage to the best result."
"We also have food and beverage customers displaying receiving performance versus actual on large displays to help forklift drivers understand their real-time performance as they move in and out of the receiving area," Chang continues. "Productivity has consistently improved when the solution is deployed and when the real-time performance data becomes visible."
Materials handling equipment grows
The increased computing power now available has also improved the case for automated materials handling equipment in the f&b warehouse, some observers claim. As warehouses deploy more robust WMS systems, many think automated materials handling equipment will expand.
Rudi Koetter, product manager of automation at The Raymond Corp., sees the biggest change taking place in the automated guided vehicles (AGVs). He says his company has made AGVs since the 1970s, but the fastest growth has come in recent years. The company's most recent vehicle, an automated lift truck (ALT) still requires manual loading and dispatching, but there is no driver needed.
The development of natural feature navigation systems has also made this type of ALT easier to implement and use than the older AGV systems that rely on artificial landmarks.
Koetter says in f&b, the retailers are leading the investment in warehouse AGVs.
Next on the horizon will be augmented reality glasses that combine voice, camera and visual display for the warehouse worker, Koetter says. These glasses with built-in scanners can instruct warehouse personnel what steps to follow in building a pallet.

Real-time data enhances lift truck management
Real time data collection is the foundation of forklift fleet management and requires forklift connectivity. This requires a communications terminal that integrates with the trucks' electronics to communicate data on impacts, energy consumption, utilization, location and other factors, according to Crown Equipment Corp., the New Bremen, Ohio-based lift truck manufacturer.
Real-time information from lift trucks can deliver efficiencies in two areas: during service events and real-time during operation.
Real-time operator coaching represents yet another opportunity. Fleet management systems create foundation for active operator coaching.
The combination of service management and real time monitoring increases organizational efficiency by automating manual tasks such as maintenance scheduling, training management and compliance reporting.
Centralizing service management using a single network of providers creates the foundation for a comprehensive fleet management program with minimal investment. When this information is available through online reporting, it can offer up-to-date support for management decisions as well as visibility into fleet costs. Vehicle replacement decisions can be made using actual service costs.

ASRS can support warehouse maintenance and repair
Automated storage and retrieval systems have long been viewed as tools to improve order picking and fulfillment in the warehouse. But they can also manage maintenance and repair operations in ways that can improve warehouse efficiency, according to Chelsea Tarr, marketing communications director at Kardex Remstar LLC, the Westbrook, Me.-based material handling solutions provider.
Centralized Storage: By implementing an automated storage and retrieval system dedicated to the storage of maintenance supplies, tools and spare parts, an operation can be assured that all items are kept in a centralized, designated location. Items can be easily found and accessed, minimizing search time.
Better Organization: To help maintenance technicians find the items they need even faster, the equipment can be outfitted with partitioned trays or totes for organization and easy locations of small components, such as screws, nuts and bolts.
Track and Trace Accountability: If the machine is integrated with inventory management software, authorized operators can be required to first input a software-traceable personal login and password. For operations that wish to keep track of shared tools or gear required to service equipment, this additional measure of accountability allows depleted, missing or misplaced items to be quickly tracked back to an individual.
Parts Protection: Because automated storage and retrieval machines can be fully enclosed, the supplies, tools and spare parts stored inside are protected from exposure. This maximizes the useful life of the items, preventing scrap and waste.
Maximum Storage Density: Installing high-density automated storage equipment significantly reduces the amount of square footage required to store parts and supplies. The equivalent amount of items held in 120 bays of static shelving can be condensed into two horizontal carousels (66 percent space savings), two vertical carousels (75 percent space savings) or a single vertical lift module (85 percent space savings).
Enhanced Ergonomics: Every item stored in an automated storage and retrieval system is delivered at the correct ergonomic work height. The unit's opening is positioned waist-high, eliminating bending to retrieve an item stored low, or stretching to grab an item stored high. The automated storage equipment can lessen the chance of injury and absenteeism, while also reducing insurance premiums and claims for worker's compensation.
For more information:
Crown Equipment Corp., 419-629-2311, crown.com
Manhattan Associates, 877-596-9208, manh.com
Kardex Remstar LLC, 800-639-5805, kardexremstar.com
Raymond Corp., 800-235-7200, raymondcorp.com
RMG Networks, 800-827-9666, rmgnetworks.com
Veridian Solutions, 480-326-3357, veridiansol.com
Vocollect, 412-829-8145, vollectvoice.com
Companies in this article