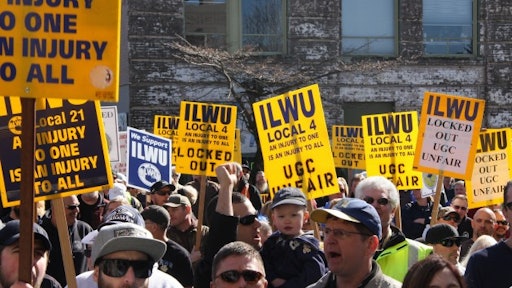 West Coast ports in the U.S. are five to 10 days away from gridlock and a forced lockdown unless contract talks can be resolved with the longshore workers union, the head of the group representing employers at 29 West Coast ports said Wednesday, according to The Press Telegram in Long Beach, Calif.
Publicly discussing labor talks for the first time since negotiations began in May, Pacific Maritime Association (PMA) CEO James McKenna told reporters in a conference call that the PMA made its latest offer to the International Longshore and Warehouse Union (ILWU) that includes raising pay by about 3 percent annually, maintaining employer paid health care and pushing the maximum pension benefit by 11.1 percent to $88,800 annually.
He described the proposed 5-year contract, which was presented Tuesday to the ILWU, as "generous" and "comprehensive." Still, he said that both sides remain far apart on six issues, including wages, pensions and the arbitration process.
McKenna said that an agreement must be reached soon because West Coast ports are on "the brink of collapse" with ships parked along the West Coast waiting to be unloaded and production slowing to a crawl. A work stoppage could drain $2 billion a day from the U.S. economy, according to the National Retail Federation, National Association of Manufacturers and U.S. Chamber of Commerce.
To read more, click HERE.